June 2017 Mortgage Rates Forecast (FHA, VA, USDA, Conventional)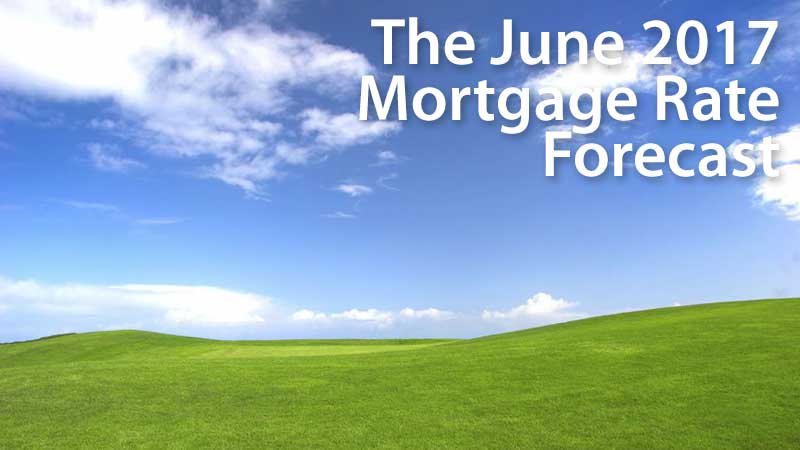 Mortgage Rates Forecast For June 2017
May was a very good month for mortgage rates.
According to mortgage-backing agency Freddie Mac, rates hovered in the low 4s throughout May until dropping to 2017 lows at month's end.
Will June sustain mortgage rates' momentum?
Rates face an uphill battle in June, with a Federal Reserve meeting that's sure to end in a rate hike.
The Fed also releases its quarterly projection materials post-meeting. The document lays out the central bank's future policy as predicted by Fed members.
A change in expected policy can swing mortgage rates wildly -- in either direction.
It pays, then, to stay on top of developments and know what's "coming out" this month.
Be ready to lock in your rate. Mortgage rates can change within minutes of breaking news.
Click to see today's rates (Jun 28th, 2017)
Freddie Mac: 30-Year Mortgage Rate Sinks To 3.95% - Lowest Of 2017
The average conventional 30-year fixed rate mortgage started June at just 3.95%, according to Freddie Mac's Primary Mortgage Market Survey (PMMS).
That's down 7 basis points (0.07%) compared to the first week of May.
The 15-year clocked in at 3.19%, and the 5-year adjustable rate mortgage (ARM) dropped to 3.07%.
Rates are down considerably since January, when the thirty-year rate hit 4.20%. It's an advantageous time to be a mortgage rate shopper because we're now locked in a downward drift.
It's making shopping for rates much easier.
In a steady-to-lower market, your rate is more likely to be there in a day or two when you're ready to move forward.
Rising rates, though, can price you out of the home you really want.  And, a slightly higher rate can take the value out of a refinance. That's why it's wise to request a rate lock when you see a rate you like.
In any environment, though, you want to take Freddie Mac's average rate with a grain of salt -- meaning, don't assume that will be your rate.
Freddie Mac publishes rates for the mythical perfect applicant: one with high credit scores and a big down payment, using a conventional loan.
But some applicants have tarnished credit and some won't consider conventional financing at all. The surprising thing is, those applicants might qualify for lower rates than conventional borrowers.
FHA loans, for instance, come with lower-than-conventional rates, according to loan software company Ellie Mae. In its most recent report for April, the firm reports that the average FHA loan recipient got a rate of 4.36% while the typical conventional borrower received 4.51%.
VA loans offer the best rates, at just 4.15% in April.
Ironically, FHA and VA loans are fashioned for low-credit borrowers, but still offer lower rates. They are meant to get renters into their own homes -- especially those who would not otherwise qualify.
Been turned down? Forget about conventional financing. Go for the FHA, VA, or the up-and-coming USDA loan.
Click to see today's rates (Jun 28th, 2017)
Mortgage Rates For June 2017
Today's mortgage rates are hovering near the high 3s low 4s, and many mortgage rates predictions have them unchanged-to-higher through 2017.
Loans now cost just $475 monthly for every $100,000 borrowed, excluding escrows for taxes and insurance, private mortgage insurance (PMI), and flood insurance, where applicable.
That's more than $40 per month cheaper on a $300,000 loan compared costs at the beginning of the year.
It should be noted, though, that although mortgage rates are still historically low, they may not stay that way for long. Mortgage rates change quickly with the economy, and with shifts in market sentiment.
Mortgage-backed securities (MBS) -- the Wall Street asset upon which mortgage rates are "made" -- have been waiting for a reason to move one way or another. This has rates on shaky ground.
MBS pricing is currently responding to influences on the economy, including the Federal Reserve's monetary policy, the jobs market, and forecasts for the new administration's stance on economic issues.
The biggest market mover this month will likely be based on Federal Reserve action.
The Federal Reserve to hike rates on June 14
The Federal Open Market Committee (FOMC) meeting begins June 13 and adjourns a day later.
The group will decide whether to hike its Federal Funds Rate after holding rates at its May meeting.
A hike is already "in the bag."
Analysts are forecasting an 87% chance of a June rate hike, which would place the target rate between 1.0% and 1.25% -- one-quarter of one percent above its pre-meeting level.
The hike will immediately raise costs for homeowners with a home equity line of credit (HELOC) or any other debt based on Prime rate. That's how the Fed affects HELOCs. Prime is equal to the Federal Funds Rate plus 3%.
Fortunately, there's no such direct relationship to mortgage rates.
Over the last two decades, the Fed Funds Rate and the average 30-year fixed rate mortgage rate have differed by as much as 5.25%, and by as little as 0.50%.
The Fed influences fixed mortgage rates, but doesn't control them.
Don't expect wild 30-year fixed mortgage rate swings after the Fed meeting. It just doesn't work like that.
Rather, markets build in hikes long before they happen. The Fed all but telegraphs its move long before the meeting itself, in a series of statements and speeches by Fed members. Massive swings occur when the unexpected happens.
That's why it will be "business as usual" for mortgage rates after the June rate hike.
The bigger market move, however, could be the Fed's own projection materials, set to be released when the June meeting adjourns.
Federal Reserve to issue always-fun "dot plot"
Eight times per year, the FOMC meets. The group releases its own projections for future rate hikes after four of those meetings.
June marks 2017's second release of projection materials.
The document's most interesting element is probably its "dot plot."
Each dot represents one Fed member and their guess of where the Fed Funds rate will be at the end of the year.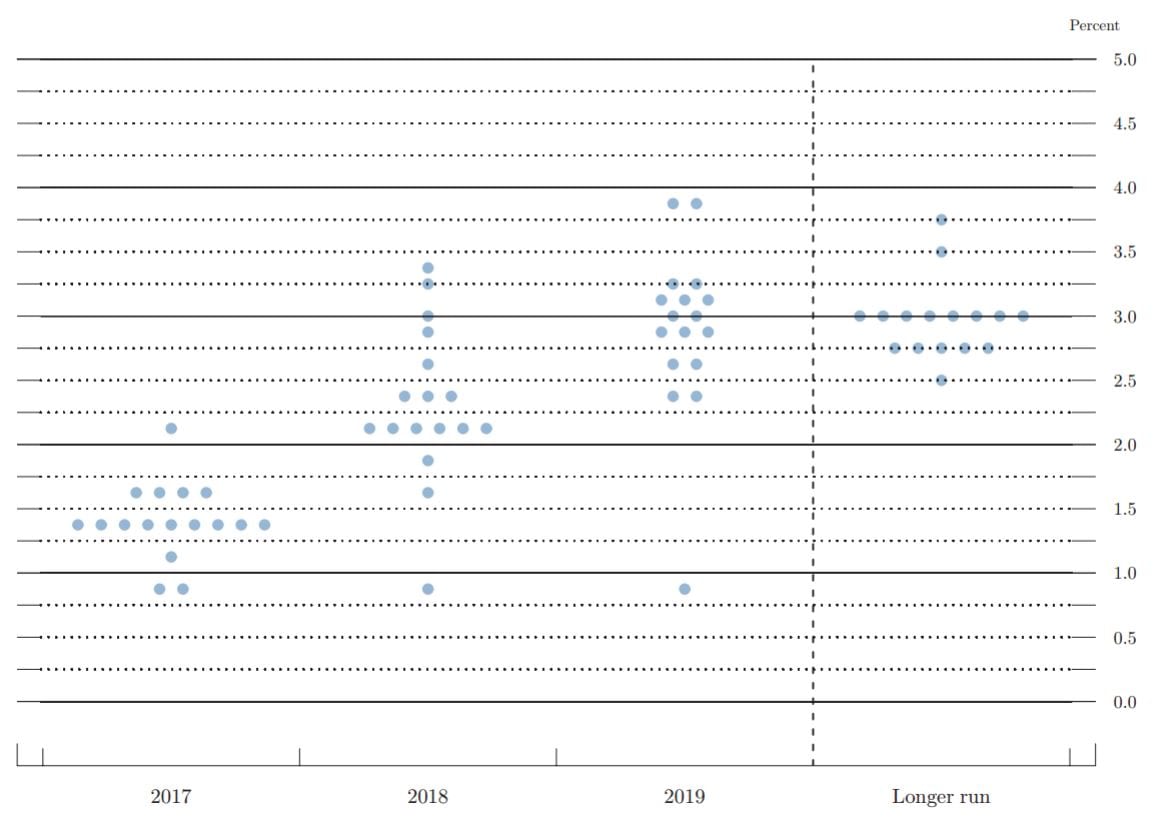 Image source: Federal Reserve
The consensus for 2017 as of March was that the Federal Funds Rate will top out between 1.25% and 1.50%, which is one-half percent above pre-June-meeting levels.
That would mean a hike in June plus one more for the year.
Interestingly, only one Fed member predicts no rate hikes in 2018 or 2019. The agreement appears to be an approximate doubling of the Fed Funds rate within two years.
For the everyday mortgage shopper should take note. Delaying a home purchase or refinance, waiting for rates to go down, could be an unwise move.
The Fed, armed with every economic report available, says rates will only rise in coming years.
While the Fed doesn't control consumer mortgage rates, its predictions can result in a self-fulfilling prophecy, swinging markets the way the Fed thinks they will go.
2017 could be the last opportunity at sub-4% rates in the next few decades.
Click to see today's rates (Jun 28th, 2017)
Mortgage Programs With Low Rates Now
Mortgage programs today come with low rates in the 4s.
Still, some mortgage programs are cheaper than others.
Ellie Mae, a mortgage software firm which processes 3.7 million applications per year, gathers data on loans run through its system monthly. Its April Origination Insight Report (the most recent available) was telling.
Government-backed programs, falsely perceived to have worse terms, actually carried the best mortgage rates.
The following average rates were reported by Ellie Mae.
Conventional loans: 4.51%
FHA mortgages: 4.36%
VA loans: 4.15%
As stated previously, these rates differ from Freddie Mac's average. Borrowers' situations and the properties they purchase differ. Plus, there are many types of loans, all offering their own interest rates.
Each loan type has its place in the market.
Fannie Mae and Freddie Mac -- purveyors of conventional loans -- have rolled out new programs for a wider array of buyers. A newer option donned HomeReady'ĄĘ requires just 3% down and is available to those with modest incomes.
Additionally, Fannie Mae has just introduced easier qualification standards for mortgage applicants with student loans. In many cases, the lender will reduce or completely eliminate the student loan payment from debt-to-income calculations. Also, a Student Loan Cash-Out program is now in effect, with which homeowners can use their home equity to pay off student loans.
Not to be outdone, the government-backed VA home loan offers a home buying as well as a refinance cash out option. Both options come with lenient credit requirements and are available to home buyers who have served in the U.S. military. There is no down payment necessary, and no monthly mortgage insurance charged.
FHA loans are extremely popular, used by about 40% of first-time home buyers in their 20s and 30s. Flexible lending requirements allow new graduates to obtain an approval just after starting their careers.
A loan program not covered by Ellie Mae's report is the USDA home loan, otherwise known as the Rural Development (RD) Guaranteed Housing Loan or "Section 502" loan.
It supports homeownership in less dense areas in which incomes often lag those within cities. There's no downpayment required, and minimum credit scores are low.
USDA mortgage rates are about as low as VA ones, making them one of the most affordable home buying options on the market.
For rural and suburban home buyers, there are few better options than the USDA loan.
Mortgage rates for these programs are still low, and could go lower later in 2017.
Click to see today's rates (Jun 28th, 2017)
This Month's Economic Calendar
The next five weeks hold no shortage of market-moving news. Most notably, watch for Federal Reserve meeting outcomes.
Friday, June 2: Non-Farm Payrolls, Average Earnings
Wednesday, June 14: Federal Reserve meeting adjourns
Wednesday, June 14: Fed projection materials released
Friday, June 16: Housing Starts
Monday, June 19: Chicago Fed President Charles Evans speaks
Wednesday, June 21: Existing Home Sales
Friday, June 23: Cleveland Fed President Loretta Mester speaks
Friday, June 30: Personal Income and Outlays (an inflation indicator watched by the Fed)
June could be a volatile month for mortgage rates. Lock in now if you are comfortable with your quoted rate.
What Are Today's Mortgage Rates?
Mortgage rates are currently just above 4 percent. Home buyers have excellent purchasing power at today's rates; and refinancing households can save more cash with a refinance.
Get today's live mortgage rates now. Your social security number is not required to get started, and all quotes come with access to your live mortgage credit scores.
Click to see today's rates (Jun 28th, 2017)
The information contained on The Mortgage Reports website is for informational purposes only and is not an advertisement for products offered by Full Beaker. The views and opinions expressed herein are those of the author and do not reflect the policy or position of Full Beaker, its officers, parent, or affiliates.
Try the Mortgage Calculator