Mortgage Rates Today, May 24, 2017, Plus Lock Recommendations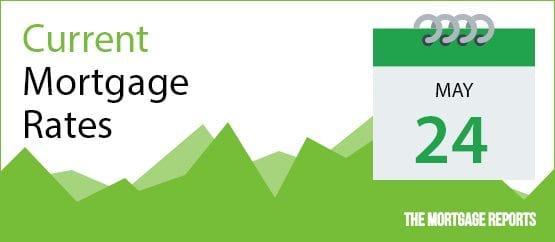 What's Driving Mortgage Rates Today?
There is one major housing report due out this morning, the Existing Home Sales report from the National Association of Realtors (NAR). Analysts had predicted that 5.6 million properties were sold in April, a drop from March's 5.71 million.
The actual numbers came in lower than expected, which is bad for the real estate industry but pretty nice for anyone floating a mortgage rate. Sales of existing condos, coops, and single-family homes fell by 2.3 percent to just 5.57 million.
Investors will also be carefully watching the 2 PM EDT release of the notes from the May 3, 2017 Federal Open Market Committee (FOMC). These could mean nothing, or they can be earth-shaking, depending on what the members have to say about the economy.
These notes often provide clues about when (if) the Fed plans to raise interest rates in the near future. Rates may not move much until these notes are released; market participants will be waiting for them before moving. Other data (see below rate table) may provide additional guidance.
Click to see today's rates (Sep 23rd, 2017)
Today's Mortgage Rates
| Program | Rate | APR* | Change |
| --- | --- | --- | --- |
| Conventional 30 yr Fixed | 3.750 | 3.750 | Unchanged |
| Conventional 15 yr Fixed | 3.125 | 3.125 | Unchanged |
| Conventional 5 yr ARM | 3.000 | 3.629 | Unchanged |
| 30 year fixed FHA | 3.250 | 4.218 | Unchanged |
| 15 year fixed FHA | 2.750 | 3.652 | +0.01% |
| 5 year ARM FHA | 2.875 | 3.996 | +0.01% |
| 30 year fixed VA | 3.375 | 3.546 | +0.01% |
| 15 year fixed VA | 3.000 | 3.284 | +0.1% |
| 5 year ARM VA | 3.250 | 3.294 | -0.01% |
Your rate might be different. Click here for a personalized rate quote. See our rate assumptions here.
 Today's Data
This morning's data is not nearly as favorable for interest rates, however, and is likely to offset some of the good news from the housing market.
All three stock markets: all three major indexes up (bad for rates)
10-year Treasury yield:Â up five basis points (.05) to 2.29 percent (bad for rates)
Oil is over $51Â and climbing (bad for rates because it causes concerns about inflation)
Gold slightly down (that's bad for rates because investors typically push gold prices up when the economy is shaky and down then it and inflation are rising).
Fear & Greed:Â Up 2 points to a neutral 51. The number is not bad for rates, but the direction, from fearful to neutral is. It means investors are more optimistic, and that tends to push rates up.
This Week
Wednesday: Minutes from Fed meeting. Investors watch closely for indications of future rate increases.
Thursday: Weekly Unemployment Claims: Estimated 235,000. More is better for rates, but data is only weekly so less important.
Friday: Durable goods orders for April: Estimated to drop one percent. Larger drop would be good for rates, increase would be bad. This report is fairly important.
Friday: Consumer Sentiment for May: Expected reading is very high at 97.7. Anything lower would be good for rates.
Rate Lock Recommendation
I expect mortgage rates to increase today unless something newsworthy breaks or the Fed drops a bombshell on us. If I like a rate, I'll probably lock. Your own goals and tolerance for risk may vary.
LOCK

if closing in

7

days

LOCK

if closing in

15

days

LOCK

if closing in

30

days

FLOAT

if closing in

45

days

FLOAT

if closing in

60

days
What Causes Rates To Rise And Fall?
Mortgage interest rates depend on a great deal on the expectations of investors. Good economic news tends to be bad for interest rates, because an active economy raises concerns about inflation. Inflation causes fixed-income investments like bonds to lose value, and that causes their yields (another way of saying interest rates) to increase.
For example, suppose that two years ago, you bought a $1,000 bond paying five percent interest ($50) each year. (This is called its "coupon rate.") That's a pretty good rate today, so lots of investors want to buy it from you. You sell your $1,000 bond for $1,200.
When Rates Fall
The buyer gets the same $50 a year in interest that you were getting. However, because he paid more for the bond, his interest rate is not five percent.
Your interest rate: $50 annual interest / $1,000 = 5.0%
Your buyer's interest rate: $50 annual interest / $1,200 = 4.2%
The buyer gets an interest rate, or yield, of only 4.2 percent. And that's why, when demand for bonds increases and bond prices go up, interest rates go down.
When Rates Rise
However, when the economy heats up, the potential for inflation makes bonds less appealing. With fewer people wanting to buy bonds, their prices decrease, and then interest rates go up.
Imagine that you have your $1,000 bond, but you can't sell it for $1,000, because unemployment has dropped and stock prices are soaring. You end up getting $700. The buyer gets the same $50 a year in interest, but the yield looks like this:
$50 annual interest / $700 = 7.1% The buyer's interest rate is now slightly more than seven percent.
Click to see today's rates (Sep 23rd, 2017)
The information contained on The Mortgage Reports website is for informational purposes only and is not an advertisement for products offered by Full Beaker. The views and opinions expressed herein are those of the author and do not reflect the policy or position of Full Beaker, its officers, parent, or affiliates.
Try the Mortgage Calculator