Don't Think You Can Buy Again After Bankruptcy? Actually, You Can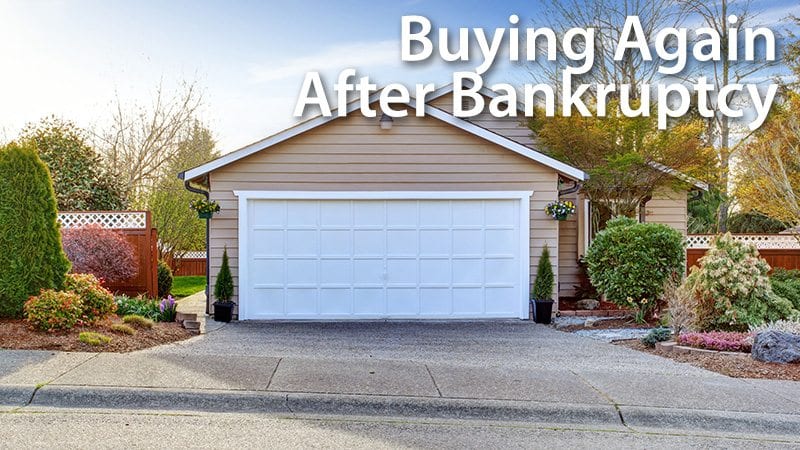 A Bankruptcy Isn't The End Of Homeownership
We're quickly approaching the 10-year mark since the housing downturn.
Things look much different across the housing landscape than they did at the height of the recession. Employment is strong and homeownership is once again sought after.
As time passes, many homeowners are getting back on track after a foreclosure or bankruptcy. They are meeting required mortgage approval "waiting periods" as financial events get further behind them.
A bankruptcy isn't the end of their homeownership journey.
In fact, it's very realistic that they can buy again after bankruptcy. All major mortgage programs available today -- conventional, USDA, VA, and FHA home loans -- have built-in guidelines that allow post-bankruptcy buyers to qualify for a mortgage.
Following a few best-practices, families are able to get back into a home they love.
Verify your mortgage eligibility (Jan 18th, 2018)
Foreclosures Often Result In Bankruptcy
For many, a job loss led to a foreclosure, which in turn led to a bankruptcy. This is due to a common outcome of a foreclosure: a "deficiency."
A deficiency is a charge from the former lender for the amount they lost in the foreclosure.
For example, a homeowner owed $150,000 on their home. It sold in foreclosure, also known as a sheriff sale, for $50,000.
That means they still owe $100,000, which becomes the deficiency on the loan.
The lender has the option to seek a judgment for the deficiency. Each state has different laws regarding this matter, however. In some areas the former owner only receives a 1099 and the deficiency is viewed as income for tax purposes.
Paying off this deficiency can be unrealistic for many individuals and families. They no longer own the home, and the foreclosure was caused by circumstances outside their control.
The course of action that many people take is to file bankruptcy to clear their name from the deficiency.
If this sounds like your situation, you probably filed a chapter 7 bankruptcy and included your home and mortgage. You did what you had to do to get a fresh start. Fortunately, this action does not disqualify you from ever getting a mortgage again.
You got back on your feet, re-established your credit, and you feel like you don't need to be renting anymore. Now you just have to make sure enough time has passed.
Verify your mortgage eligibility (Jan 18th, 2018)
Chapter 7 Bankruptcy Waiting Periods
Each loan type has its own waiting period guideline after a bankruptcy. Waiting periods for the four major types of loans are as follows.
FHA loans: 2 Years
VA home loans: 2 Years
Conventional mortgages: 4 Years
USDA home loans: 3 Years
While these are the "standard" guidelines, you may qualify for a conventional or FHA loan even sooner.
Both loan types have exceptions for "extenuating circumstances" or one-time events that caused income loss and that were outside the homeowner's control.
In this case, an applicant can be approved for a conventional loan just two years after bankruptcy, and an FHA applicant can receive approval after just one year through the Back to Work program.
Waiting Periods When Your Home Is Included In A Bankruptcy
The foreclosure waiting period for a conventional loan is typically seven years. But you may qualify for a significant reduction if the foreclosure was tied into the bankruptcy.
The key here is to understand when the foreclosure was recorded compared to your bankruptcy discharge date. Different rules apply if the foreclosure happened before or after your bankruptcy.
You can find the foreclosure "completed date" on your county's website, which records all property sales, foreclosure or otherwise.
The foreclosure was completed before the bankruptcy
Things are simple when the foreclosure happens before the bankruptcy. The waiting period starts at the bankruptcy discharge date.
For instance, your home was foreclosed in June 2011. Then, you filed for bankruptcy in November, and the bankruptcy was discharged in December. The waiting period begins in December 2011. If you wanted a conventional loan, for instance, you would be eligible in December 2015. This assumes the bankruptcy was not caused by an extenuating circumstance, in which case the waiting period would be up in December 2013.
The foreclosure was completed after the bankruptcy
But what happens if the sequence is reversed? In other words, the foreclosure happened after the bankruptcy was discharged, not before.
Sometimes, homeowners believe their foreclosure is complete and include their house in the bankruptcy. But the foreclosure or "sheriff sale" didn't take place until later.
This is an important point because different loan types view this scenario differently.
With FHA, the standard foreclosure seasoning applies, which is three years.
But conventional loans are actually more lenient than FHA in this case. With conventional, you can still go by the bankruptcy discharge date.
It doesn't matter when the foreclosure is complete as long as the mortgage was  included in the bankruptcy. The waiting period of four years the bankruptcy applies.
Verify your mortgage eligibility (Jan 18th, 2018)
FHA Could Still Show An Outstanding Loan
FHA homeowners could run into an additional issue.
But sometimes it's not, even years later, and your new lender encounters a problem when you apply for a new loan. The lender will request a debt and default check from a system called CAIVRS, a federal government database that records the status of federal debt like FHA loans.
Fortunately, you can appeal the status of your CAIVRS findings.
Housing and Urban Development, FHA's oversight body, maintains an email address to which you can send pertinent documents and information.
In an email, provide the closing statement or proof of when the home was sold on sheriff sale. You can usually find that on the county website where the home is located.
HUD will actually answer within a couple weeks in some cases. This is huge because most people think that if they have a CAIVRS issue, there is no hope of getting it fixed. But this support mechanism is in place to clear up issues that fell through the cracks years ago.
Tips To Quickly Rebuild Your Credit
Re-establishing your credit involves opening credit accounts and paying them on time for at least 12 months. Keep the accounts open and active.
Start with a credit card. Use it for gas, and pay it down every month. Keep a small balance on it so the credit bureaus can see that it's active, but try to keep it below 30% of your available balance. Owing much less than your available balance boosts your credit score.
The credit bureaus love to see a diverse credit profile, and will reward you with better scores if you have more than just credit card accounts.
Examples of other types of credit you should open are personal loans, student loans, and car loans. The credit bureaus and lenders want to see that you can responsibly utilize credit.
If there is limited re-established credit, the lender may look for non-traditional credit like 12 months of cell phone bill, gym membership, car insurance, or cable bill.
With some planning, you can build your credit score back to the level at which you can qualify for a home purchase.
What Are Today's Rates?
Even if you've had a bankruptcy in the past, you can still qualify for today's low rates.
Get a rate quote and check your eligibility to buy again. Only limited information is required to start, and you could receive an approval the same day.
Verify your mortgage eligibility (Jan 18th, 2018)
The information contained on The Mortgage Reports website is for informational purposes only and is not an advertisement for products offered by Full Beaker. The views and opinions expressed herein are those of the author and do not reflect the policy or position of Full Beaker, its officers, parent, or affiliates.
Try the Mortgage Calculator