Being Smart About This Week's Mortgage Rates (Conv, FHA, VA, USDA)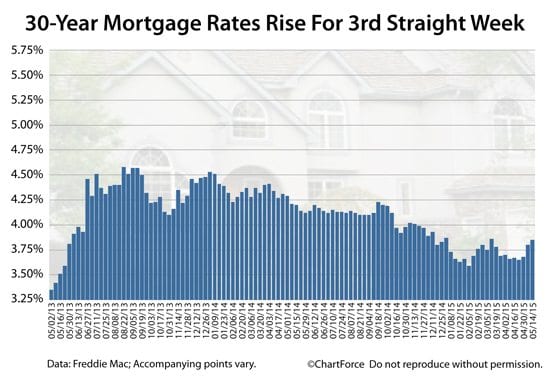 Mortgage Rates Rise For Third Straight Week
Current mortgage rates are worsening, making it tougher for this past weekend's newest buyers to get cheap home financing.
An improving U.S. economy and a settling comfort that Greece will make good on debts helped to draw investors away from the mortgage bond market, which led bond prices down and mortgage rates up.
Rates are now up for three straight weeks -- a period during which the average 30-year fixed rate mortgage rate has climbed 20 basis points (0.20%).
Rates are still great for a purchase or the refinance of an existing home, though.
Conventional mortgage rates remain roughly one-half percentage point below their year-ago levels, and FHA mortgage rates and VA mortgage rates are equally low.
As compared to the start of the 2014, today's active buyers can purchase approximately 10% more home. If you could afford a $300,000 home last year, you can afford $330,000 today.
Plus, lenders are approving more loans than during any period this decade. The market remains favorable for buyers and refinancing households.
Click for a complimentary mortgage rate quote (Oct 23rd, 2017).
Mortgage Rates Still Below 4%
According to Freddie Mac, the average 30-year conventional fixed rate mortgage rate rose last week, climbing 5 basis points (0.05%) to 3.85% nationwide.
Banks are charging an average of 0.6 discount points to get today's "prime", 30-year rates -- less than half the historical charge of 1.4 discount points per loan. However, not everyone will get access to today's great pricing.
The Freddie Mac survey carries three big caveats.
First, the Freddie Mac survey is aimed at "prime borrowers" only.
A prime borrower is one who is able to verify income, who can show credit scores of 740 or higher, and who has a downpayment of twenty percent or more for a purchase. Borrowers not meeting these criteria get access to nominally higher rates.
Second, the Freddie Mac survey reports average mortgage rates.
This means that some mortgage applicants are limited to rates which are higher than the Freddie Mac reported average of 3.85%; and, some are receiving access to mortgage interest rates below the average of 3.85%.
It's common for borrowers to get quotes and APR in the low-3 percent range these days, which means that it's also common to get rates in the high-3s.
And, third, the Freddie Mac mortgage rate survey applies to conventional loans only.
Mortgage applicants in search of FHA mortgage rates for an FHA loan; or VA mortgage rates for a VA loan won't be looking to Freddie Mac loan programs. FHA loans and VA loans are backed by different government agencies from a Freddie Mac loan and, as a result, borrowers with those programs get access to different mortgage rates.
Like conventional mortgage rates, FHA mortgage rates and VA mortgage rates are better to open this week.
Click to see today's live mortgage rates (Oct 23rd, 2017).
The Mortgage Rate Game: Mortgage Rate Predictions
This site hosts a mortgage rate prediction game called The Mortgage Rate Game.
New games start weekly, pitting loan officers, mortgage experts, real estate agents, and consumers against each other in contests to determine who's best at predicting mortgage rates.
Our players "beat the market" on average so if you're looking for commentary on today's mortgage rates, or an idea of where mortgage rates will go next, check out the game.
Consider playing, too. We're looking for the best rate-predictors in the land. Maybe it's you. This week's mortgage rate predictions include the following comments.
The Mortgage Rate Game asks players to predict where rates will be two weeks from now, and offers prizes and recognition to the winners. 92% of participants correctly forecasted last week's rising rates. The game is free to play.
Go to The Mortgage Rate Game and click "Sign Up".
Mortgage Rates : What To Watch For This Week
This week, the U.S. economic calendar is sparse, featuring few data releases which will affect mortgage-backed securities so the focus will be on momentum in markets and events in markets elsewhere, including Europe and China.
The complete economic calendar for the week follows :
Monday : Chicago Federal Reserve President Charles Evans speaks; Housing Market Index
Tuesday : Housing Starts
Wednesday :Chicago Federal Reserve President Charles Evans speaks; FOMC Minutes
Thursday : Jobless Claims; Existing Home Sales; San Francisco Fed President John Williams speaks
Friday : Fed Chairwoman Janet Yellen speaks; Consumer Price Index
Mortgage rate shoppers should pay special attention to Wednesday afternoon, when the FOMC Minutes are released. Wall Street will dissect the group's notes from the last FOMC meeting for clues about future Fed activity, which will affect the direction of mortgage rates.
Borrowers should also be on alert for this week's Fed speakers; and their respective comments regarding inflation. When inflation runs higher-than-expected, mortgage rates tend to rise.
Get A Complimentary Rate Quote Now
Mortgage rates are rising but remain beneath 4 percent, where they've been since last November. If you've been waiting to purchase or refinance a home, today is a good day to explore your home loan options. Rates change quickly and without notice.
Get a complimentary mortgage rate quote now. Rates are available for free, with no obligation to proceed, and with no social security number required to get started.
Click here for today's live rates (Oct 23rd, 2017).
The information contained on The Mortgage Reports website is for informational purposes only and is not an advertisement for products offered by Full Beaker. The views and opinions expressed herein are those of the author and do not reflect the policy or position of Full Beaker, its officers, parent, or affiliates.
Try the Mortgage Calculator