The End Of HARP 2? Demand For High-LTV HARP Loans Drops To Multi-Year Low.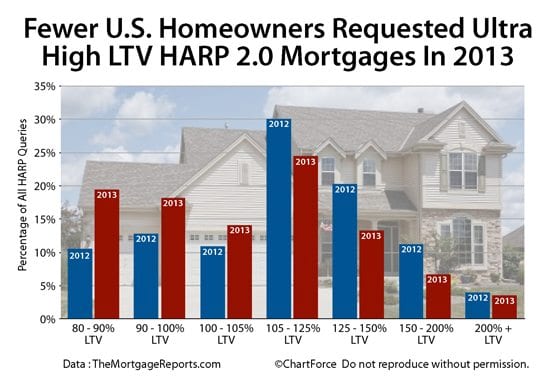 U.S. home prices are climbing, up more than 9 percent since last year. And, as home values rise, the need for last year's most popular mortgage refinance program -- the HARP 2 mortgage -- wanes.
Fewer U.S. homeowners request "ultra-high" LTV HARP mortgages anymore.
It's a dramatic shift from just two years ago when 7 in 10 Home Affordable Refinance Program queries requested an LTV of 105 percent or more. The shift may boost chances that a third version of HARP -- HARP 3.0 -- gets released to U.S. homeowners later this year.
Click for today's live HARP mortgage rates (Jul 20th, 2017).
HARP : Mortgages For Underwater Homeowners
HARP stands for Home Affordable Refinance Program. It's the government's refinance program for underwater U.S. homeowners.
HARP was first launched in 2009 as part of a broader economic stimulus program. Dubbed "The Obama Refi", with mortgage rates below 5 percent for the first time in history, the program promised homeowners $3,000 in annual savings, on average; the result of refinancing loans to lower mortgage rates.
As part of the HARP program, homeowners were given the ability to refinance without respect to loan-to-value (LTV), so long as the LTV was 125% or less. Furthermore, private mortgage insurance (PMI) coverage on a home would remain as-is; and, closing costs were to remain limited.
If you put down 20% on your home then, subsequently, lost it in the housing market downturn, you could refinance via the Home Affordable Refinance Program and not be required to pay PMI.
In HARP's first 3 years, more than 1 million refinances were recorded.
The transactions helped U.S. households with savings, U.S. banks with profits, and gave a boost to the broader U.S. economy. Then, in late-2011. the government expanded the program to help reach even more U.S. homeowners.
The new iteration of HARP was dubbed "HARP 2.0".
In design, HARP 2.0 was nearly identical to HARP 1. There was one notable exception, however. HARP 2.0 waived the 125% LTV restriction of its predecessor, allowing for unlimited LTV for refinancing U.S. households.
Skip to today's live HARP mortgage rates (Jul 20th, 2017).
HARP 2.0 : Closings Soar With Unlimited LTV
HARP 2.0 was announced in late-2011. By March 2012, it was widely available to U.S. homeowners. The release removed the original HARP's 125% LTV restriction; and introduced new rules which simplified the process of changing lenders.
For example, under HARP 1, it was a challenge to refinance a Bank of America loan to Wells Fargo; or a Chase Mortgage mortgage to Flagstar.
With HARP 2, cross-lender hurdles were removed and, not surprisingly, Home Affordable Refinance Program mortgage closings soared.
Whereas HARP 1 closed one million loans in its first 3 years of existence, HARP 2 closed 1 million loans in just its first 12 months. A huge percentage of these loans were ultra-high LTV loans, too -- loans which could never have worked under the terms of the original Obama Refi.
Ultra-high LTV loans were especially common in states such as Nevada and Florida where home values had dropped sharply in last decade's second half. Home Affordable Refinance Program loans dominated the refinance landscape in these "underwater" states and accounted for more than half of all refinances for consecutive calendar quarters.
HARP 2 reached homeowners the original HARP program ignored.
HARP 3.0 : Non-Fannie Mae / Non-Freddie Mac Mortgages?
Today, there is less need for the ultra-high LTV loans HARP 2 made possible. Home values are rising in many U.S. cities as the U.S. housing market continues to recover.
As reported by the Federal Housing Finance Agency (FHFA), there were fewer than 39,000 HARP closings in November 2013 -- the fifth consecutive month through which HARP closings fell  and the lowest tally since HARP 2 launched two years ago.
Furthermore, in 2013, as compared to the year prior, half as many homeowners requested Home Affordable Refinance Program loans above 125% LTV.
The steady decline in Obama Refi closings is among the reasons why chatter for a HARP 3-like program persists.
HARP 3 could expand the number of HARP-eligible households nationwide and Fannie Mae and Freddie Mac have already made moves in this direction.
Late last year, both groups changed the eligibility start date for HARP, helping to program-qualify additional U.S. homeowners. And, with the Home Affordable Refinance Date in effect until the end of 2015, more changes could be on the way.
Among the potential changes to the program is an extension to mortgages not currently backed by Fannie Mae or Freddie Mac; a change in the HARP mortgage eligibility date sometime into 2011; and, an allowance for existing HARP homeowners to "Re-HARP" to today's low rates.
Allowing the Re-HARP mortgage would re-open the program to more than 3 million U.S. households.
HARP 3 has no timetable for passage.
Verify Your HARP Mortgage Eligibility
Homeowners refinancing via HARP save big money. At today's low rates, the typical HARP homeowner's mortgage payment drops 26 percent. Over 30 years, that's something huge.
Confirm your eligibility for the Home Affordable Refinance Program and get started with a rate quote. The process is fast, it's free and a social security number is not needed to get started. See how much money a HARP mortgage can save you.
Click to get a personalized HARP mortgage rate quote (Jul 20th, 2017).
The information contained on The Mortgage Reports website is for informational purposes only and is not an advertisement for products offered by Full Beaker. The views and opinions expressed herein are those of the author and do not reflect the policy or position of Full Beaker, its officers, parent, or affiliates.
Try the Mortgage Calculator