Mortgage Rates Terrific After Federal Reserve Declares "No Taper for QE3"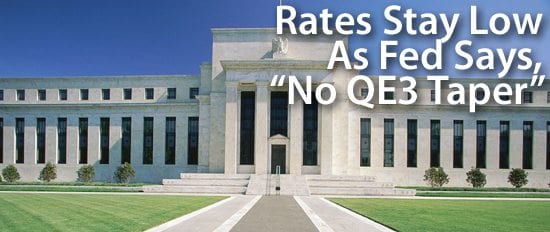 Mortgage rates remain at their lowest levels in 19 weeks after the Federal Open Market Committee (FOMC) adjourned from its seventh meeting of the year this week.
In its post-meeting press release, the Fed described the U.S. economy as expanding "at a moderate pace" over the past six weeks. However, the Fed did not see sufficient economic improvement to remove its existing market stimulus.
Conforming, FHA and VA mortgage rates are running one-half percentage point lower versus September. It's a good day to get a mortgage rate.
Click here for a personalized mortgage rate (May 29th, 2017).
Near-Unanimous Vote : No Change In Rates
Wednesday, the Federal Open Market Committee (FOMC) voted 9-1 to leave its benchmark Fed Funds Rate unchanged at its current range near 0.000%.
The Fed Funds Rate has been "near-zero" since December 2008. When the Fed Funds Rate is low, it reduces borrowing costs for businesses and consumers. Low borrowing costs stimulate spending which, by extension, stimulates the U.S. economy.
The Fed has said that the economy is not yet fully-recovered which is why the group had added additional stimulus since lowering the Fed Funds Rate to near-zero 5 years ago. One such stimulus is the Fed's quantitative easing (QE) programs.
Via quantitative easing, the Federal Reserve buys mortgage-backed and treasury bonds on the open market, creating additional demand which helps to move bond yields down.
When bond yields drop, so do mortgage rates.
There have been three rounds of quantitative easing since November 2009 and the current round -- QE3 -- is the Fed's largest to-date.
Via QE3, the Federal Reserve purchases $85 billion in bonds monthly -- $40 billion mortgage-backed bonds and $45 billion treasury bonds. Its September 2012 launch ushered in the period of the lowest mortgage rates in history, with 30-year fixed rate mortgage rates dropping to 3.31 percent nationwide for borrowers willing to pay 0.7 discount points.
Earlier this year, when Wall Street thought the Fed would soon end QE3, mortgage rates spiked. Today, with the Fed re-affirming its commitment to "mortgage rate suppression", rates remain low.
It's your second chance to refinance.
See what mortgage rates are doing right now (May 29th, 2017).
The FOMC Statement : October 2013
After each meeting of the Federal Open Market Committee, the group issues a post-meeting press statement.
The statement is a concise summary of domestic economic conditions, and offers the Federal Reserve's collective opinion of whether new stimulus is required to move the economy along, and whether existing stimulus should be removed.
The Fed's statement varied little from its last meeting.
Lastly, the Fed again noted that inflation rates are running below the group's 2% target rate and that persistently low inflation rates could "pose risks to economic performance".
Low inflation rates promote low mortgage rates. Today, mortgage rates look terrific.
See what mortgage rates are doing right now (May 29th, 2017).
Fed : "We're Suppressing Mortgage Rates"
The biggest non-surprise in the Federal Reserve's statement was that the group, again, left its current quantitative easing program, QE3, at full strength.
Recently, Fed members have said that economic growth has been too slow to warrant QE3's removal; and that the effects of the government's 16-day shutdown are still unknown.
To that end, then, the Federal Reserve announced that it will continue to purchase $40 billion in mortgage bonds monthly and $45 billion in Treasury bonds monthly. Together, these purchases create artificial demand for bond which helps to keep prices high, and rates very low.
Several reasons why QE3 won't end today include :
The group is not 100% convinced that the economy can grow without QE3
The group believes that low mortgage rates are important right now
QE3 helps to promote inflation, which could be good for the economy, too
Furthermore, members of the Fed have made a point to mention that there is not "preset course" for the future of QE3 and that the group will continue to watch the economy for signs that the stimulus can safely end.
For now, with QE3 at full strength for at least another 6 weeks, mortgage rate shoppers are catching a break.
U.S. rates are exceedingly low as compared to summer.
Get A Personalized Mortgage Rate Quote
Mortgage rates are ripe for locking. Since rising one percentage point through May and June, rates have dropped to near 4 percent with points. Purchasing power is up 5.5 percent and millions of U.S. homeowners can now refinance to lower rates and payments.
Are you refinance-eligible? The typical refinancing household lowers their mortgage rate by 2.1 percentage points. How much will you save with QE3?
Click here to get an instant mortgage rate (May 29th, 2017).
The information contained on The Mortgage Reports website is for informational purposes only and is not an advertisement for products offered by Full Beaker. The views and opinions expressed herein are those of the author and do not reflect the policy or position of Full Beaker, its officers, parent, or affiliates.
Try the Mortgage Calculator