Mortgage Rates Changing At 3x Historical Speed; Lock That Rate Or Risk Losing It Forever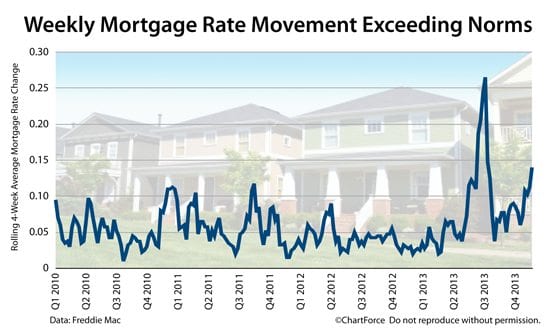 U.S. mortgage rates are changing at the fastest pace in more than 4 years, challenging home buyers and refinancing households in search of  "today's lowest mortgage rate".
Looking to lock a low mortgage rate? Better get on it. Rates will be different tomorrow, and the next day, and the next.
Jump to today's live mortgage rates (Jul 22nd, 2017).
30-Year Mortgage Rates Move To 4.46% 
It's been a rough few quarters for the mortgage market. Our story starts in May.
On May 1, 2013, the 30-year fixed rate mortgage rate averaged 3.35% nationwide. That same day, the Federal Reserve adjourned from a scheduled, 2-day meeting, announcing that its mortgage rate-suppressing stimulus program -- QE3 -- may soon be terminated.
Via QE3, the Federal Reserve purchases $40 billion monthly of mortgage-backed bonds in the open bond market. The excess demand holds bond prices high and, therefore, mortgage rates low.
We may "increase or decrease the pace of its [mortgage bond] purchases" in the future, the Fed said at the time, depending on U.S. economic need.
That Fed statement sent mortgage markets haywire. Wall Street took the announcement to mean that the central banker would soon "taper" its QE3 purchases to zero, leaving a void in U.S. mortgage-bond demand which would lead bond prices lower.
Investors ran for the exits.
In the weeks that followed that statement, U.S. rates sped northward toward four percent, then eventually blew straight through. By early-July, home buyer purchasing power dropped 20 percent as mortgage rates approached 4.6%.
Save for homeowners using HARP 2, many lost reason to refinance.
Then, in September, the Fed revised its message to say that further evaluation of the U.S. economy was necessary; that labor market growth had been too slow to prompt the beginning of the end for QE3. Mortgage rates retreated on the news, restoring half of the purchasing power buyers lost 6 weeks prior.
The last 4 weeks have been less kind.
After the October Non-Farm Payrolls released, it became clear that the U.S. economy was performing better than Wall Street had expected. Despite a 16-day government shutdown, more than 200,000 net new jobs were created which, once again, put the future of QE3 in doubt.
This week, Freddie Mac puts the 30-year fixed rate mortgage rate at 4.46% nationwide -- a +0.17 percentage point shift from last week. The increase marks one of the largest weekly changes to rates this year.
Volatility will continue in the weeks ahead. Rate shopping is a time-sensitive effort.
Get an instant mortgage rate quote now (Jul 22nd, 2017).
Mortgage Rates Changing 3x Faster Than Normal
For U.S. home buyers and refinancing households, finding and locking a great rate has been tough. Mortgage rates are changing more quickly than even during the Great Inflation Scare of late-May/early-June 2009.
Mortgage lenders have been issuing as many as 5 rate sheets per day -- a huge increase over historical averages. Consider this comparison :
That's a huge difference in how quickly rates change.
Mortgage rate velocity is running at its highest rate in maybe ever. Shopping for great rates is tough in a market like this. Purchasing power erodes quickly, and mortgage payments change without notice.
Meanwhile, the future QE3 remains dependent on the economy and the jobs market carries the largest influence. The Federal Reserve is unsure of when QE3 should begin its taper but that won't stop Wall Street's guessing.
Main Street gets caught in the crosshairs.
Where Are Today's Rates? See For Yourself.
According to Freddie Mac, the 30-year fixed rate mortgage rate rose 0.17 percentage points to 4.46 this week. This is the highest point in 12 weeks. The average 15-year fixed rate mortgage rate is also higher, at 3.47%.
Mortgage rates may continue higher going forward. Or, they may sink. We can't know which. However, if you've been wondering whether now is a good time to buy a home or refinance one, the answer is likely yes. Although, rates change quickly -- it will be a challenge to lock a rate you want.
See today's mortgage rates now (Jul 22nd, 2017). It's fast, it's free and no social security number is required. 
The information contained on The Mortgage Reports website is for informational purposes only and is not an advertisement for products offered by Full Beaker. The views and opinions expressed herein are those of the author and do not reflect the policy or position of Full Beaker, its officers, parent, or affiliates.
Try the Mortgage Calculator