HARP 3 Would Boost Refinance Activity, Reclaim Market Share From Purchases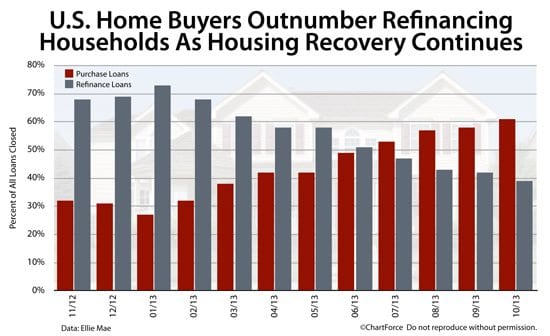 In October 2013, for the fourth straight month, U.S. purchase mortgage closings outnumbered refinancings. Prior to the streak, purchases had not outpaced home refinancings in three years, at least.
It's another show of strength for the U.S. home purchase market which is set to turn in its best year since 2007.
For active home buyers in cities including New York City, New York; Los Angeles, California; and Miami, Florida , the housing market's recovery is expected to bring higher home prices in 2014, and lower home affordability. 
The "best deals" in housing may be the ones you find today.
Click for an instant mortgage rate quote (Jul 24th, 2017).
Home Buyers Dominate October Market
October was a busy month for home purchases. According to mortgage software provider Ellie Mae, which manages more than 3 million mortgage applications per year for the nation's lenders, purchases trumped refinances for the fourth consecutive month.
The percentage of purchase home loans climbed 3 percentage points in October as compared to refinance activity, marking the 5th straight month during which purchase loans increased their market share . U.S. home buyers now account for 61% of all loans gone to settlement.
There are several reasons for the shift. 
U.S. home prices are rising, which pressures active buyers to buy
Mortgage rates are volatile, which lowers demand for refinances
New FHA MIP rules have slowed FHA refinances nationwide
Another reason behind the surge in purchases relative to refinance is falling demand for the Home Affordable Refinance Program (HARP).
HARP is the government's refinance program for underwater homeowners. Nearly 3 million homeowners have used the HARP program since its launch, but rising mortgage rates have limited the program's reach.
Last quarter, there were fewer HARP loans closed than during any of the last 6 quarters.
Furthermore, the share of purchase loans relative to refinance are expected to rise into 2014 barring two specific events. The first is the extension of QE3, a program from the Fed which works to keep mortgage rates low. The second is the release of HARP 3.
HARP 3 would be the second major update to the "Obama Refi" and would result in millions of new refinances over the next 12 months.
Ellie Mae : Mortgage Approval Statistics
The October 2013 Ellie Mae Origination Insight Report also gave data about recent mortgage applications, and what today's lenders require to gain approval.
FHA borrowers, for example, made an average downpayment of 5 percent in September and showed an average FICO score of 692. The average debt-to-income on a closed FHA loan was 41%.
Denied FHA loans averaged 45 percent DTI, which is consistent with FHA mortgage guidelines limiting debt-to-income to 45 percent except in extreme circumstances. The average FICO of a denied FHA purchase loan was 667.
Going forward, the FHA Back to Work program may skew these numbers.
The FHA Back to Work program waives the standard 3-year waiting period after a bankruptcy, short sale, or foreclosure and buyers with such "economic events" tend to have lower credit scores than non-affected buyers.
Other statistics from the September 2013 report include :
Average FICO for an approved conventional purchase loan was 758
68% of loans closed were conventional; 19% were FHA
The average purchase loan took 46 days to approve
Lastly, the percentage of conventional loan refinances with a loan-to-value over 95% dropped three percentage points to 7.3%. This is a function of rising of home values, and lower demand for HARP.
Are You "Skipping" On Your HARP Refinance
Ellie Mae data shows purchases outnumbering refinances nationwide. This is a function of both an increase in purchases, and a decrease in refinances. However, there are literally millions of U.S. homeowners who could refinance to lower rates if only they knew they were eligible.
The HARP mortgage program remains widely under-utilized.
The government has said that its HARP goal is to reach seven million households. So far, it's reached less than half of that and there are just two years until the program end date. This is among the reasons why HARP 2 may soon give way to HARP 3.
HARP 3 would be an update to HARP 2; a way to include more U.S. homeowners in the "Obama Refi" plan.
The rules of HARP 3 remain unknown. Some of the possibilities :
HARP 3.0 may include non-Fannie Mae and non-Freddie Mac loans
HARP 3.0 may extend the "start date" of HARP from May 31, 2009 to a date in 2011
HARP 3.0 may remove or reduce certain loan closing costs
HARP 3.0 may allow a "Re-HARP" -- that is, the refinance of an existing HARP loan
Some people believe HARP 3 will pass Congress as part of the White House's "A Better Bargain" package. Others believe that Fannie Mae and Freddie Mac will just release it on their own.
Either way, HARP 3 would unlock a flurry of refinance activity.
Get Today's Mortgage Rates
For today's mortgage rate shopper, rates are volatile and changing. Home prices, however, continue to make gains. More than 5,000,000 homes were sold on a seasonally-adjusted annualized basis in October and home values have climbed more than eight percent in the last 12 months.
Rates change frequents and so do markets. Take a look at today's live rates and see what's available. Whether you seek to purchase or refinance, it's good to know your options. Rates are personalized for your home and your specific needs.
Click here for an instant rate quote (Jul 24th, 2017).
The information contained on The Mortgage Reports website is for informational purposes only and is not an advertisement for products offered by Full Beaker. The views and opinions expressed herein are those of the author and do not reflect the policy or position of Full Beaker, its officers, parent, or affiliates.
Try the Mortgage Calculator