The Success Of HARP 2 May Spawn HARP 3-Like Mortgage Programs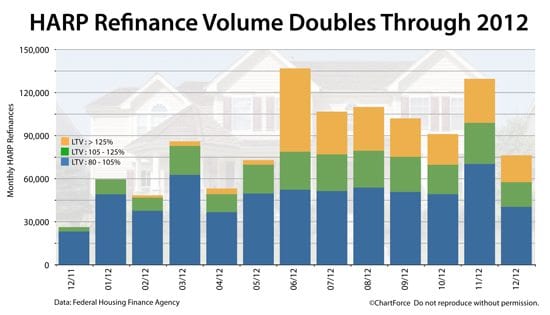 New government data shows that as many Home Affordable Refinance Program (HARP) refinances were completed during 2012 as during the program's previous three years combined.
The HARP 2.0 program is a verified success.
Click here to get today's HARP mortgage rates (Oct 23rd, 2017).
HARP : The Home Affordable Refinance Program
The Home Affordable Refinance Program was first introduced as part of the February 2009 economic stimulus package. The program was meant to forgive "lost equity" in a home; to give homeowners whose homes had lost value since purchase the ability to refinance to the day's lower rates.
HARP was pitched as a way for "the average household to save $3,000 per year", a talking point which, at today's rates, has undercut the program's potential. The typical HARP homeowner saves 33% monthly via refinance.
In order to qualify for HARP, homeowners must meet just two basic criteria.
First, your mortgage must have been a note date no later than May 31, 2009. Second, you must have a perfect payment history dating back 6 months; and may not have more than one 30-day late payment dating back one year.
These criteria have not changed since HARP first launched. The program was projected to reach 7 million U.S. households at the time. It fell well short of that goal, closing just over one million through the end of 2011.
To help the program reach more U.S. consumers, then, in late-2011, the government gave HARP a re-write. Dubbed HARP 2.0, the revamped program was revised to allow for unlimited loan-to-value and contained provisions for lenders including liability waivers for refinancing "poorly-written loans".
With the changes in place for the Home Affordable Refinance Program, volume soared. More Home Affordable Refinance Program loans closed in 2012 under HARP 2.0 -- 1.2 million -- than during the initial HARP run from 2009-2011.
Click here to get today's HARP mortgage rates (Oct 23rd, 2017).
Is HARP 3.0 On The Horizon?
As HARP 2 turns one-year old, it's a bona fide success. However, the program expires December 31, 2015 and it's unlikely that the target tally of 7 million will be reached.
This is among the reasons why there's talk of a HARP 3.0; a second update to the program which could extend HARP benefits to a wider range of U.S. homeowners, including those with mortgages not backed by Fannie Mae or Freddie Mac.
There are a number of HARP-like programs under consideration.
It's unclear whether parts of all, or none, of these HARP-like programs will launch before HARP 2 expires later this year. However, it's clear the government is intent on helping the Home Affordable Refinance Program to do more.
More than one-fifth of last year's closed HARP loans were for homeowners whose LTV exceeded 125%.
Check Your HARP Eligibility
Mortgage rates have climbed from last year's lows but remain cheap by historical standards. The average mortgage rate since 1971 is above eight percent. Today's rates are below four percent, in most cases. If you've been thinking of a refinance, or planning to HARP, the market looks good.
Determine your program eligibility and get today's mortgage rates. See what savings you can make with HARP.
Click here to get today's HARP mortgage rates (Oct 23rd, 2017).
The information contained on The Mortgage Reports website is for informational purposes only and is not an advertisement for products offered by Full Beaker. The views and opinions expressed herein are those of the author and do not reflect the policy or position of Full Beaker, its officers, parent, or affiliates.
Try the Mortgage Calculator