Today's Mortgage Borrowers Pay 65% More Discount Points, On Average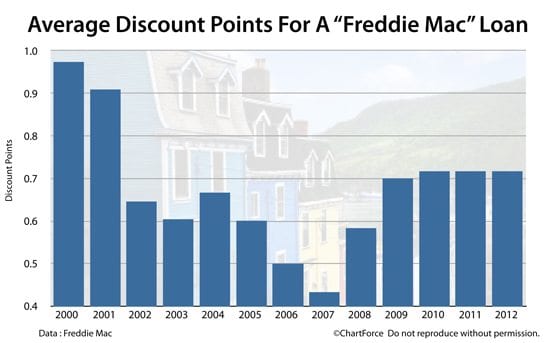 Since 2007, mortgage rates of all types have been on a steady decline. Conforming mortgage rates, FHA mortgage rates, VA mortgage rates, and jumbos -- everything is down. Even USDA rates and portfolio loans have improved.
However, as mortgage rates have dropped, closing costs have climbed. The required discount points for a mortgage and the loan's associated costs have climbed over each of the last 5 years.
It's a trend which is expected to extend into 2013, and beyond. Mortgage rate shoppers can expect low rates going forward, but with bigger fees than usual.
Click for today's mortgage rates (May 27th, 2017).
Discount Points Climb 65 Percent From "Mortgage Heyday"
Among the biggest factors in today's higher costs is an increase in loan discount points. Discount points are upfront, one-time, paid-at-closing fees which grant mortgage applicants access to lower mortgage rates.
1 discount point is equal to one percent of the borrowed loan size and the more discount points you pay to the lender, the lower your actual mortgage rate. For example :
The 30-year fixed mortgage rate with 0 accompanying discount points may be 3.50%
The 30-year fixed mortgage rate with 1 accompanying discount point may be 3.25%
The 30-year fixed mortgage rate with 2 accompanying discount points may be 3.00%
There is often no limit to the number of discount points you can add to a mortgage quote but, eventually, it becomes cost-prohibitive. You likely would not want to pay 5 discount points, for example, to get a rate in the mid-2s.
For homeowner in high-cost areas such as Orange County, California borrowing at the local jumbo loan limit of $625,500, five discount points carries a price tag of more than $31,000.
In 2012, according to Freddie Mac's Primary Mortgage Market Survey, lenders charged, on average, 0.717 discount points to lock a 30-year fixed rate mortgage. In 2007, that cost was just 0.433 discount point -- 65% less.
Today's low mortgage rates remain a great deal. They're just coming at higher costs than what you might remember.
Click for today's mortgage rates (May 27th, 2017).
Why Discount Points Are Rising
The average discount points paid by a mortgage applicant was 0.717 in 2012 -- up from 0.433 in 2007 -- and there's little surprise why. Because discount points are directly related to lower mortgage rates, loans with points will often "look better" as compared to loans without them.
In addition, because of how APR is calculated, loans with points tend to carry lower APRs than loans without. This makes a point-loaded loan appear more favorable as compared to a mortgage with no accompanying points.
It's among the many reasons why shopping for a mortgages by APR is a waste -- discount points skew the math. Banks know this, of course, and it's why many choose to present their loans with great, low rates and great, big fees.
It's also why the Freddie Mac weekly mortgage rate survey tends to show lower mortgage rates and higher fees than comparable weekly surveys from the Mortgage Bankers Association; or from actual loan data compiled from from more than 2 million mortgage applications by mortgage software firm Ellie Mae.
Freddie Mac's survey assumes that homeowners want low mortgage rates over low fees.
Click for today's mortgage rates (May 27th, 2017).
For Consumers Who Don't Want To Pay Points
Discount points are rising nationwide but it's your prerogative whether to pay them.
Many mortgage applicants prefer low-closing cost mortgages which require no discount points; and zero-closing cost mortgages which require no fees whatsoever.
Low- and zero-closing cost mortgages are especially popular for streamlined refinance programs such as the FHA Streamline Refinance and VA IRRRL program, and for HARP. This is because certain streamline refinance programs limit the costs which you call "roll" into your loan size.
Asking for a zero-closing cost mortgage circumvents paying cash for costs at closing. You won't get the "great, low rate" as advertised, but that advertisement is kind of a teaser, anyway. You'll get the right loan for your particular situation.
Click for today's zero-closing cost mortgage rates (May 27th, 2017).
Get Today's Mortgage Rates -- With Or Without Points
For today's mortgage rate shoppers, mortgage rates remain near the lowest levels of a lifetime -- with or without accompanying discount points.
See what today's low rates can do for your household budget. With discount points, you'll get a lower rate but bigger closing costs. Without discount points, you'll get a slightly higher rate, but much smaller fees.
Get a mortgage rate quote and do the math for yourself.
Click for today's mortgage rates (May 27th, 2017).
The information contained on The Mortgage Reports website is for informational purposes only and is not an advertisement for products offered by Full Beaker. The views and opinions expressed herein are those of the author and do not reflect the policy or position of Full Beaker, its officers, parent, or affiliates.
Try the Mortgage Calculator