MBA : Rising Mortgage Rates Will End The 4-Year Refi Boom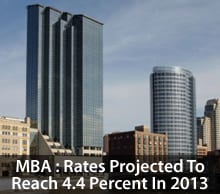 Mortgage rates have made a terrible start to 2013, and that may be just the start. 
For today's home buyers and rate shoppers, their predictions may be a signal to "buy now". The longer you wait, they say, the more your should expect to pay on your mortgage.
Click here for today's mortgage rates (May 27th, 2017).
MBA : Rates To Climb One Percentage Point
Freddie Mac's weekly mortgage rate survey put last week's average 30-year fixed rate mortgage rate nationwide at 3.53% -- already one quarter-percentage point higher than November's all-time low.
And, according to the Mortgage Bankers Association (MBA), we're headed much, much higher. 
In its annual mortgage rate forecast, the MBA projects that the 30-year fixed will rise to 4.40% within tis year. This is more than a full percentage point higher than rates from January 1, 2013, a shift which would decimate buyer purchasing power, and end the longest Refi Boom in recent history.
To understand the magnitude of 4.40% mortgage rates as compared to rates from January, consider a home buyer in the San Francisco, California borrowing at the local jumbo loan limit of $625,500.
In 2012, at 3.32 percent, the mortgage payment is $2,751
In 2013, at 4.40 percent, the mortgage payment is $3,132, a $381 increase
Or, presented in reverse, to maintain a monthly mortgage payment of $2,751, the Bay Area borrower could borrow $548,400, and not a penny more. This is a 12.4% purchasing power reduction and suggests that buyers should lock their rates now.
Click here for today's mortgage rates (May 27th, 2017).
HARP Loans Get Big Year-End Boost
It's also noteworthy that demand for the government's Home Affordable Refinance Program (HARP) remains strong. HARP mortgages accounted for close to 1-in-4 refinances during Q3 2012 and demand for the "underwater refinance" is rising in 2013.
HARP accounts for roughly one-fourth of all refinance applications nationwide, and the program is expected to help more than 1,000,000 homeowners this year.
HARP is available to homeowners with mortgages backed by Fannie Mae or Freddie Mac; with a 12-month perfect payment history; and with a mortgage for which the note date is no later than May 31, 2009. For homeowners with FHA-insured mortgages, a similar underwater loan-type is the FHA Streamline Refinance.
Click here for today's mortgage rates (May 27th, 2017).
Get Your Rates While Rates Are Still Low
Mortgage rates have climbed since the Federal Reserve's late-January meeting but remain near lifetime lows. Through 2013, however, rates are expected to climb.
Therefore, if you've been thinking about getting starting with a refinance, now would be a great time to do it. Mortgage rates often rise suddenly and unexpectedly. Get ahead of the changes and see what a mortgage refinance can do for you.
Click here for today's mortgage rates (May 27th, 2017).
The information contained on The Mortgage Reports website is for informational purposes only and is not an advertisement for products offered by Full Beaker. The views and opinions expressed herein are those of the author and do not reflect the policy or position of Full Beaker, its officers, parent, or affiliates.
Try the Mortgage Calculator