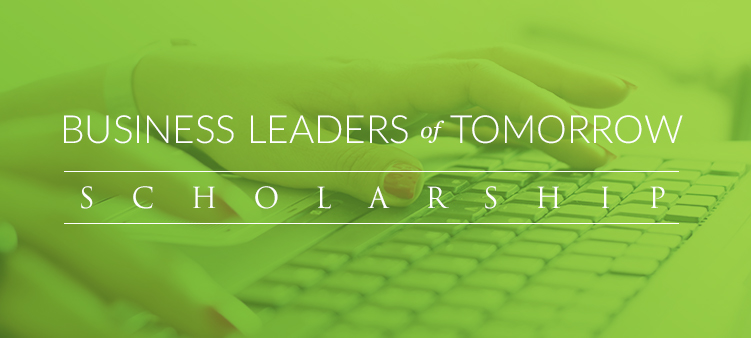 Win a $1000 Scholarship
Now accepting applications for the 2018 award
Minimum Qualifications

Age: 17 years or older

GPA: 3.0 or higher

Enrollment status: Accepted to or currently enrolled in an accredited finance, economics or real estate program.
Share This With Your Friends and Family!
Important Dates
Applications Accepted: February 10, 2017 - January 29, 2018
Final Award Selection: March 15, 2018
Scholarship Awarded: Spring Quarter 2018
Requirements
The Business Leaders of Tomorrow Scholarship is offered to students entering or currently pursuing an educational program related to business or finance. Students must be at least 17 years of age and have a GPA of 3.0 or higher.
All applicants must submit a 600 to 1,000-word essay explaining what they hope to accomplish during their career in a business or finance field and how the scholarship would fulfill those goals. Recommended topics are included in the Personal Essay section.
All applications must be received by January 29th, 2018. Finalists will be notified in February and must provide proof of enrollment and GPA (letters of acceptance, transcripts, etc.) before the scholarship recipient is selected.
Selection
Applications will be reviewed by a panel. The winner will be selected based on the criteria set forth in the requirements section of this document.
Once the winner is decided and notified of the award, he/she will receive a mailed 1099-MISC tax form and the check will be delivered to their address. The winner of the scholarship award will be fully responsible for the taxes incurred from receiving the award.