Higher limits for FHA 203k loans are first-come, first-served
You can get a great deal on a "fixer-upper" house — even if you don't have tons of cash on hand to do repairs
This is possible with an FHA 203k loan.
203k loans typically let home buyers borrow up to $35,000 above and beyond the home price, and use the extra money for renovations.
And thanks to a new rule, people buying in designated "Opportunity Zones" can borrow up to $50,000 — giving them an extra $15,000 in renovating power.
But the new rule is first-come, first-served. Only the first 15,000 applicants nationwide will be able to use the higher FHA 203k loan limit.
So if you're interested in a bigger 203k loan, check your eligibility and move fast.
FHA 203k is a "rehab" loan for fixer-uppers
The FHA 203k mortgage is also known as a "rehab loan." It lets borrowers roll the purchase price and renovation costs into one low-interest loan. And it has some unique benefits.
With the FHA's 203k program, qualified borrowers can buy with just 3.5% down.
They can also avoid some pitfalls of taking out a second, separate loan — like dual closings, balloon payments, and higher interest rates. This can often save borrowers thousands of dollars on renovation financing.
No less important, the FHA 203k program is long-term financing. As long as 30 years. The result is low monthly costs and no balloon payment.
And now the Limited 203k program has been improved. Instead of a $35,000 repair limit, the ceiling has been increased to $50,000 inside Qualified Opportunity Zones. But only for the first 15,000 qualified buyers.
What are Qualified Opportunity Zones?
The new $50,000 limit on FHA 203k loans can only be used in "Qualified Opportunity Zones" (QOZs). These areas, which are generally lower-income, offer tax cuts to new investors and affordable housing for residents. QOZs are poised to grow quickly, but home buyers can still find great deals in many of them.
So, where can you find Qualified Opportunity Zones?
In fact, they're all over the country. Under the 2017 tax reform legislation, as many as 25% of the Census tracts in each state can be Qualified Opportunity Zones.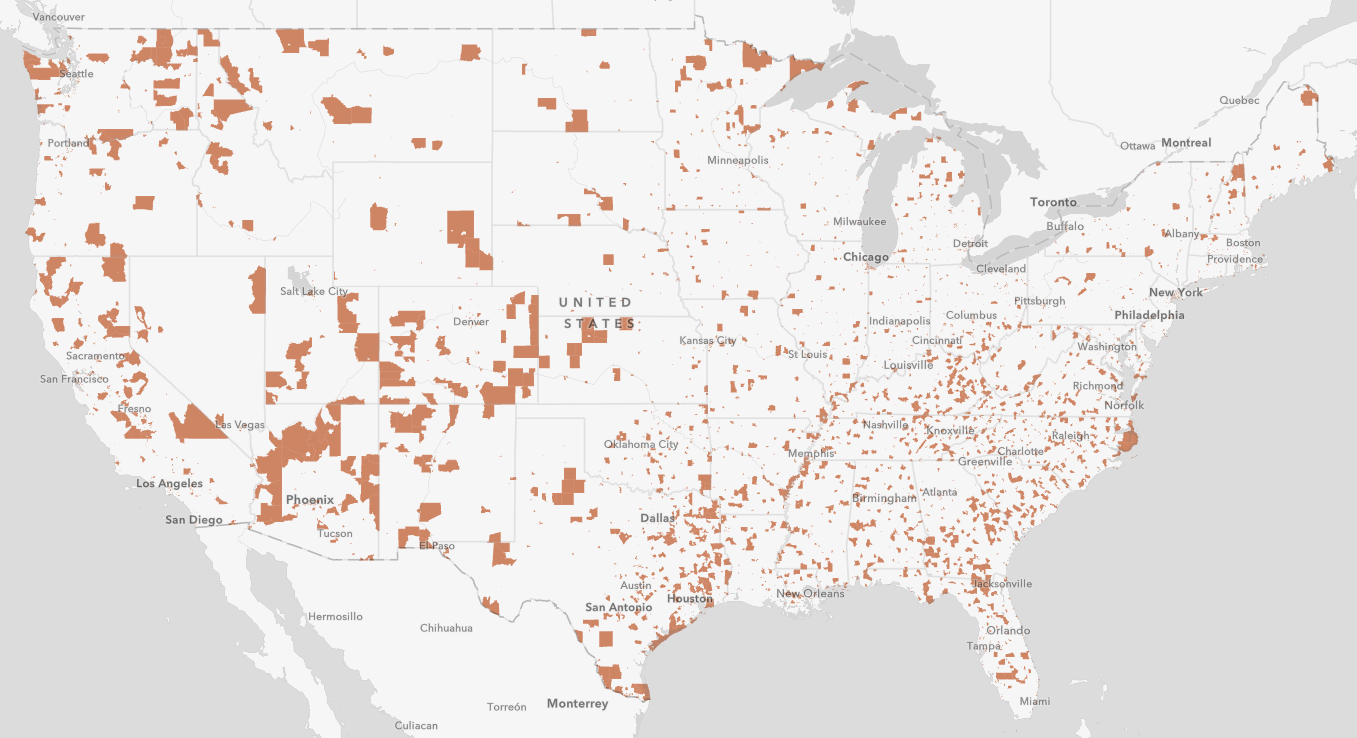 Such tracts must include low-income communities. And there are more than 8,700 Census tracts that qualify.
Use this interactive map to find QOZs in your state. To use, select "Qualified Opportunity Zone Tract" under Layers, and deselect "2011-2015 LIC Census Tract." Then zoom in on the area you want to see.
Opportunity Zones and FHA 203k mortgages
While the Opportunity Zone program is designed to bring investor money into selected areas, the FHA 203K program is different. It's designed to better the local housing stock and increase the local population.
Since 1996, investors have been banned from the FHA 203k program. You can use these loans to acquire and upgrade a new home, or to refinance and renovate the home you have. But you cannot use them to buy and upgrade a property you plan to rent out.
Opportunity Zone benefits are geared toward investors. But the FHA 203k loan program is designed to help home buyers and homeowners.
The QOZ program could be especially appealing to home buyers looking for a great deal.
Already, homes in about 80 percent of QOZs cost less than $266,000 (the national average home price). And if you find a fixer-upper in one of these areas, it could be much cheaper.
That means with a bigger FHA 203k loan you could still get bargain financing. And renovations will help you start building equity in the home faster.
How the FHA 203k loan helps home buyers
In all markets, there are homes that will have far higher values if fixed-up.
For instance, take a $300,000 property. With $35,000 in the right repairs, it might be worth $375,000. That's an additional $40,000 in equity that can be captured by owners.
The problem is that, while many potential borrowers can afford the $300,000 mortgage, the additional $35,000 is both difficult and costly.
The Limited FHA 203k program can solve this problem.
Using the "Limited" FHA 203k program for Qualified Opportunity Zones
Most home buyers use the "limited" FHA 203k program. Here's how it works.
First, the loan provides financing to acquire the property; essentially $300,000 less the down payment.
Second, the loan funds an additional $35,000 (or $50,000) in allowable upgrades.
That could include such things as painting, kitchen improvements, HVAC modernization, and more. These upgrades must be carried out by a professional contractor — no DIY allowed.
With the $50,000 203k limit in Opportunity Zones, buyers could have an additional $15,000 in cash for renovations. Bigger and better upgrades could rapidly increase the home's value and the homeowner's equity.
But remember the catch: HUD will allow the bigger loan limit for only 15,000 homes nationwide, annually. It's first-come, first-served and a potential rush at the start of each year.
Using the "Standard" FHA 203k program for Qualified Opportunity Zones
In addition to the limited program, there is also a "standard" 203k program.
The standard 203k has a much higher ceiling for renovations (no pun intended). It's meant for big jobs such as room additions or structural repairs.
For example, say a property is sold for $400,000 in a high-cost area. And in that area, the FHA loan limit for a single-family home is over $700,000. In this case, the buyer could potentially finance repairs in the six-figure range using the standard 203k loan.
But unlike the limited program, standard 203k financing is much more complex.
Among other things, borrowers must work with a qualified 203k consultant to plan out and pay contractors. The whole process takes longer and requires borrowers to jump through more hoops.
Buying a home in an Opportunity Zone
Investors are already taking advantage of Opportunity Zones. There are massive tax benefits to be had for those that buy an investment property or open a business in a QOZ.
In fact, HUD estimates that the program will spur private investment worth as much as $100 billion.
But there's also room for everyday people. You don't have to be rich to benefit.
The influx of investment dollars, as well as new jobs and spending, can increase local property values.
However, as with all investments, it's important to choose very carefully. Not all Opportunity Zones will be equally favored by investors. Some will attract few if any new dollars.
Finding the right Opportunity Zone
The majority of Qualified Opportunity Zones are lower-income, economically stagnant areas. But there's also a curious exception. Not all Qualified Opportunity Zones are what many think of as "low income."
Up to 5% of the QOZs can have higher median incomes.
Some Opportunity Zones have higher median incomes. These areas may already be on an economic and commercial upswing.
For example, the Long Island area where Amazon — at one time — planned to build its "HQ2" is actually an Opportunity Zone.
According to Curbed New York, the area "has a median income of $138,000, a poverty rate of 10 percent, and a bevy of new pricey shops, housing, and development."
Home buyers should do extra research before buying in a QOZ. The goal is to find an area where investors are already buying-in, and economic improvements are on the way.
If shoppers know where to look, they could buy in on the ground floor of a truly up-and-coming area. Home values could rise in short order.
FHA 203k loan mortgage rates
FHA lenders who offer 203k financing will charge premium, above-market interest rates. The higher cost reflects the greater complexity required to originate 203k financing, including lender work after closing to approve contractor disbursements. As always, shop around for the best rates and terms.
FHA 203k loan alternatives
There are very few 203k alternatives for home buyers that want to do renovations.
That's because at the time the property is acquired, it likely does not have enough value to support extensive repairs.
However, the Fannie Mae HomeStyle mortgage can be used to acquire and fix-up properties. It requires 5% down but borrowers might save with a lower interest rate and no required up-front mortgage insurance premium.
Equity is the big issue for property owners who want to fix-up current residences. If you have a lot of equity then you can consider cash-out refinancing, a second mortgage, or a home equity line of credit (HELOC).
However, if equity is limited then look into the 203k program.
Your next steps
HUD is offering a $50,000 repair limit for 203k loans in Qualified Opportunity Zones. But only for the first 15,000 people who claim this deal.
If you're interested, start by researching Opportunity Zones in the state where you plan to own a home.
Then, compare rates from FHA 203k lenders. You can get started using the link below.