Despite fewer homes and higher prices, affordable housing persists
Home prices have moderated in some markets, but they continue to climb in others. And inventory remains low.
Yet research suggests that housing has actually become more affordable this year, despite market hurdles. Affordable homes are possible thanks to lower mortgage rates and greater purchasing power.
But the affordability trend may not continue for long. That's why it pays to hunt for homes and mortgage rates now. Waiting too long could prove costly.
Learn what you can afford. Shop around for homes in desirable locations. And lock a rate soon before low mortgage rates become a thing of the past.
Find and lock a low mortgage rate. Start here
What the latest numbers reveal
A new study by Black Knight shows that housing affordability hit nearly a three-year high in September. That's when mortgage rates briefly dipped below 3.5%. Other findings from the report include:
The drop in mortgage rates since November has been enough to amp up buying power by $46,000 while keeping monthly principal and interest (P&I) payments the same
The monthly P&I needed to buy an average-priced home is $1,122. That's down about $124 a month from November 2018, when interest rates were near 5%
Monthly P&I payments now require only 20.7% of the national median income. That marks the second-lowest national payment-to-income ratio in 20 months
That last point may be the most important. For the average home buyer, month-to-month housing costs are lower than they've been at almost any point in the last three years.
Consider that mortgage companies cap the total amount you can pay in debts each month compared to your income. This is called the debt-to-income ratio (DTI).
The traditional DTI limit for all monthly debts (including auto, student and personal loans) is usually capped around 43%.
With a mortgage taking up a smaller percentage of the average buyer's income than it did even a year ago, people are more likely to qualify for financing.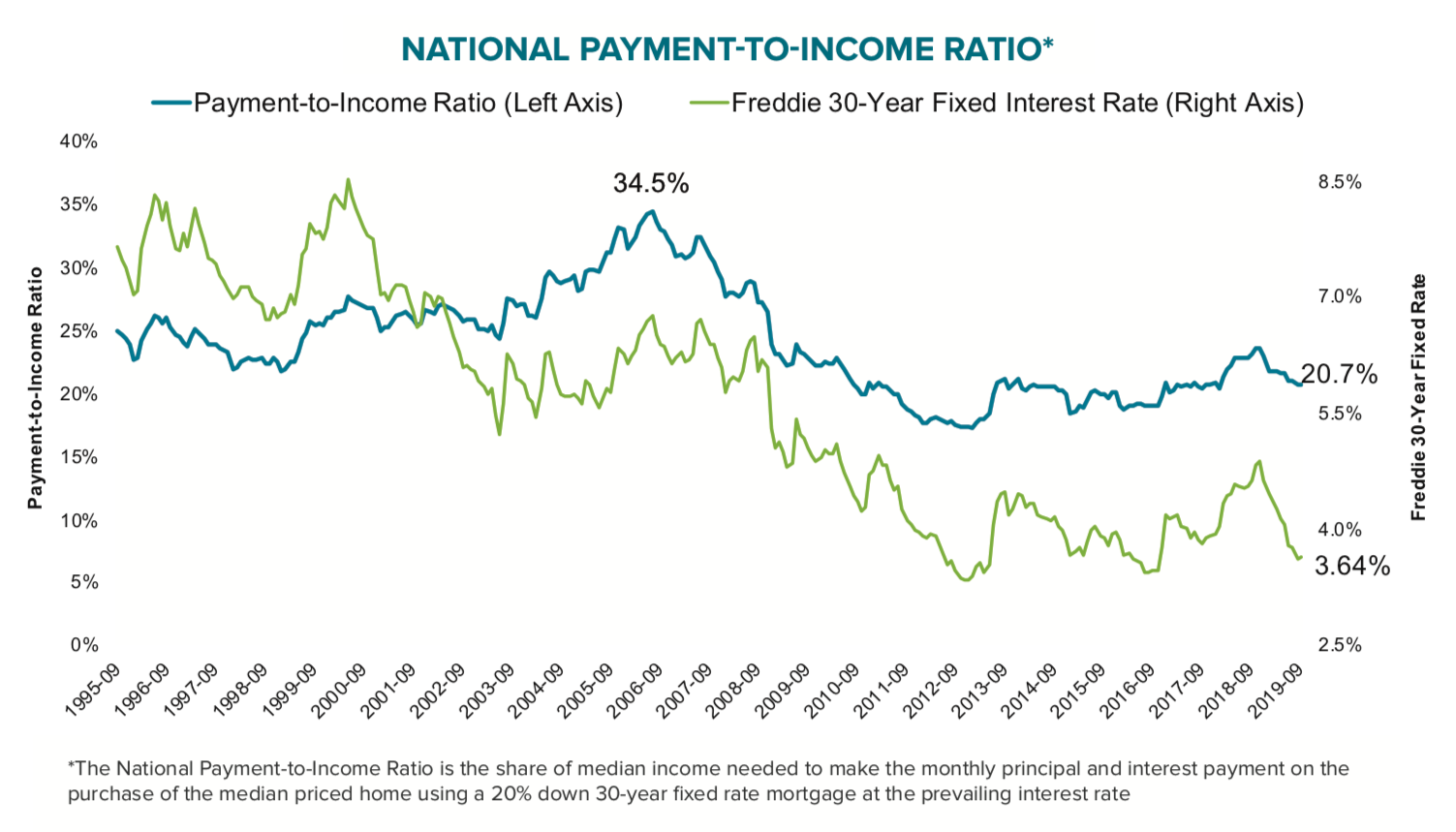 Image: Black Knight
That might mean you're able to qualify for a better, more expensive home than you would have before.
If you have a lot of other monthly debts, a lower monthly payment could make all the difference in qualifying for a mortgage at all.
See what rate you qualify for today. Start here
Why housing is more affordable right now than in recent years
Lawrence Yun is the chief economist for the National Association of Realtors. He says it's encouraging that lower mortgage rates right now are helping to offset higher home prices.
"Assuming you put down 20% on a median-priced home, your monthly mortgage payment would be $1,070 at this time last year. That's assuming a 4.7% mortgage rate at that time," he says.
Today, your monthly payment on that same home could be down to $990 — $80 less — even though you would have paid more for the home thanks to rising real estate prices.
But lower rates don't tell the whole story
"The job market is also the best it's been in most people's lifetimes," says Ralph DeFranco, global chief economist at Arch Mortgage Insurance.
Strong employment, higher wages, and low interest rates all add up to greater purchasing power.
Related: Low rates mean big purchasing power. See how much house you could afford
Also, "now more than ever, borrowers have access to hundreds of loan products," notes Seth Feinman, vice president of Silver Fun Capital Group, LLC.
"So for those who couldn't qualify for a loan several years ago, they now have options to obtain financing that didn't exist before."
For example:
"Qualifying rules have been eased, too," says Anna DeSimone, author of "Housing Finance 2020."
"That means borrowers with no credit scores, limited credit histories, or income earned from nontraditional sources may now be eligible for a mortgage loan."
Will the affordable housing trend continue?
Ask Yun and he'll tell you that mortgage rates will likely remain attractive through 2020.
"But then they will rise, which will knock off many buyers from the pool of eligible purchasers," predicts Yun.
"Affordability is about the best it can be compared to what it is likely to be over the next few years. So, in that sense, it's a good time to buy right now if you have the financial means."
"Affordability is about the best it can be compared to what it is likely to be over the next few years. So, in that sense, it's a good time to buy right now if you have the financial means." —Lawrence Yun, Chief Economist, National Association of Realtors
DeFranco agrees.
"I expect home prices will continue to rise from coast-to-coast. So it would be better to buy now than to wait," recommends DeFranco.
"If mortgage rates fall in the future, you can always refinance to a lower rate," he continues. "Many people are overly haunted by what happened 10 years ago. But given the current shortage of housing in most cities and strict lending rules, the risk of serious price declines is far less than most people think."
Feinman also foresees affordability lingering—but not forever.
"As long as there continues to be volatility in the market and rates stay low, home affordability should continue for the near future."
"Jobs are an important factor," adds Feinman. "If people are making more money and have access to higher-paying jobs, spending will increase, too."
DeSimone expects the current housing affordability trend to only last another year or two max.
"If you're thinking about buying, lock in soon at a low interest rate for the long term if you can afford it," she says.
Find and lock a low interest rate. Start here
Action steps you can take
Your best bet? Shop around for homes and mortgage rates carefully.
"Contact a mortgage professional who has many options to offer. An expert can help you figure out the right product for you," Feinman suggests.
Also, be prepared for stronger competition from other buyers.
"Talk with local expert Realtors to determine your best strategy," says Yun.
Lastly, stay within your budget.
"Don't overstretch your affordability to get your dream home. Buy a home that makes financial sense today. You can trade up later to a better home after building up some equity," adds Yun.
What are today's mortgage rates?
Your mortgage rate makes a huge difference in your housing budget. Shop around to see which lender can offer you the lowest interest rate — and therefore, the most home-buying power.
Time to make a move? Let us find the right mortgage for you