Homeownership: Is it for you?
Owning a home has its advantages. You can build equity and capitalize on tax savings. You can furnish, decorate and enjoy a place of your own. And you'll likely have extra room to accommodate a growing family. With these perks in mind, why not buy a house?
The answer is simple: Not everyone is cut out to own a home. There are risks involved with this purchase. You could lose money. You'll be responsible for upkeep and repairs. And some people make better homeowner candidates than others.
Crunch the numbers and evaluate your circumstances carefully. Talk to experts like a real estate agent and mortgage lender, too. You may conclude that buying a property is in your best interests. Or you could determine that there are too many uncertainties involved.
Why not buy a house? Here are 5 good reasons.
There can be many compelling arguments against purchasing a home. Among the five most common reasons, explored next in greater detail, are:
You aren't financially ready.
You haven't done your homework.
It's financially risky.
Owning a home takes a lot of work.
Home ownership can limit your flexibility.
1. Are you financially ready?
Why not buy a house, you ask? Because your dollars could be in disarray.
Real estate attorney and Florida International University instructor Suzanne Hollander says buying a home is a bad idea — and may not even be possible — for those with money problems.
"You have to have healthy credit. Your credit score is the lender's barometer that measures your risk of loan repayment," she says. "Without a good credit score, you may not qualify for a mortgage loan at all. Or, you may have to pay a very high interest rate to your lender."
You also need to have enough money saved for a sufficient down payment. Most conventional loans require 20 percent down, unless you want to pay for private mortgage insurance. Other loans require little to no down payment (like a USDA loan or FHA loan, respectively).
Take a closer look at your employment situation, too.
"A poor buyer candidate is someone with little to no job security, who's been employed less than two years, or is making an inadequate income," says Tamara Dorris, adjunct real estate professor at American River College. "You probably won't qualify for a loan if you fit any of these criteria."
The bottom line? "A home purchase is one of the largest investments you will make. You need to spend time getting your financial house in order — getting financially prepared — to pay the mortgage and the costs associated with ownership," Hollander adds.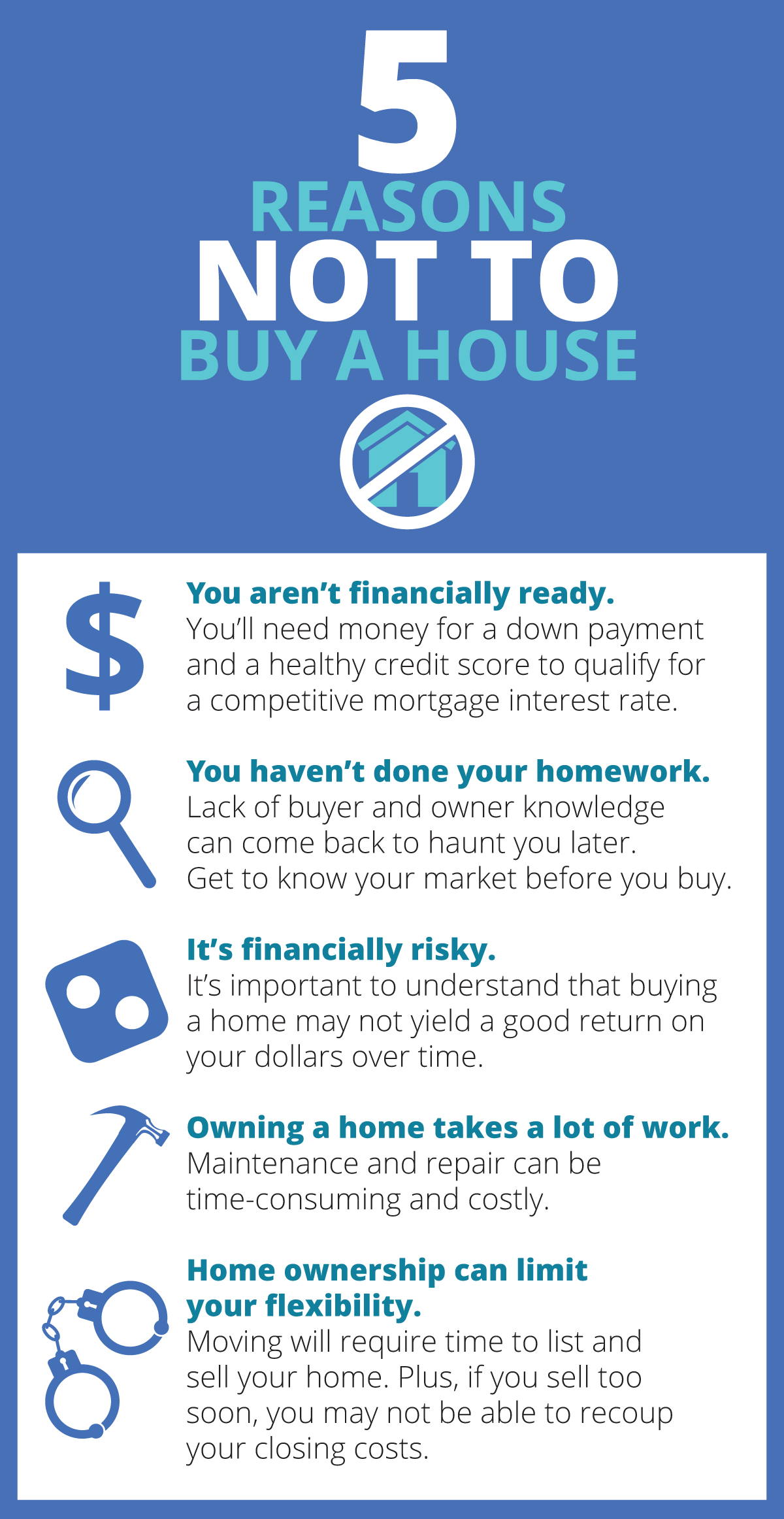 2. Have you done your homework?
Why not buy a house? Truth is, you may not have enough buyer/owner smarts yet.
Bruce Ailion, Realtor and real estate attorney, says lack of knowledge can come back to haunt you.
"If you're eager to buy, you need to know what you're doing first," he says. "That means learning how real estate works. It means knowing how to search for properties in the right locations. And it involves learning the skills needed to maintain and manage a home."
Ownership, Ailion adds, "requires a higher level of maturity and know-how than renting."
To get up to speed, take a real estate course or read a book on the subject of home ownership. Consult with a mortgage lender and Realtor and learn what's involved. And ask advice from friends and family who own a home.
"Get to know your market better. Study comparable sales over at least the past year to get familiar with price points and become a better negotiator," Hollander says.
3. Are you prepared for the financial risks?
Why not buy a house? It can be a big gamble of your money.
Robert R. Johnson is finance professor at Heider College of Business, Creighton University. He says it's important to understand that buying a home may not yield a good return on your dollars over time.
"Historically, residential real estate hasn't been a very good investment. Owning a home requires maintenance, which can be costly. A house can also go out of style and depreciate in value," says Johnson.
Also, Johnson notes that many people don't realize is that, from 1890 to 1990, the inflation-adjusted appreciation in US housing was just about zero.
"That amazes people, but it shouldn't. That's because the cost of construction and labor has been going down," Johnson says.
In addition, putting most of your money into a home can crowd out other investment opportunities — like stocks and bonds. Johnson says historically a diversified portfolio of stocks has outperformed residential real estate by a substantial amount.
Consider, too, how the market value of your home can drop. If you buy a home with a 20 percent down payment and the local real estate market falls another 5 percent, you've now lost 25 percent of your investment.
Plus, if you buy a home but have to move within three to five years, you could lose a lot of money. That's because it often takes that long to recoup your closing costs. And you may not have accrued enough equity to cover the costs of selling your home, either.
4. Are you ready for the work involved?
Why not buy a house? Because it requires a lot of elbow grease. You'll need to maintain and repair things yourself or pay others to do the work.
"You become responsible for the physical condition of the property," says Ailion. "Putting off upkeep results in higher costs later and lower property value now."
Mowing the lawn, raking leaves, cleaning gutters, fixing things that break, painting, caulking, cleaning, and countless other chores are time-consuming and costly. Know what you're getting into before making an ownership commitment.
5. Can you commit to staying put?
Why not buy a house? The answer is it will limit your flexibility. When you rent, you are free to move on to another rental or a different location once your lease expires (usually after 12 months). But when you buy a home, it's harder to pick up and move elsewhere whenever you want.
That's because it takes a lot of time and money to list and sell your home. As mentioned earlier, selling soon after buying is costly, as you won't be able to recoup the closing costs you paid when buying. And you probably haven't earned enough equity to offset the selling costs involved.
I think I'm ready to own a home
Even with its drawbacks, homeownership can still put you in a secure position physically and financially.
If you've weighed the pros and cons and have decided to buy, get started at the link below.