Sell your home and buy another—with the right planning
A home sale contingency allows you to sell your home and buy another. It makes things easier for a repeat buyer looking to move on to a second or subsequent home.
Problem is, no seller is crazy about that contingency. In recent years, it was harder to get sellers to agree to this. It's rather risky for the seller to count on you selling your home before they can sell theirs.
In a seller's market, the seller is in the driver's seat. They might pass on a contingent offer and accept an offer from a first-time home buyer who didn't need to sell a home to buy one.
But new data show that sellers may be more willing to work with buyers who have a home to sell.
If you want to sell your home and buy another, explore your options. Consult with a real estate agent and learn how a home sale contingency works. With enough advance planning, your timing could be good and you may unload your own home quicker than you think.
Ready to buy your next home? Shop and compare lenders here.
What new research reveals
Fresh findings from Redfin suggest that, if you have to sell your home and buy another, sellers may be more agreeable.
The share of winning offers written by Redfin agents that included a home sale contingency increased to 7.1 percent in February. That marks a five-month high. And it's over two percentage points higher than the same time one year prior.
Redfin reports that the jump in sale contingencies shows that the market is achieving better balance between buyers and sellers. It's a sign that buyers face less rivals when bidding on a home. It also suggests that agents have increased confidence that an offer with a home sale contingency will be accepted by sellers.
The sharp drop in competition and home prices is further evidence that buyers have more leverage today. Consider that only 13 percent of offers involved a bidding war in January, per Redfin. That's down from 53 percent one year earlier.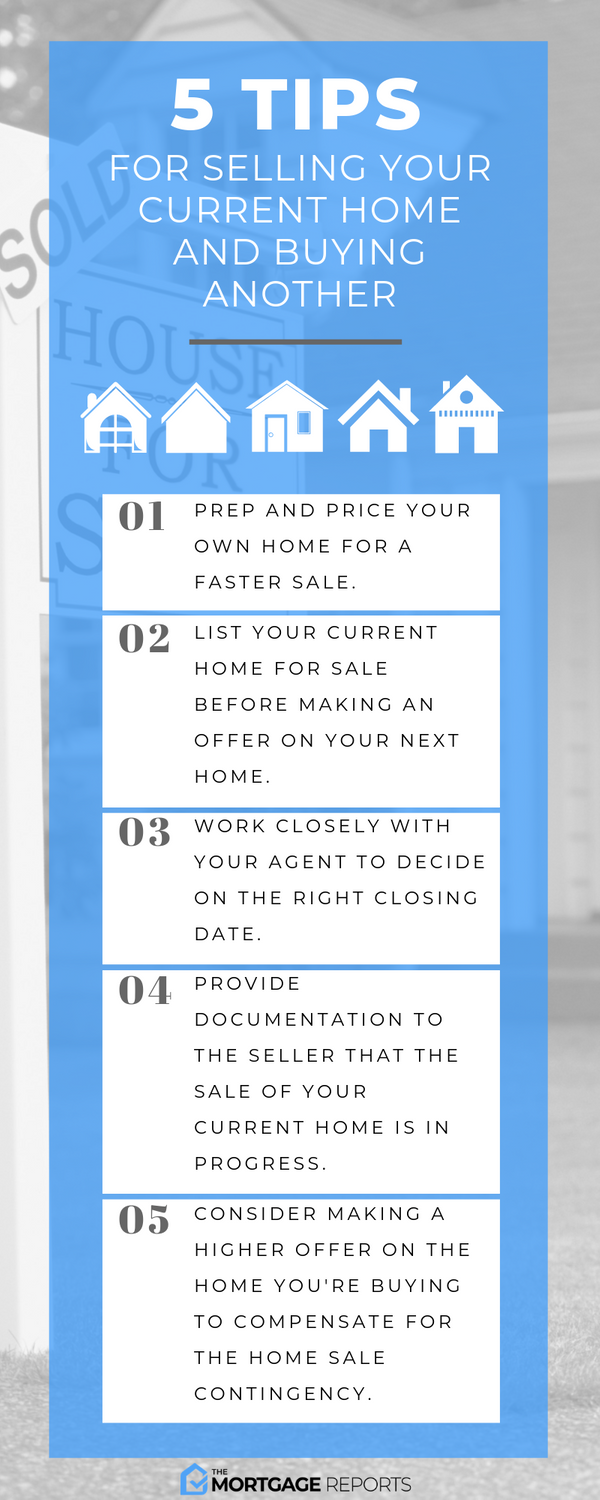 What this means for buyers
"This new balance of power is good for the housing market," said Redfin chief economist Daryl Fairweather in a Redfin blog posting. "Some potential buyers were scared away last year when asked to waive an inspection or financing contingency. We may see more buyers come back now that the market is more in their favor."
Bruce Ailion, Realtor and real estate attorney, agrees.
"Redfin's findings are indicative of a slowing and softening market for sellers," says Ailion.
Keep in mind that about six in 10 home shoppers have a home to sell before buying a home, Ailion adds. "At any given time, 10 to 20 percent of buyers will make an offer with a home sale contingency. About five to 10 percent of those offers go to a closing."
Sellers have traditionally been reluctant to tie their home up with a contingent sale.
"But when a home has not sold for some time, the seller is usually more willing to accept an offer with a home sale contingency," notes Ailion. "That's certainly true now in many markets."
Keith Baker is the Mortgage Banking Program coordinator and faculty at North Lake College. He says the reason buyers are in a better position today is simple.
"The latent demand for housing that had built up during the Great Recession has been sated," says Baker. "And many of those who were underemployed have re-entered the market. So it will become more common for buyers to have to ask that a seller wait until their existing home sells to close on their offer to buy."
Timing your window of opportunity
If you want to sell your home and buy another, you could be in luck for at least a bit longer. Baker believes this trend—of buyers increasingly accepting a home for sale contingency—will continue through autumn 2019 at least.
"Consider that many moves will occur in the summer. This will allow folks to move in time for their children to get ensconced in new schools before the fall semester begins," says Baker.
Ailion also foresees this trend continuing for the foreseeable future.
"We're possibly facing a recession expected within the next two years. No buyer wants to risk having two homes and two mortgages," Ailion says.
Action steps you can take
If you want to sell your home and buy another with fewer hitches, try these tips:
Prep and price your own home for a faster sale. You don't want your current home for sale to languish on the market. Get it in better selling shape and price it right to appeal to more buyers.
List your current home for sale before making an offer on your next home. This proves to the seller that you're serious about unloading your home.
Work closely with your agent. Determine your best strategy for adding a home sale contingency to your offer. Think carefully about the time frame and closing date you intend to put in the contract.
Reassure the seller. "Provide documents and data, like a home appraisal, approval letters from their buyer's lender, a home inspection report and a set closing date. This gives the seller more peace of mind that the deal to sell their home will go through," Baker recommends.
Ponder upping your price. Worried that your home sale contingency will scare the seller away? "Think about making a slightly higher offer than a non-contingent buyer would for that home," says Ailion.
Get pre-approved for your next home before you start looking
One of the trickiest things about buying a home is obtaining financing for the new home purchase.
Fortunately, top lenders are well-versed in this situation and can provide a pre-approval quite easily in many cases.
Check rates and get pre-approved with the nation's top lenders.
Time to make a move? Let us find the right mortgage for you