Mortgage broker: on the outs after the Great Recession
During and immediately after the Great Recession, mortgage brokers found themselves squeezed out of the mortgage industry. In 2006, according to the Association of Independent Mortgage Experts (AIME), mortgage brokers originated 56 percent of home loans. And over the next several years, 75 percent of them went out of business. Today, mortgage broker market share stands at about 16 percent.
See rates from brokers and direct lenders
What happened to mortgage brokers, and why should you care?
The near-demise of the mortgage brokerage industry occurred for several reasons:
Some larger banks quit lending through brokers, claiming that loans originated in-house were less likely to end up in foreclosure
Banks with customers acquired by brokers marketed directly to them for refinancing, cutting out the broker for future transactions
New mortgage reforms made it harder and more expensive for brokers to compete with direct lenders
Mortgage brokers must complete mandatory education and pay steep licensing fees for each loan officer employed. Bank employees only require a background check and registration costing just $75 per loan officer.
This effectively cut competition for direct lenders (mostly banks), and contributed to massive profits in the industry.
Related: Who offers the best mortgage rates? A mortgage broker or a bank?
According to a 2012 New York Times article, "Banks are making unusually large gains on mortgages because they are taking profits far higher than the historical norm, analysts say. That 3.55 percent rate for a 30-year mortgage could be closer to 3.05 percent if banks were satisfied with the profit margins of just a few years ago."
Less competition made this possible. And that's why you should be happy that mortgage brokers are relevant again.
Brokers are back!
The AIME has set a goal of raising broker market share from 16 to 25 percent in 2020. They plan to do this in part by increasing the speed of mortgage underwriting from days or hours to minutes through technology and by hiring many more underwriters.
Mortgage borrowers, even those who ultimately finance with a direct lender, should welcome this development. Competition for business helps keep mortgage lender prices down and saves borrowers money. It also forces the largest lenders to compete with better underwriting turn times, increased underwriter flexibility and more innovative products.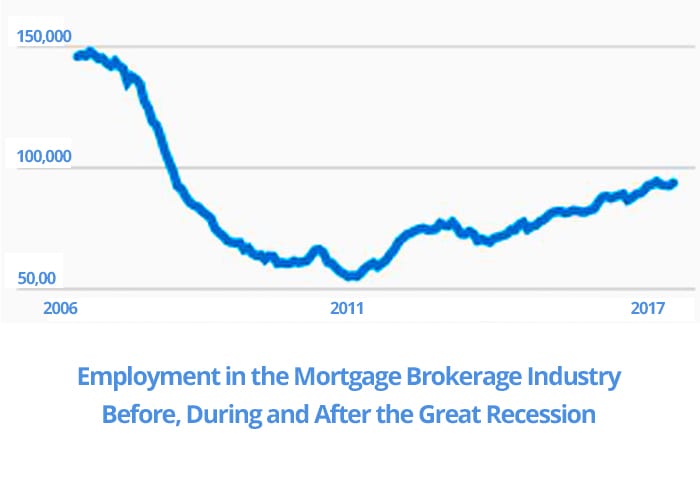 Mortgage broker or banker? What's right for you?
There are two main differences between mortgage bankers and mortgage brokers. Here's how mortgage bankers make their money:
Mortgage bankers employ loan officers. These company employees sell only their company's products, and their job is to match you with a program, get your information and documents, and help you through the underwriting and closing process
Mortgage banks gets paid either by servicing your loan themselves, collecting your principal and interest each month, or by selling the loan and / or servicing rights to another institution, earning what's called a "service release premium" (SRP)
And here's how mortgage brokers earn theirs:
Mortgage brokers function as the sales department for direct lenders. Brokers sell products from many wholesale lenders, working to find the lowest-cost loan for which the borrower qualifies
Mortgage brokers get paid by the borrower, in the form of an origination fee, or the wholesale bank, in the form of a yield spread premium (YSP)
You'll see the YSP on a loan Closing Disclosure, but direct lenders are not required to show the SRP they earn.
Finally, some of the largest banks sell both through brokers and their own retail loan officers. And the deals are not necessarily identical. A broker can choose to reduce its commission to offer a better deal than the direct lender, or it may choose to charge a higher price. Direct lenders can also offer different pricing to wholesale and retail channels.
Only the bottom line matters
Brokers and bankers have their pros and cons. A mortgage broker has access to a larger number of programs than an employee of a direct lender. However, direct lenders that close thousands of loans may operate on smaller profit margins, allowing them to price lower.
Mortgage brokers, because they are middlemen, may have less control over the processing of your mortgage than a direct lender would. That can cause delays in closing. But brokers can also increase your chance of loan approval, because they have the option of sending your information to specialists — for self-employed borrowers, for instance, or applicants with lower credit scores.
Your best bet when shopping for a mortgage is to get mortgage quotes from both kinds of provider. It doesn't matter if they earn a YSP or SRP. You want the lowest rate and best terms, and should go with whatever institution offers this.
Time to make a move? Let us find the right mortgage for you