Making an offer on a home sight-unseen
There are advantages to making an offer on a home without seeing it in person.
Helps you move quickly in a competitive market
You can still protect yourself with your contract
Compete with cash buyers
And there are drawbacks. These tips will help you minimize the drawbacks and enjoy the advantages.
Verify your new rate
A sight-unseen offer isn't as crazy as you'd think
Some buyers today face a difficult choice: make an offer on a home without visiting it first in person, or risk losing it to another buyer. Such is the challenge for those looking to buy from out of state. And it's a dilemma shared by those who fear missing out on a great deal by not acting fast.
New data show that more buyers make sight-unseen offers today. In a tight seller's market, it may be an effective strategy.
Risk versus reward
Making a sight unseen offer has its risks and rewards. If you can't arrange for a tour quickly on a newly listed home, you may beat your competitors to the punch. But you could have regrets later if you discover problems you would've sniffed out earlier.
Slugging it out in a seller's market: how to compete
Weigh your choices and talk to your real estate agent. Done right, a sight-unseen offer could be worth it.
Fresh facts on sight-unseen offers
New research by Redfin reveals some fascinating findings:
35 percent of buyers in 2017 made a sight-unseen offer. up from 19 percent observed in 2016
45 percent of millennial buyers made a sight-unseen offer on a home, higher than Gen X (28 percent) and baby boomers (6 percent)
20 percent of all sight-unseen offers resulted in a home purchase
The 10 markets where sight-unseen offers were hottest (meaning the offer resulted in a purchase) in 2017 were also the some of the best sellers' markets:
Los Angeles (57 percent)
San Diego (46 percent)
San Francisco (44 percent)
Chicago (38 percent)
Austin (35 percent)
Denver (33 percent)
Washington, D.C. (32 percent)
Phoenix (31 percent)
Portland (30 percent)
Sacramento (30 percent).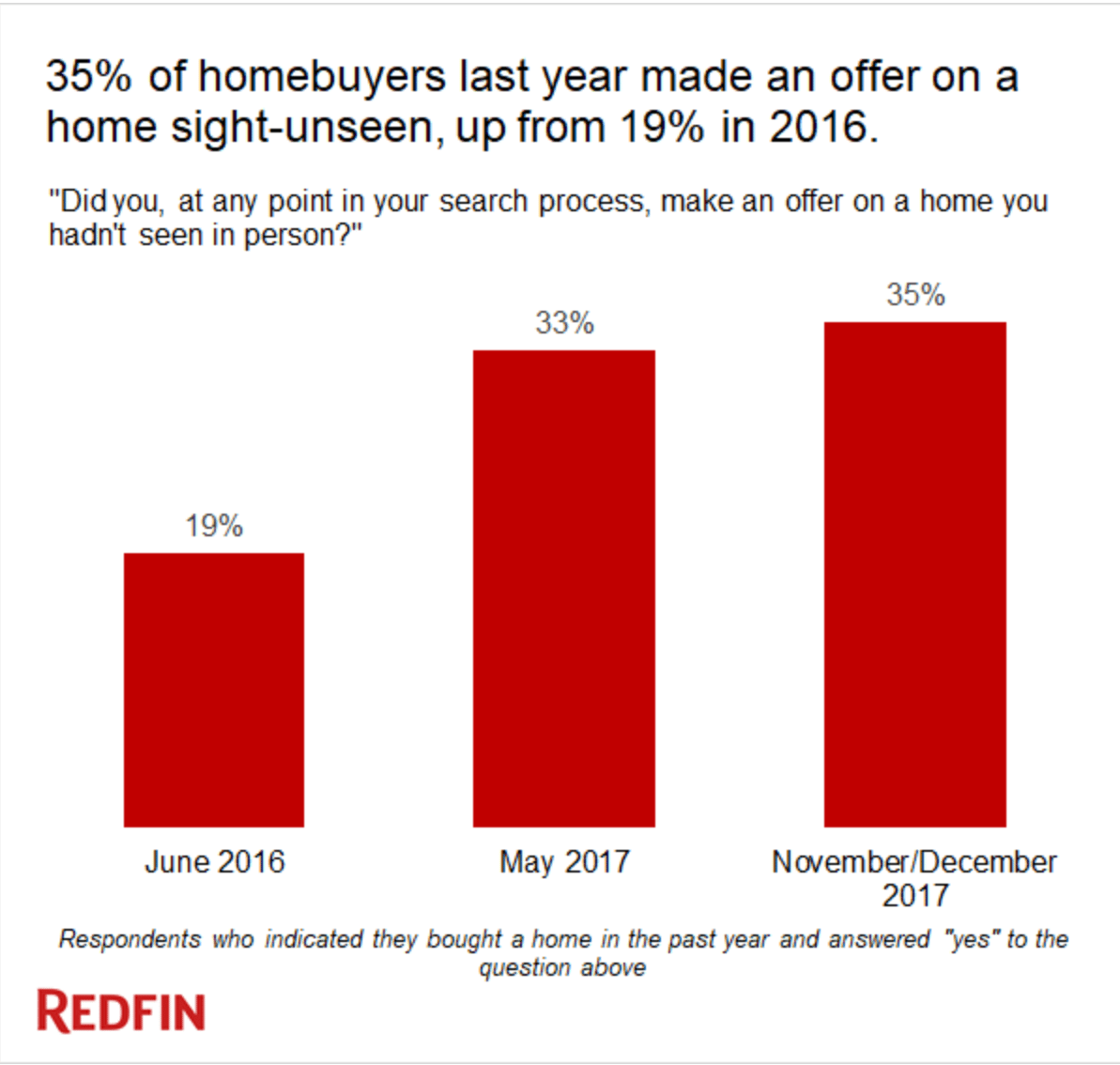 Why this data matters
Rachel Musiker, spokesperson for Seattle-based Redfin, says making an offer sight unseen can make sense.
"In some fast and competitive markets, you sometimes can't schedule a home viewing in time before it's claimed," she says. "This is especially true if you're moving in from out of town or work a busy schedule. Today, these folks might have to place an offer before they have a chance to see the home in person."
Joshua Harris, clinical assistant professor of real estate at NYU's Schack Institute of Real Estate, agrees.
"Labor markets are more national and international today. So people are often forced to relocate in short periods of time. If they don't win a bid on a house, they may be forced to rent or suffer a suboptimal outcome," he says. "This is mostly driven by low levels of inventory and a short time on the market for homes in many of Redfin's surveyed cities."
Keith Baker, Mortgage Banking Program coordinator and faculty at North Lake College, says he's not surprised that Gen Y makes the most sight-unseen offers.
"They are more comfortable with the technology that allows this new trend to exist," says Baker. "They rely on 3-D video tours and online photos of properties. And FaceTime, Google Hangouts, Skype and other programs make it possible for them to be as close to being there in person as possible."
The pros
Musiker says making a sight-unseen offer can be a good option for some.
"There's a lot of technology now that can give you enough information to make an informed decision remotely. Super busy and out-of-town buyers who can't see a home quickly now have better options than they did before," she says.
How to avoid making a contingent offer on a home
Baker agrees that this strategy is worth considering in a market that continues to strongly favor buyers.
"The ability to lock up a home offer quickly gives the edge to a buyer who can just look at video or pictures of a dwelling and decide it meets their needs," says Baker.
The cons
But this tactic has its drawbacks, too.
"The risk is the home's reality doesn't line up with the images you've seen. Plus, you may not get to see the surrounding area, which can hold hidden dangers. Also, honest judgment about the house isn't possible until after a deal is struck. That could lead to buyer's remorse," Harris notes.
Images and video are often deceiving, warns Baker.
Home inspections: a must for every buyer
"They can overlook things like if the floor is sloping or the plumbing or electric is in bad shape. These are things you can't judge at first sight," Baker says. "You might not get what you thought you were paying for."
The risks are bigger if you also give in to too many seller demands.
"Waiving contingencies is common among buyers in a seller's market. But I wouldn't suggest forgoing the home inspection contingency," cautions Musiker. "The inspection can uncover defects. And that's a nice form of insurance for a sight-unseen offer buyer."
Action steps worth taking
Before making a sight-unseen offer, try these tips:
Consult with your agent. Your agent may be able to Skype a quick live tour of the house with you. "You can ask the agent to describe details they see. They can show a close up of areas that you're not sure of, too," says Musiker.
Do fast homework on the neighborhood. "Make a quick call to the local city council or zoning board," Baker says. "Inquire about what projects have been approved in the area you're looking."
Be aggressive and creative. Prepare to make a strong offer with an enticing price. "Also, have your agent learn what the seller is looking for that you can impress them with. Maybe they desire a certain closing date," adds Musiker. "Or maybe they're looking for someone who will appreciate their unique architecture."
Don't be surprised if your sight-unseen offer fails. "Think about your offer from the seller's perspective," suggests Harris. "Offers made sight unseen are not the most certain to close. In almost all markets, certainty is worth more to sellers than the highest price."
Note that there are many ways to check out a neighborhood and property online. Avail yourself of these tips:
What are today's mortgage rates?
Today's mortgage rates are up slightly, as per recent trends, but new products and competition for your business mean more affordable options are also appearing. You can find a competitive deal by shopping aggressively with several providers — easy to do here at The Mortgage Reports.
Time to make a move? Let us find the right mortgage for you