Tiny houses make sense for many
At first, tiny houses were an oddity, but now they're increasingly gaining acceptance. Starting this year, there will be a tiny house section in the International Residential Code (IRC). This means it will be much easier to get approval to build such homes – and therefore much easier to get financing.

[cta]
But mortgage lenders not necessarily on the bandwagon
Lenders, being cautious, have not been thrilled with the tiny house movement. They see several problems.
In many areas, there is a minimum home size. Houses which are "too small" are not allowed. Zoning laws often prohibit houses which do not meet a certain size requirement.
Not all tiny houses are "real estate." If it's on wheels it's personal property. There's a difference between financing real estate and personal property such as a mobile home.
Tiny houses generally mean small mortgages. Since lenders have built-in fixed costs small mortgages are often unattractive to them – and costly to borrowers.
Now, however, things are changing.
Mortgages for tiny homes, log homes, green homes and other unique properties
In New Hampshire, for example, you can have an "accessory dwelling unit" on a property. It can't be more than 750 sq. ft., but that's enough for a residential unit with a bathroom and kitchen – and much bigger than a lot of tiny houses. Because this is a state-wide measure it has precedence over local rules. In addition, efforts are underway in a number of states to enact legislation broadly allowing tiny houses.
Whether you want to live in someone's backyard, or off the grid, there is the matter of financing.
How can you get a mortgage to pay for tiny houses?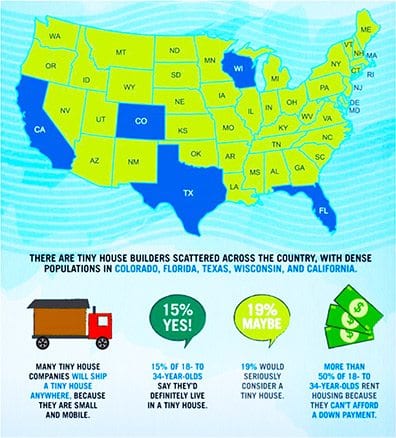 Source: Tiny House Statistics
Tiny houses and mortgage options
We often value homes on the basis of dollars per square foot. With tiny houses, there are often high costs per square feet because there are relatively few square feet and a disproportionate amount of space is devoted to costly areas such as kitchens and bathrooms. However, because tiny houses are small there are few square feet so the total cost can be well below the price of a traditional home.
Also, it depends how a small house is built. Are you the builder or will the home be constructed by professionals? Is there a cost for ground or are you building on land you already own, say a backyard? Whatever the case, speak with a local attorney or architect to make sure you can get all required permits and permissions.
If you now own a home and have equity then look into a second mortgage or a home equity line of credit (HELOC). This means your tiny house will be mortgage-free but you will have more debt on your existing house.
Factors that drive your mortgage rate: property type and use
In some cases, an FHA Title 1 loan can work. You can borrow as much as $25,000 for a manufactured home that qualifies as real property. A single-family house can get financing with a 20-year term.
The purpose of a Title I loan is to pay for alterations, repairs and site improvements. It cannot be used for acquisition financing – HUD says the "structure must have been completed and occupied for 90 days" before it can qualify for Title 1 financing. In other words, if you have an existing home and want to build a "granny pod" in the backyard you may be able to get help with the Title 1 program.
The $100,000 tiny mortgage
As tiny houses grow, their costs also increase. It's entirely possible to have a tiny house with land and a foundation as well as a $100,000-plus price tag. For example, a 750 sq. ft. house priced at $134 a square foot means the cost is $100,500. In this situation, owners may want to look at FHA financing, a VA mortgage or conventional (non-government) loan.
Are there any special problems when financing tiny houses?
How your loan size affects your mortgage rate: and what to do about it
All real estate must meet certain standards to get a mortgage. The property must be seen as "real estate" with a recorded title and plat. If there are no property taxes it's not real estate. It must meet zoning requirements and it must be built to building code standards – thus the importance of the IRC recognition.
If you're buying a manufactured home then the builder or developer might provide financing. But, as always, shop around for mortgage rates and terms.
What are today's mortgage rates?
Current mortgage rates, even for tiny houses, are still inviting. While the overall trend is higher, rates still bump around within a narrow range, and if you stay in contact with your lender, you should be able to grab a lock when rates temporarily drop.
Time to make a move? Let us find the right mortgage for you