Selling a home? Know most popular buyer names
If you're selling a home, do you wonder which generation has the most active buyers today? The answer may lie in the most popular names of current homebuyers.
A new report shows that buyers with first names popular among Millennials had the biggest increases in home purchases in 2017.
This isn't an exact science, of course. But it highlights an important point. Gen Y is claiming more homes today than older buyers. Their stories and reasons for buying are as unique as the names their parents gave them.
Whether you're a Millennial, Gen-Xer or Boomer home seller, pay attention to demographics. Be mindful of what interests buyers from different age groups.
What the research found
A fresh study by ATTOM Data Solutions probed over 4 million sales of single-family homes last year. Its goal was to learn how active each generation was at buying homes. The age groups included Millennials (born 1980-1994), Gen X (1965-1979), Baby Boomers (1946-1964), Silents (1925-1945), and the Greatest Generation (1910-1924).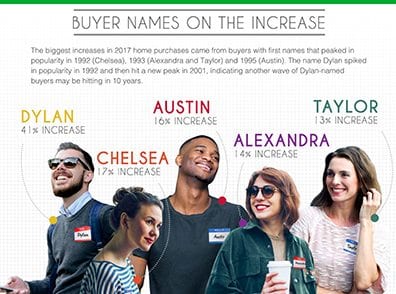 Among the findings, in 2017:
The largest increases in homes bought were by buyers with popular Millennial first names. These included Dylan (41% increase), Chelsea (+17%), Austin (+16%), Alexandra (+14%) and Taylor (+13%). These names were most popular 1992 and 1995.
The largest decreases were by purchasers with first names favored among Gen Xers, Silents, and the Greatest Generation. These included Gerald (down 17%), Kristin (-18%), Stanley (-17%), Kurt (-16%), and Jaime (-16%). These names were most in vogue between 1916 and 1976.
Trends varied from state to state.
Millennials the largest group of homebuyers — again
Daren Blomquist, senior vice president for ATTOM Data Solutions, says this study has relevance beyond laughs.
It offers further proof that Gen Y leads the buying pack and wants to own a home. Other evidence shows:
In 2017, Millennials were the largest group of home buyers—34 percent—for the fourth consecutive year.
A recent poll revealed that 85 percent of Millennials expect to own a home in their lifetime.)
The Census homeownership rate by age range indicates the under-35 age homeownership rate has steadily trended higher. It bottomed out at 34.1 percent in the second quarter of 2016. But it rose to 35.6 percent in the third quarter of 2017, the latest data available.
That same Census data shows that the homeownership rate for ages 45 to 54 is continuing to drop. It hit a new all-time low in the third quarter of 2017.
Older residents not selling a home
In addition, the study "provides data-based evidence that there are significant differences in homebuying behavior across generations," said Blomquist. "Prospective buyers and their agents should consider this when appealing to sellers and other buyers who span different age groups."
Here's a way to put this data to work for you as a buyer: Obtain a list of homeowner names in neighborhoods you like. "Look for older generational names. Then, send them postcards or knock on their doors to see if they are interested in selling," suggests Blomquist.
What's the best source of money if you're over 62? Home equity loan of reverse mortgage?
Demographics, he adds, are an important part of the housing market. And related trends "can help anticipate future trends in the housing market."
Third, older folks are not becoming move-up buyers in great numbers.
"There is other data that points to them more likely to age in place," says Blomquist. "Note that the average homeownership tenure nearly doubled over the past 10 years."
Reading between the research
Blomquist finds this data intriguing.
"We weren't sure what to expect when diving into this data," he says. "We're usually willing to try something new when it comes to analyzing the millions of publicly recorded real estate records we collect each year."
Blomquist says his team didn't have buyer names in mind when they first parsed the records. Moniker patterns began jumping off the page with closer looks.
15 best states for Millennial buyers
"What stood out was the prevalence of popular millennial names among the top buyer names that saw the biggest increase in home purchases in 2017 versus 2016," he says.
Another surprising finding? "The top five names spiked dramatically in popularity within a very narrow time period—1992 to 1995. This tells me that it's not all millennials who are accelerating their home buying activity. It's specifically those between ages 22 and 25 in 2017," he says.
The fine print
Blomquist notes that this study isn't the last or only word on the subject.
"The increase in Gen Y names suggests that Millennials are buying more homes. But not all 80 million of them are buying at once. And they're probably not buying as quickly as previous generations."
Gen X rules real estate: And here are your best home loans
Also, "these Millennial names are not even close to the names that bought the most homes in 2017," he says.
The top male names in terms of sheer volume of purchases were traditional ones:
Michael, David, John, James and Robert among men
Jennifer, Jessica, Mary, Elizabeth and Sarah among women
All of these names saw declines in home purchases. Yet, if you want to better ensure that your future child owns a home, don't give up on these time-tested names.
"Those are probably the safest names to go with," Blomquist says. "But it's the popular names of a given generation that drive more home sales for that generation."