Hope for Millennials? The 15 best states for today's young home buyers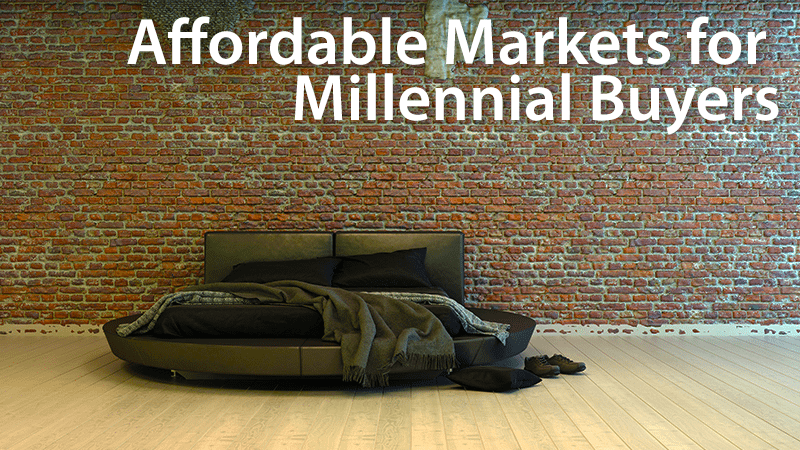 Homebuying hope
There's been a lot of talk about Millennial home buyers as of late – particularly how many just can't drum up enough funds to enter the market. But according to a new list, there are 15 states where home buying isn't just possible for Millennials – it might even be easy.
Verify your new rate (May 25th, 2018)
Why West Virginia?
According to USA Today, the just-released ranking takes into account housing cost data from Zillow, the national median income for Millennials (just under $61K) and the length of time it would take those Millennials to save a 20 percent down payment.
The clear-cut winner in the race? That'd be West Virginia.
In West Virginia, Millennials need just 2.5 years to save for a 20 percent down payment – the lowest of any state in the nation. Homes in the state average around $150K, and Millennial buyers can expect a monthly mortgage payment of just $693.
There's another advantage, too.
"What's great for homebuyers is West Virginia's rising home values," the list reads. "After stagnating around $90,000 for years, since 2014 the median home value has been on a consistent increase, first exceeding $100,000 in September 2016."
The rest of the affordables
Ohio came in second, with a median list price of $154,000 and a monthly mortgage payment of $704. It also takes Millennials about 2.5 years to save for a down payment.
Home affordability calculator: How much home can you afford? 
Mississippi, Missouri, Michigan, Kansas, Kentucky, Iowa, Indiana and Arkansas all made the top 10, with median prices below $200,000 and monthly payments under $800. Oklahoma, Pennsylvania, Wisconsin, Alabama and Alaska rounded out the list's top-ranked states.
| | | |
| --- | --- | --- |
| State & Rank | Years to Save Downpayment | Median Home List Price |
| #1 – West Virginia | 2.5 | $150,000 |
| #2 – Ohio | 2.5 | $154,000 |
| #3 – Arkansas | 2.7 | $164,900 |
| #4 – Indiana | 2.7 | $167,000 |
| #5 – Iowa | 2.8 | $169,000 |
| #6 – Kentucky | 2.8 | $169,900 |
| #7 – Kansas | 2.8 | $169,900 |
| #8 – Michigan | 2.8 | $169,900 |
| #9 – Missouri | 2.8 | $169,900 |
| #10 – Mississippi | 2.9 | $175,000 |
Worse for the wear
According to the list, Hawaii is the worst state for today's Millennial home buyers. Homes average just under $600,000, and it takes buyers nearly 10 years to save a 20 percent down payment. The monthly mortgage payment a Millennial can expect? That rings in at $2,584.
Forget listing prices; affordable housing is historically high
Washington D.C., California, Massachusetts, Colorado, Oregon, Washington and New York also rank among the worst spots for Millennials. The average D.C. mortgage payment is just under $2,378.
20 percent is not necessary
If you've got your heart set on a more expensive market, do not despair. There are many programs requiring as little as 3 percent down. Even zero if you qualify for VA financing or buy in a rural area.
Before you make a 20 percent down payment, read this
And many states, counties and cities offer some form of down payment assistance to eligible buyers. So don't move to a state you hate just because of the down payment requirement.
Get today's rates
Are you a Millennial looking to buy a home? Choose your location carefully, and make sure to shop around to get the best possible mortgage rate. See what rates you qualify for today.
The information contained on The Mortgage Reports website is for informational purposes only and is not an advertisement for products offered by Full Beaker. The views and opinions expressed herein are those of the author and do not reflect the policy or position of Full Beaker, its officers, parent, or affiliates.
Try the Mortgage Calculator