Low supply, high demand: But houses are more affordable
It's common for house hunters to lose hope when they see how costly some houses are today. High prices, low supply and stiff competition make affordable housing markets a pipe dream — right?
Wrong — despite these doubts, many markets are not out of your price range. In fact, new research shows that it's now easier to afford a home in six out of 10 markets.
Verify your new rate (Oct 18th, 2018)
New data: most areas have affordable housing markets
ATTOM's index score was 100 in the third quarter. That's the lowest seen since this time in 2008, when the index was 86. An index of 100 means the share of average wages required to buy a median-priced home across the country this quarter is on par with historic averages.
Annual wage growth also surpassed annual home price appreciation in 48 percent of the counties studied. Markets where this was true included Chicago, Phoenix, San Antonio, and Orange County and San Bernardino County, Calif.
"New school" house hunting: how to buy a house online
Since the first quarter of 2012, when they hit bottom, median home prices have grown 73 percent. Average weekly wages have risen 13 percent over that time.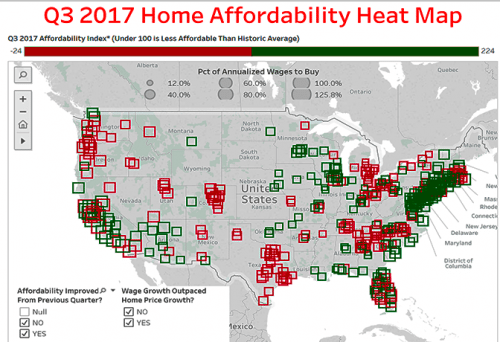 It's about wages
Daren Blomquist, senior vice president for ATTOM Data Solutions, says this report brings good news to home shoppers.
"The long-term trend during this housing boom has been less affordability," he says. "But this report shows that trend was at least stalled over the past few quarters.
Most affordable pet-friendly cities, rankied by FIDO score
"That's because wage growth has strengthened. Plus, home price appreciation has started to moderate in many local markets."
He notes that year-over-year wage growth outpaced annual home price growth in nearly half of all markets for all three quarters of 2017.
"That's a pattern we've not seen since the start of this housing boom in early 2012," Blomquist says. "It's a hopeful sign."
Also helping matters in the third quarter was a slight dip in interest rates after they had risen earlier in the year.
"The rate dip helped lift all boats across the country when it came to improving affordability on a quarter-over-quarter basis," says Blomquist."
The bottom line: Get your hopes up
A key takeaway of this data? Buying a home is more affordable than you may think in many major markets. That includes middle America as well as some high-priced markets on the coast.
Marin County in the California Bay Area and Miami-Dade County are notable examples.
"That should give confidence to would-be buyers in those markets," says Blomquist.
"It should tell them they are not buying in a bubble, even though the prices may seem sky high."
Buyers should feel positive overall about their prospects—even if that means waiting a bit longer.
"Just because you cannot afford to buy now does not mean you are forever locked out of buying a home," Blomquist says. "Be patient and allow market forces to work in your favor."
In the meantime, continue to tighten the belt and salt money away.
"Save up so you are not as dependent on the ebb and flow of the market to buy," he suggests. "One quarter's worth of data in a positive direction does not completely flip the script.
"But it's a reminder that the affordability crunch we're in now will not continue forever."
More good news
Blomquist recommends taking advantage of any changes in market conditions that work in your favor, too.
"In this case, a further drop in interest rates could be just the thing to get you in a position to afford a home," he says.
Even more crucial than market conditions is your ability to afford a home purchase.
"That should be the prime reason to buy or not buy, whatever the market conditions," says Blomquist.
He suggests checking ATTOM's affordability index regularly. "This index can be a great tool. It can provide a data-based objective view on whether you're buying near the top of the market or not."
How to get sellers to pay your closing costs
Like many experts, Blomquist isn't sure how to forecast the climate ahead for buyers.
"It's hard to know for sure," he says. "But it appears we've reached a tipping point where the housing market is likely to slide toward improved affordability over the next couple of years.
"Supply and demand forces in the labor market are pushing wages higher. And home price growth in some bellwether markets is beginning to moderate to more sustainable levels."
What are today's mortgage rates?
Today's mortgage rates have not changed much. In fact, mortgage interest rates and mortgage-backed securities prices have stayed within a pretty narrow range for weeks. To get the best deal on your loan, compare offers from several providers, and choose a competitive lender with a good reputation.
Verify your new rate (Oct 18th, 2018)