Do you really need lots of income for a mortgage?
"I make $35,000 a year. Can I get a mortgage?"
Do you need a ton of income for a mortgage? The answer is that you don't need to be a doctor, lawyer, or lucky heir to get real estate financing. Indeed, you may need a lot less income than you think.
Verify your new rate (May 4th, 2021)
Home affordability depends on location
According to the National Association of Realtors (NAR), the median price for existing home sales in August was $253,500. That means half of all existing home sales were more expensive, and half were less expensive.
Rule #1: The income you have goes further if you don't buy in mid-town Manhattan or a fashionable San Francisco location. The good news is that the country is loaded with areas where home prices are widely affordable.
Low income home buying: 50 cities where you can buy a home now
A mile or two in any direction, or the ZIP code next door, may allow you to find much less expensive properties that will permit your income to go further. The interactive map below lets you see how affordable houses are in the communities shown. Just click on a city to get your information.
Affordability depends on the loan you choose
Rule #2: We live in the Internet era, and you can get a good idea of how far your income can go with our Afforability Calculator. It lets you look at such measures as price, income, and monthly payments. Use that median home price – $253,500 – and you can see some interesting information.
Why you should not overlook the 5-year ARM
The standard 30-year fixed loan isn't for everyone. If this is your first home, you are statistically less likely to keep that home for many years, and can probably benefit from a hybrid ARM with a lower rate fixed for three, five or seven years. (the shorter the fixed period, the lower the rate).
Another way to increase your loan amount is to "buy down" your interest rate. If you can find a motivated seller to pay for this (instead of accepting a lower sales price), you can reach a little higher.
How to get sellers to pay your closing costs
The chart below shows how different loans affect your payment and loan amount. This assumes a 43 percent debt-to-income ratio and no other debts.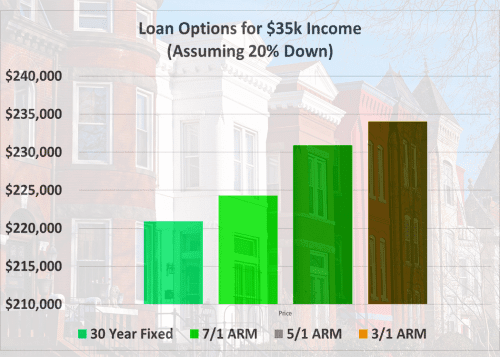 Bigger down payments bigger loans
Rule #3: The more you put down, the less you pay each month. Even if you can't muster 20 percent down, eliminating mortgage insurance, MI is cheaper if you put down 10 percent than if you put down 5 percent.
If your income is moderate or lower, you probably qualify for some sort of down payment assistance (DPA). These grants or low-interest loans can boost your down payment and make your loan more affordable.
Before you make a 20 percent down payment, read this
This illustration demonstrates how much more you can afford with a larger down payment. In all cases, the loan has a 4 percent rate, but with larger down payments, the mortgage insurance gets lower, allowing for a higher purchase price and loan amount.
If you can get your seller to cover some closing costs, that frees up more of your money to make a larger down payment.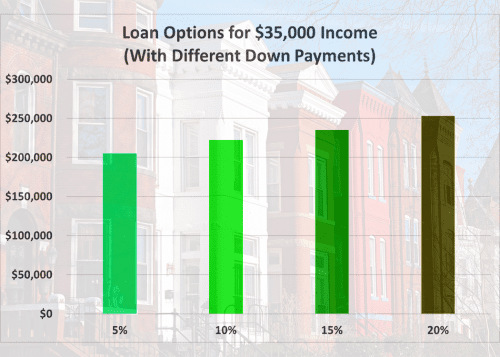 Less debt gets you a larger mortgage
Rule #4: Less debt increases the mortgage borrowing value of your income.
Your debt-to-income ratio equals your total monthly debts divided by your gross monthly income. Lenders prefer that you keep this below 43 percent (36 percent if your down payment or credit isn't the best). However, some programs do allow DTIs up to 50 percent for some borrowers.
Too much debt to buy or refinance a home? Here's your plan
You can spend a lot of your income on housing if you don't carry debt. The VA program, for example, allows DTIs up to 41 percent. If you carry no other debt, you can spend that all on housing. I
If you have at least a 580 credit score, FHA lets you spend up to 40 percent of your monthly income for housing if you are otherwise debt-free.
There are also "compensating factors" which help borrowers stretch income. They include good cash reserves, excellent credit, conservative use of debt, a career in a lucrative industry, and a new house payment that's no higher (or not much higher) than the previous housing expense.
In some cases, the FHA allows borrowers to stretch their DTI to 50 percent if they have the right compensating factors.
Choose the right lender
Rule #5: Beware of buffers. In some cases lenders "layer" or "buffer" mortgage qualification standards. It may be that the DTI max is 43 percent for a given loan program, but some lenders might have a top DTI of 42 percent and sometimes even 41 percent.
Stricter-than-required guidelines are also called "overlays." They can include DTI requirements, higher minimum FICO scores, and other restrictive requirements.
Why do lenders overlay? Because they worry that a small error in the mortgage application process may be found later. This error could mean the application does not meet investor or insurer guidelines, resulting in costly lawsuits and demands to buy back the mortgage.
Some lenders use overlays, some don't. When you speak with loan officers, ask about underwriting policies.
Make yourself a better borrower
Getting a lower interest rate means you can borrow more. And one way to get a better rate is to make yourself a more  desirable borrower. Lenders charge borrowers with better credit less for their loans because they are safer investments.
Improving your credit score by 40 points can drop half a percentage point from your rate, depending on the loan you pick and other parameters.
5 ways to shave .25 percent off your mortgage rate
In the end, two people with the same income may have vastly different borrowing abilities. To get a good idea of where you fit, be sure to go through the loan approval process with a loan officer.
What are today's mortgage rates?
Today's mortgage rates go a long way toward making $35,000 a year go further. However, they have trended higher recently. if you're on the fence about buying a home, this could be the push you need.
Verify your new rate (May 4th, 2021)