Broaden your horizons to find better home values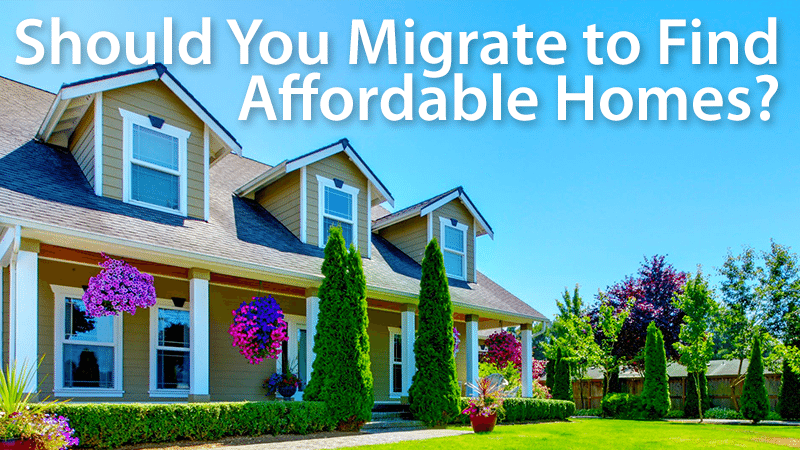 Affordable home values: Make a run for the border
It's easy to have tunnel vision when you're shopping for a home. For instance, you may have your heart set on living in a certain major market or favorite neighborhood. However, if home values there exceed your budget, you can find yourself over-extended or frustrated.
Wages not keeping up with home prices
New research shows that more home shoppers are widening their home search map. You may find that choosing a smaller market or a less expensive suburb can yield more house for your money. It's crucial to do your homework and research different markets carefully before committing to a locale.
Verify your new rate (Jun 25th, 2018)
One-fifth moving away
Based on new data from Redfin, 21 percent of Redfin users in the second quarter of 2017 hunted for homes beyond the metro area where they live. Redfin's report revealed these key findings:
A major migration continues within California, as buyers sought to leave Los Angeles and the Bay Area and head instead to San Diego and Sacramento.
Residents in several Rust Belt metros looked for homes in Chicago.
Metro markets in the Sunbelt and South are appealing to migrants from pricy coastal cities.
Boston, Chicago and Seattle had the highest share of residents seeking to remain in their current metros.
Homebuyer tenure: How long are people staying in their houses?
The top 10 metro markets (ranked by net outflow of users) and their top destination markets are: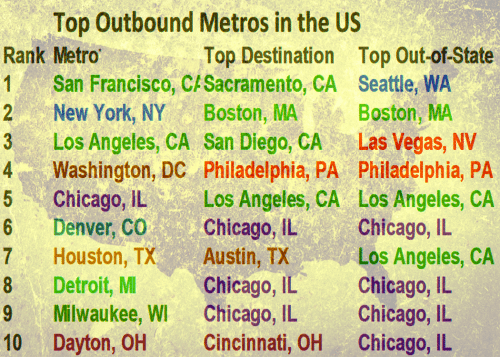 The top 10 metro markets (ranked by net inflow of users) and their top origin markets are: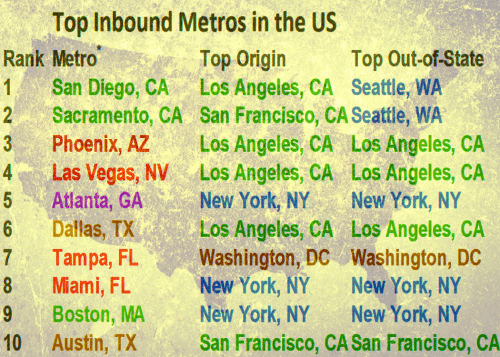 Smaller cities have charm and affordability
The takeaway here is simple: shoppers are broadening their horizons and reaping the benefits.
"Buyers who can't afford a home in their current city are exploring what is available elsewhere," Taylor Marr, a Redfin data scientist who conducted the underlying research, said in a prepared statement.
Priced out of the city? Consider the suburbs
"We are already seeing strong buyer demand and competition in mid-tier cities like Sacramento, Phoenix and Atlanta. As home searches evolve into purchase offers and home sales, we anticipate prices and competition will continue to grow in those markets."
Alina Ptaszynski, Washington, D.C.-based spokesperson for Redfin, agrees.
You don't need sky-high income to buy a home
"There's a lot to be enjoyed in some of these smaller cities and mid-tier markets beyond affordability," he said. "Many of the urban renewal trends that make some of these more expensive cities like San Francisco and New York so popular are happening in smaller cities, as well,"
"For example," Ptaszynski explains, "In Omaha, there's a flourishing downtown with an emerging food scene and a number of craft beer breweries opening up. You don't have to be in Brooklyn or Oakland to enjoy that kind of urban experience."
Flexibility pays
Stretching your home search boundaries is easier for some than others, of course. You need to have a job that will allow you to relocate or work remotely.
If you need to live near family, such a move may not work. And if you have kids, you want to think carefully about your new location's school district.
50 ultra-affordable cities where you can buy a home now
"But for folks with more flexibility, it certainly pays to explore new cities. And resources online make it easier to see what else is out there," says Ptaszynski, who thinks this trend will increase in coming years.
Putting a migration in motion
Eager to house hunt beyond your familiar borders? Ptaszynski suggests these tips:
Work closely with a skilled real estate agent. "A knowledgeable Realtor may be able to suggest other neighborhoods or similar suburban markets that fit your criteria but are more affordable," she says.
Compare apples to apples. Get all the facts on your migration metros. Learn about job prospects, job commute, cost of living, property taxes, quality of schools, and community services. Walkability may be an important consideration as well.
Take a field trip. Don't just research potential neighborhoods online. Visit these markets in person multiple times, make careful observations and notes, and ask questions.
Look for helping hands. "There are often down payment assistance programs and credits available to first-time buyers. These may be city-level or statewide programs offered by local governments and even employers," she says. "Many mortgage experts are familiar with these programs and can suggest one that fits your situation."
Selling a home? Meet Gen X and Gen Y, your new buyers
"Homeownership may seem out of reach for some financially. But perhaps the best solution is to expand your scope geographically," notes Ptaszynski.
Also, don't be afraid to look at a different type of home, such as a smaller house, condo, or fixer-upper.
"Look around and you may be surprised by what you can find that works for your situation," she says.
What are today's mortgage rates?
Today's mortgage rates make buying a home more affordable than ever. However, this may be offset by rising real estate prices. It may pay to get your home now before rates and prices start another round of increases.
[cta-linkl]
The information contained on The Mortgage Reports website is for informational purposes only and is not an advertisement for products offered by Full Beaker. The views and opinions expressed herein are those of the author and do not reflect the policy or position of Full Beaker, its officers, parent, or affiliates.
Try the Mortgage Calculator