Pet needs prompt young adult home purchases
Recently, a Harris / Suntrust Mortgage poll made the news because of its conclusion that pets played the biggest role in Millennials' (young adults born during the 80s and 90s) decision to buy homes. In fact, having a pet trumped marriage and children as the main reason for Millennial home purchases.
And Millennials aren't the only ones who consider their pooch's preferences and their cat's comforts when buying a house or condominium.
If landlords won't accept Fido, buy him a house
If you want to have pets, many landlords don't want to have you. According to the National Association of Realtors (NAR), 61 percent of homebuyers found it difficult to accommodate their pets in the rental market.
Have pets? Understand the hidden benefits of homeownership
A 2015 Trulia survey of the 25 largest rental markets found that just 20 percent of rentals explicitly allow cats. And 18 percent allow small dogs. Sadly, only four percent of rental listings state that they allow larger dogs.
Which may be why about one-fourth of pets surrendered to pounds and shelters become homeless because of moving or landlord issues, according to the Humane Society.
While only about a fifth of rentals in larger cities allow pets, the NAR says that nationwide, 61 percent of households include pets or the occupants plan to get a pet in the near future.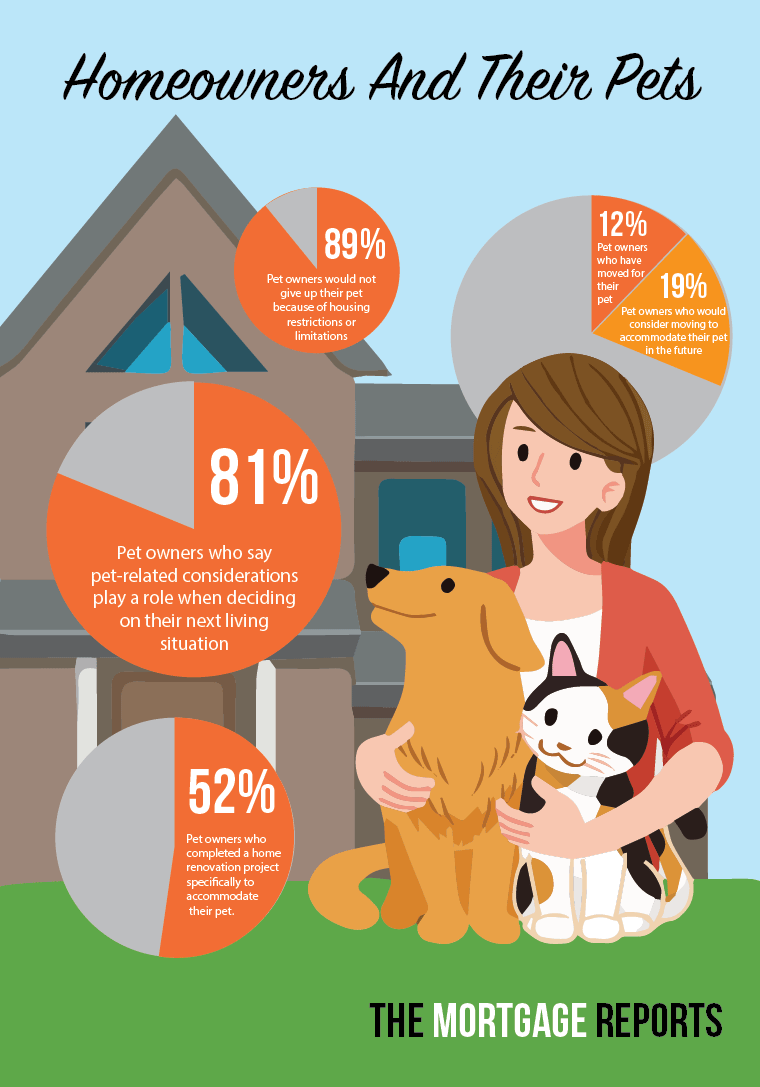 "If my dog's not invited, I'm not going"
Real estate agents say that home sellers and landlords can get more money out of a home by considering the needs of pets and their families, because if a home doesn't work for the dog, its family is often not interested.
Of Millennials who purchase homes, 33 percent say the decision to buy was prompted by the presence of or desire to adopt a pet. That outstrips those who bought homes because of a marriage (25 percent) and those who bought to accommodate children (19 percent).
What's the right age to buy a house?
Even non-existent dogs played a role, with 42 percent of Millennials claiming that future plans to adopt a canine companion influenced their home-buying decision.
And that's not all — once in their homes, pet guardians continue to consider their fuzzy friend's comfort. In fact, 52 percent of homeowners completed renovation projects designed to make their property more pet-friendly. About a fourth of renovations involved fencing the yard to give pets more freedom and outdoor enjoyment.
Popular pet amenities that attract buyers
Naturally, dog owners look for fenced yards, especially for larger friends. But that's just the beginning. Here's a partial list of features most important to today's pet parents:
Nearby walking / running trails
Dog runs and dog doors
Dog parks / pet waste stations / running water
Dog-washing stations in mudrooms. laundry rooms or bathrooms
Cat condos with window perches, shelves, climbing gyms and more
Pet "suites" with dens, beds, automatic waterers and more
Fannie Mae's HomeStyle renovation loan
Some owners want homes without certain things, because of the animals — for example, carpet or flooring that can be destroyed by claws and paws. Also stairs that make getting around difficult for older pets, and busy streets that could be dangerous for escapees.
Buying a home for you — and your pet
When shopping for a pet-friendly home, pet parents have a few more considerations than the petless population. For one, there may be zoning issues. Especially if your pet is one of the more exotic species, or something particularly large, make sure it will be allowed.
In addition, cities and counties may restrict the number of pets per address — for instance, you may be limited to three dogs unless you apply for a special kennel license. This is not something you want to deal with after purchasing your home.
How to buy a house: 5 mistakes to avoid
In addition, just because the city or county allows your pet doesn't mean a homeowners association (HOA) will.
If your HOA permits pets, there may be restrictions on number, breed, size, noise, and confinement. Don't just buy a house and hope the bylaws don't apply or that the HOA won't enforce its rules. Homeowners who violate HOA rules can face severe fines, liens on their properties and even foreclosure.
Perfect pet properties may be limited — get pre-approved to beat the competition
If you see exactly the right house for you and Fluffy, you'd better be prepared to grab it. Your offer, especially in a competitive market, will get a lot more respect if it comes with a mortgage pre-approval letter.
How long does mortgage pre-approval take?
To get this, you'll need to complete a home loan application, supply all requested documentation, and qualify according to the lender's guidelines. With mortgage pre-approval (aka "credit approval"), you should be able to close quickly. You just need a property that meets the lender's requirements.
What are today's mortgage rates?
Today's mortgage rates are as low as they have been in months, but in many parts of the country, housing prices are rising. Get the best home and home loan for you and Rover today by comparing several offers from competing lenders.