What's The "Real" Credit Score Needed For FHA Mortgages?
If you look at FHA mortgage guidelines, or at articles online, you'll see that the minimum credit score for FHA is either 500 or 580.
That's pretty low, but that's also not the whole story.
Can You Really Get An FHA Home Loan With A 500 FICO?
The short answer is, yes, you can. However, you must learn the distinction between low credit scores and poor credit. You can have a low credit score through no fault of your own.
You might be young with a short credit history. Or you might just not use credit.
7 mortgages with low credit score requirements
Alternatively, you might use what looks like too much credit, although you pay your bills on time.
Those scenarios are different from those in which the applicant does not pay bills on time, or at all. You might get an approval with low scores if your actual credit history is not terrible.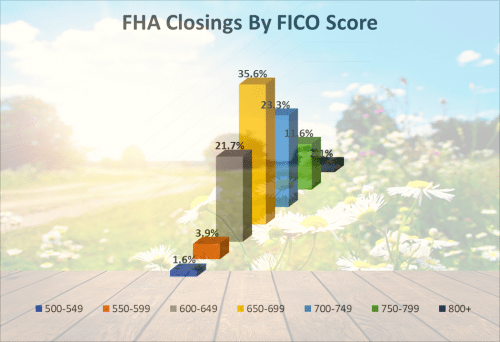 Realistically, only about one percent of FHA approvals go to applicants with FICO scores in the 500 - 549 range.
Low Credit Score Vs. Bad Credit
FHA guidelines say that lenders must evaluate the borrower's past debt management, because it is a good predictor of how an applicant will pay the new mortgage. Its guidelines read:
"Past credit performance is the most useful guide to
determining a borrower's attitude toward credit obligations, and
predicting a borrower's future actions.
Borrowers who have made payments on previous and current obligations in a timely manner represent a reduced risk.
Conversely, if a borrower's credit history, despite adequate income to support obligations, reflects continuous slow payments, judgments, and delinquent accounts, significant compensating factors will be necessary to approve the loan."
No Credit Score
Having no traditional accounts needn't keep you from getting an FHA loan. FHA guidelines read,
"The lack of a credit history, or the borrower's decision to not use credit, may not be used as the basis for rejecting the loan application."
The lender simply compiles a non-traditional credit report using utility payments, rent, even a series of regular deposits to savings. This shows if you are managing debt responsibly or not.
Can you buy a home with a 580 credit score?
FHA says,
"When evaluating a borrower with non-traditional credit history, a satisfactory credit history, at least 12 months in duration, must include
no history of delinquency on rental housing payments
no more than one 30-day delinquency on payments due to other creditors, and
no collection accounts/court records reporting (other than medical) filed within the past 12 months."
When you have no traditional credit, you have to be more aware of collections, bounced checks, and other dings. That's because they will have a disproportionate effect when are no other accounts to offset them.
Lender Overlays
While the FHA allows lenders to approve loans with low FICO scores, it does not require them to.
FHA lenders may require minimum scores ranging from 600 to 680, even though the FHA's own guidelines are more flexible. This practice is called a "lender overlay."
Why Overlays?
Doesn't the FHA protect the lenders against losses? Yes, FHA mortgage insurance premiums (paid for by borrowers, not taxpayers) cover lenders if borrowers default.
However, if FHA lenders have too many claims against FHA insurance, they can lose their FHA approval. And it doesn't matter if the bad loans were underwritten in exact accordance with FHA guidelines.
Beating overlays for FHA, VA, HARP and USDA mortgages
FHA loans comprise a large part of many lenders' business, so no lender wants to lose its approval. That's why lenders add requirements to minimize the chance of mortgages going into default.
Requirements Fall As Rates Rise
One reason that lenders were so hard on applicants in the past is that they had more business than they could handle. So there was no reason for lenders to approve less-than-perfect applicants.
As rates rise, though, lenders tend to lower their standards somewhat. Median credit scores of approved mortgage applicants have been coming down steadily over the years.
Contact More Lenders
For would-be homeowners with scruffy credit scores, the best solution right now is to simply contact more mortgage lenders. That increases your chance of getting the loan you want, and paying less for it.