What To Look For In A Mortgage Company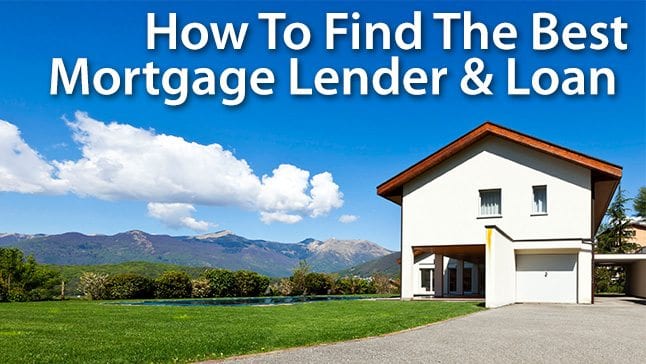 The Importance Of The Right Mortgage Company
Low mortgage rates and rising home values are pushing fence-sitters into deciding to buy a home.
As these buyers enter the market, many face the reality of a market with significantly reduced inventory, creating stiff competition for today's home buyers.
To compete, you must be able to close quickly. And to accomplish this, you need a great mortgage company. A pre-approved offer from a reputable lender is almost as good as cash.
Verify your new rate (May 20th, 2018)
Understanding the Mortgage Market Players
To know you're working with the best, you'll first need to understand who the players are in the field of mortgage lending.
Mortgage Bankers
Mortgage bankers work for financial institutions like banks, credit unions or savings and loans. These lenders fund mortgages with their own money, which they get from depositors or investors.
Their advantage is that they can often close quickly, since they are working with their own money. They can sometimes (not always) be cheaper if you want a plain vanilla loan and have no approval issues.
The downside is that they may have fewer products and stricter underwriting.
Mortgage Originators
Mortgage originators also fund mortgages with their own money and in their own names. After the loan closes and funds, they sell your loan to other institutions. Once that happens, the borrower gets written notice of the sale, including instructions about sending in future payments.
Mortgage originators may offer more products than banks, and they may do some brokering as well as in-house lending. The main drawback is that your loan will be sold.
Mortgage Brokers
Mortgage brokers work with wholesale mortgage lenders. They function as the sales force for wholesale lenders, matching borrowers to the best loan product and lender for their situation.
The advantage with brokers is access to more products. This can be helpful if you or the property have any quirks, and you expect problems qualifying. The disadvantage is that the loan process is out of the broker's hands, can take longer, and may cost more.
How Do Mortgage Lenders Get Paid?
Mortgage banks and originators are make their money by either keeping and servicing your mortgage themselves or selling the right to collect your payments to investors or other institutions.
Brokers make their money from commissions collected from the borrower or the wholesale lender. Your best deal may be with any of these entities, so compare quotes from all of them.
Get Personal Referrals
One of the best ways to find a great company is by asking around. Friends, family, neighbors and real estate agents are a great source for this.
If you've never directly asked for a referral online, try using Facebook or Google Plus. You will have no shortage of comments directing you to someone they've either used or know personally.
After you get some names and numbers, go deeper in your quest. Find out if the transaction was similar to yours — size of loan, purchase or refinance, etc.
Ask lots of questions and don't be shy about finding out not only what they liked, but also what they didn't like about the company.
Should you use your real estate agent's "preferred" lender? You can, but subject them to the same inspection you give all other lenders, and make sure their quote is competitive.
Compare Mortgage Rates
Nowadays, your cell phone, your tablet or your computer can the quickest and easiest way to request referrals.
If you're like most people, the interest rate and costs of the loan are a main consideration. You can get multiple mortgage quotes from competing lenders by making one single online request.
Lenders usually provide an official Loan Estimate (this provides consumer protection) or some sort of worksheet or scenario (not as binding as a Loan Estimate).
It's important to get all your rate quotes at about the same time because interest rates can change frequently — even more than once a day!
Compare offers, select a few of the most competitive, and then check out the lenders. Call them all and ask the loan professional what product he or she recommends for you, and why. If you think you might have trouble qualifying, ask about minimum credit scores  and overlays.
Are you comfortable discussing finances with this person?
Is he or she knowledgeable enough to recommend a product and tell you why?
Are your calls returned promptly?
Getting a mortgage can be stressful. Choose someone who will make that experience good for you.
Choosing A Mortgage Lender
What's important to you may not be the same as what's important to someone else.
For your friend or neighbor, their decision may have been because the mortgage company had the lowest rate and closing costs. But you may place more emphasis on accuracy, efficiency and timeliness. This could be especially true if you need to get your loan closed inside of 30 days.
Some mortgage companies, especially online companies, may be great at refinancing but not quite as strong when it comes to purchase transactions.
Check Out Their Reputation
After you've gathered names and contact info from your friends, family or real estate agent, look them up.
Thanks to today's technology at your fingertips, it's easier than ever to conduct your own research on a mortgage company.
Some popular sites for today's consumer seeking online reviews include the following:
Yelp
Better Business Bureau
Consumer Affairs
Look out for things such as the number of loans in default, predatory lending complaints, and customer feedback.
The National Multistate Licensing System (NMLS) for mortgage lenders offers a consumer portal you can use to verify lenders' licenses and see if there have been disciplinary actions against them. You can also view loan professionals' employment history, which can tell you the extent of their lending experience and how many times they change jobs.
Online reviews aren't always 100 percent accurate, but it can at least give you a frame of reference, especially if the mortgage company has more positive than negative feedback.
Ask About the Mortgage Company's Process
Not only do mortgage companies come in many shapes and sizes, the way they conduct business varies greatly.
Big brand mortgage names aren't necessarily better than smaller, less known companies.
Ask the lender how they typically communicate with their clients (email, text, phone calls, etc.) and how often.
Inquire about whether the lender does everything "in-house" or otherwise.
Some lenders take the initial loan application, handle the loan processing, the underwriting, even the preparation of the closing documents in a centralized location.
Other lenders may take your loan application and gather your income and asset documents, but then turn everything over to another location.
This isn't always a bad sign, but it's worth investigating. It could have a significant effect on your loan is processed, and the amount of time it takes to get your loan completed.
What Are Today's Mortgage Rates?
Finding a great mortgage company involves more than just getting the lowest interest rate and closing costs.
The best mortgage companies typically offer competitive rates, are accessible online, have quick and adaptive communication methods, and are readily available when you need them.
Whether you are buying a home or refinancing one, your home is typically the biggest financial investment you'll ever have. Comparison shop mortgage companies before pulling the trigger.
Verify your new rate (May 20th, 2018)
The information contained on The Mortgage Reports website is for informational purposes only and is not an advertisement for products offered by Full Beaker. The views and opinions expressed herein are those of the author and do not reflect the policy or position of Full Beaker, its officers, parent, or affiliates.
Try the Mortgage Calculator