Rising Wages Helping More Afford Homes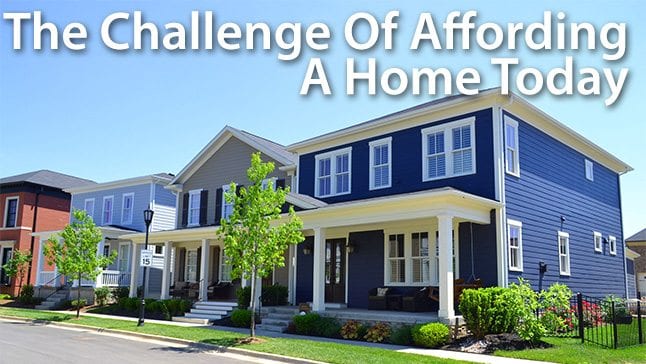 Residents Find It Difficult To Afford Homes In 1 Of 4 Markets

The American dream of owning a home is alive and well. But some home shoppers may find it a bit harder today to afford homes in some areas, based on a new report.
That's because mortgage rates have risen slightly. Home inventory remains low, and sellers are often getting close to or more than their asking price.
Click to see today's rates (Sep 23rd, 2017)
More Competition Equals Less Affordability
In addition,  shoppers have to compete with a lot of other possible buyers. That can drive up prices—even in areas that weren't as in demand years ago.
But by knowing where to look and how much you can afford, you can avoid disappointment. Learn which markets are within your price range and which loan products are worth pursuing.
By coming prepared and pre-qualified, you stand a better chance of claiming the home you want.
What The Research Found
A new report by ATTOM Data Solutions found that in the first quarter of 2017, 25 percent of the county housing markets it examined were less affordable than they had been historically.
The report reviewed 379 total counties nationwide. And 95 of these counties posted an affordability index below 100. That's the largest share of markets below 100 since late 2009.
When the affordability index is less than 100, buyers must spend a higher-than-usual portion of their wages to purchase a median-priced home.
Countrywide, the first quarter 2017 affordability index score was 103. A year ago, that score was 119.
Homes Sucking Up Higher Portion Of Wages
Within 97 counties, average wage earners would need to spend over 43 percent of their income on housing. This number is the maximum debt-to-income ratio allowed to qualify for many mortgage programs.
Manhattan, Brooklyn, Los Angeles, San Diego, San Francisco, Seattle, and Washington, D.C. are among the markets that exceed the 43 percent ceiling.
Now, The Good News
The good news is many markets now offer great deals. In fact, affordability improved in 35 of the 379 counties analyzed. In these counties, annual wage growth exceeded home price growth.
Average income earners would spend less than 15 percent of their wages to buy a median-priced home in select counties in Atlanta, Baltimore, Detroit, Cleveland, and Milwaukee.
What's more, the percent of average weekly wages needed to buy a median-priced home across the country today is 33.6 percent. Earnings are on the rise, making it easier for many buyers to afford a home today.
"What surprised me was the strength of wage growth in many parts of the country that softened the blow to affordability," says Daren Blomquist, senior vice president for ATTOM Data Solutions.
"Wage growth outpaced home price growth over the past year in more than half of the counties we analyzed."
How This Affects You
Blomquist believes many counties are less affordable today because low inventory exerts upward pressure on home prices.
"Plus, there are still enough buyers out there making above the average wages or not constrained by incomes to keep pushing prices higher," says Blomquist.
"Particularly in the middle-American markets in the Midwest, Southeast and Rust Belt, investor buyers view these markets as a bargain. And they're often willing to pay more than a local owner-occupant buyer is able or willing to pay for a home."
Increasing Prices Good For Today's Buyers
At a macro level, decreased affordability is a good problem for a housing market to have, because it reflects a market that is on the rise. Consider that the home you buy today will be worth more down the road if this trend continues.
Most importantly, keep in mind that the economy is improving. When that happens, wages rise. Blomquist says this softens the blow of affordability, particularly for first time homebuyers.
"There are early indications this could be happening after a long run over the past five years where home price growth has consistently outpaced wage growth," he says.
How To Find An Affordable Fit
The report's findings shouldn't stop you from home hunting. Just remember to live within your means.
"As tempting as it may be to stretch yourself financially to buy a home, stick religiously to the simple mantra of not buying what you cannot comfortably afford," Blomquist says.
Meantime, continue to save as much as possible for a future down payment. And consider other housing markets to move to that are more affordable and have ample jobs available."
Explore more affordable mortgage loan programs, too. Low down payment options available to eligible borrowers include:
Federal Housing Administration's (FHA) first-time buyer 3.5% down loan.
Fannie Mae's HomeReady and 97% loan-to-value (LTV)
Freddie Mac's Home Possible mortgages.
S. Department of Veterans Affairs' (VA) no-down-payment loan.
S. Department of Agriculture's (USDA) low down-payment loan.
What Are Today's Mortgage Rates?
Current mortgage rates, while slightly higher than their record-setting lows, are still well below five percent for most borrowers. And while housing prices are rising, affordability is not a problem in most markets.
Talk to a few mortgage lenders about rates and programs, and see how much house you can afford today.
Click to see today's rates (Sep 23rd, 2017)
The information contained on The Mortgage Reports website is for informational purposes only and is not an advertisement for products offered by Full Beaker. The views and opinions expressed herein are those of the author and do not reflect the policy or position of Full Beaker, its officers, parent, or affiliates.
Try the Mortgage Calculator