2017 VA Mortgage Limits: Why There Really Aren't Any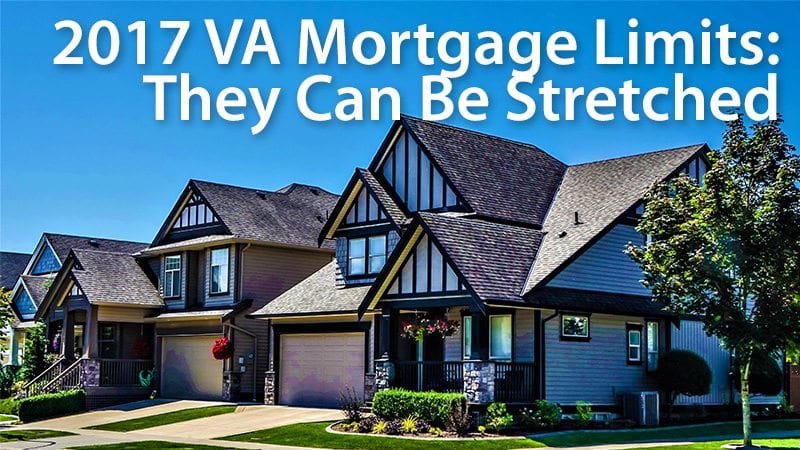 What Are 2017 VA Mortgage Limits?
In 2017, the Department of Veterans Affairs (VA) increased the maximum VA mortgage it will fully-guarantee in most US counties from $417,000 to $424,100.
In 328 additional counties covering 33 US states territories, 2017 VA mortgage limits are somewhat higher. For a single-family dwelling, VA loans may be 100 percent guaranteed up to $636,150 in these places. Finally, some locations in Hawaii enjoy single-family VA limits as high as $721,050.
Click to see your VA loan eligibility (May 29th, 2017)
Borrowing Without Limits
Can two VA-eligible homebuyers combine their eligibility to buy twice as much house? Unfortunately, no.
However, there are ways to stretch even these amounts further. They include purchasing multi-family property and the so-called "jumbo" VA mortgage.
Buy A Duplex, Tri-plex or Four-plex With A VA Home Loan
This allows you to finance rental property with zero down and let your tenants pay your mortgage. For homes in most of the US, you can finance 100 percent of:
$424,100
$543,000
$656,350
$816,650
In Honolulu, the most expensive US market, limits for four-plexes are $1,386,650.Just find three tenants who want to live there...
Considerations For Multi-Family VA Purchases
Mortgage lenders consider these properties riskier to finance than tradition single-family residences, or SFRs, so you'll need to be a stronger borrower.
VA underwriters must make sure that you will have enough emergency savings, or reserves, after closing on your house. That's to ensure you'll have money to pay your mortgage even if a tenant fails to pay rent or moves out.
The minimum needed after closing is six months of mortgage payments (covering principal, interest, taxes, and insurance - PITI).
Your lender will also want to know about previous landlord experience you've had, or any experience with property maintenance or renting.
If you don't have any, you may be able to sidestep that issue by hiring a property management company, but that's really up to the individual lender.
Your lender will look at the income (or potential income) of the rental units, using either existing rental agreements or an appraiser's opinion of what the units should fetch. They'll usually take 75 percent of that amount to offset your mortgage payment when calculating your monthly expenses.
Buy A Home With A "Jumbo VA" Home Loan
Did you know that the VA places no limits on what you can borrow with a VA mortgage? In fact, some mortgage lenders specialize in XXL-sized financing for military borrowers.
However, your loan amount would be curtailed by one of two other limits:
The VA is only willing to guarantee up to 25 percent of the property value / sale prices.
The mortgage lender sets its own boundaries regarding your guarantee amount.
For instance, it's pretty easy to find lenders making 90 or 95 percent jumbo VA mortgages. If lenders "stick to the script" established by the VA, they want you to come in with 25 percent of the difference between the maximum 100 percent guarantee in your area, and the cost of your house.
How Jumbo VA Loans Work
Suppose that you want to buy a house in Salt Lake City, Utah. The current VA limit there is $600,300, and the property you want costs $625,300 -- $25,000 more than the maximum VA guarantee for SLC.
The lender sticks with the script and allows you to finance your purchase with a down payment of just $6,250. That's less than one percent down on the entire purchase. With no monthly mortgage insurance.
What Are Today's VA Mortgage Rates?
Current mortgage rates for VA and other home loan programs offer so many advantages, especially if you want to become a landlord or buy lots of house with little down.
Click to see your VA loan eligibility (May 29th, 2017)
The information contained on The Mortgage Reports website is for informational purposes only and is not an advertisement for products offered by Full Beaker. The views and opinions expressed herein are those of the author and do not reflect the policy or position of Full Beaker, its officers, parent, or affiliates.
Try the Mortgage Calculator