Five Keys To A More "Approvable" Mortgage Application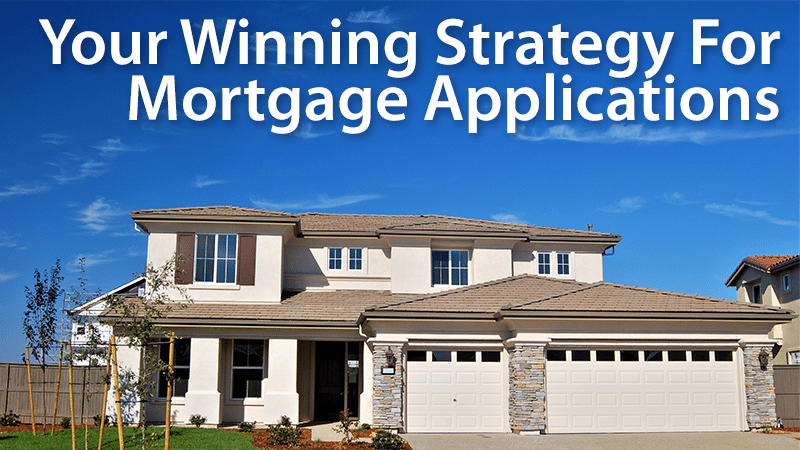 How To Win The Mortgage Application Game
When it comes to mortgage applications, many borrowers worry that "tight credit" will cause them to miss the cut. The real answer is that two factors are likely to help with mortgage success: first, good numbers; and second, good preparation.
The numbers will take care of themselves, but preparation is something that can make a difference, and that can be influenced by the borrower.
Getting a mortgage is not like a lottery where you just pick up a ticket. Instead, it's a process that you can impact by the way you interact with the lending system. Here are five keys to a better mortgage application.
Click to see today's rates (May 29th, 2017)
1. Fintech
In the past few years the lending process has become increasingly automated. This process is called "fintech" or "financial technology." Fintech is simply a way to process loan applications quickly and easily.
From the borrower's perspective, fintech is an amazingly useful tool. The reason is that either fintech will instantly approve your mortgage application, or it will tell the lender that your paperwork must be manually reviewed.
The real secret to fintech is that the borrower does less work. You don't have to make copies of financial statements. Instead, the system connects directly with bank accounts, retirement accounts, and investment accounts.
The attraction of the system is that the lender acquires data directly from the source. The borrower does not touch the paper, there are no copies to make them nothing to ship, plus lenders like that because it reduces opportunities for fraud.
If the lender says "would you like to try our fintech system," be sure to say yes. If it doesn't work you always have the fallback of doing things the old way.
2. Credit Checks and Mortgage Applications
Credit is crucial in the mortgage application process. As a borrower, you want to make sure that your credit reports are up-to-date and correct.
Get copies of your credit report two or three months before mortgage hunting. You can get free copies from AnnualCreditReport.com – one report every 12 months from each of the three major credit reporting agencies.
A good strategy is to get one report and see if there are any items which are out of date or factually incorrect. If yes, contact the credit reporting agency and have the report corrected. If you find an error then, it would make sense to also look at reports from the other credit reporting agencies to make sure that they too are accurate.
Click to see today's rates (May 29th, 2017)
3. Paperwork
You can expect that lenders are going to ask for various pieces of paper. One estimate says that finished loan applications typically include some 500 pages of documentation!
Don't panic. Much of the paperwork is simply routine stuff that lenders want for their files such as sale agreements, leases, appraisals, and full bank statements.
The easiest way to deal with lender requests for verification is to give them all the paper they want. Before applying for a loan, cobble together a folder that includes such things as your past two or three tax returns, your latest two or three payroll stubs, investment and retirement account statements, sale agreements, leases, etc.
Be sure to provide lenders with complete statements, including the blank pages and back pages.
4. Financially Hibernate
One of the best things that you can do in pursuit of a successful mortgage application is to put away credit cards and stop spending unnecessarily.
With today's technologies, lenders are able to  track credit scores during the application process. This means if you go out and make a big purchase or even just buy a really nice dinner, it may actually impact your credit score.
At first, this may not sound like a big deal. However, a 2013 study by Equifax found that "almost one-fifth of all mortgage borrowers, including those with solid credit scores and debt-to-income (DTI) ratios, apply for at least one new trade line during this period. Many borrowers simply don't realize how this new 'undisclosed debt' impacts their ability to qualify for their mortgage."
5. Relax
The mortgage application process will be a lot easier if you see it as a small hill to climb and not a mountain. Most loan applications work out well, and borrowers get their money.
If you think about it, you can understand that lenders are on your side. They want you to succeed because without you, there's no loan and there's no income.
At the same time, all loans much achieve certain standards. Lenders have to make sure that every loan application meets program requirements – anything less and they can face big problems. This is the reason why lenders want so much paperwork. They must document their loan decision to assure that it was properly determined.
If the loan officer asks for a lot of paperwork, don't think of it as a personal insult. The lender is just trying to push your application forward and needs more ammunition.
Help your case and make sure to provide all requested documents as quickly as possible. This will make things easier for you, easier for the lender, and help get the loan you want at the best possible rate and terms.
What Are Today's Mortgage Rates?
Current mortgage rates are driven by the economy, the strength of your application, your chosen mortgage product -- and the number of mortgage quotes you get, according to several studies.
Mortgage rates change constantly, so you need to get up-t0-date quotes before choosing a lender and a loan.
Click to see today's rates (May 29th, 2017)
The information contained on The Mortgage Reports website is for informational purposes only and is not an advertisement for products offered by Full Beaker. The views and opinions expressed herein are those of the author and do not reflect the policy or position of Full Beaker, its officers, parent, or affiliates.
Try the Mortgage Calculator