Low Income? Your Mortgage Lender Might Approve Your Loan Anyway
Low Income Won't Keep You From Getting A Mortgage
Many renters who don't make a lot of money assume they can never own a home.
That's simply not true.
Mortgage lenders aren't so concerned with your income level. That's just one piece of the mortgage approval, and not even the most important one, even.
Plus, according to real estate data website HSH, home shoppers with incomes as low as $40,000 per year or less can afford a home in many cities across the country.
Homes in rural and suburban areas may be even more affordable.
Don't have a sky-high income? It could be worth checking your home-buying eligibility anyway.
Verify your mortgage eligibility (Sep 28th, 2020)
Income Is Not The Most Important Piece Of Your Mortgage Application
Many would-be buyers assume a lender will take one look at their paycheck and send them on their way.
But a lender would be foolish to do so.
That's because income alone doesn't determine whether you are qualified.
Rather, it's your proposed, future payments — compared to your income — that matter most. That's because of something called a debt-to-income ratio, or DTI.
DTI is the comparison between all the payments that go toward debt and your income.
This ratio is vastly more important than raw income. In fact, a lender would much rather approve a borrower that makes $30,000 per year with a 28% DTI than one that makes $200,000 per year with a 50% DTI.
»RELATED:
Low Income Mortgage Loans: Low Down Payment, Easy To Qualify
A Closer Look At DTI
Lenders love applicants with low DTIs.
Low debt payments mean the applicant manages their finances despite a low income level. He or she is a good credit risk.
Let's look at two applicants and how lenders look at them.
| | | |
| --- | --- | --- |
| Applicant | Low Income | High Income |
| Monthly income | $2,500 | $10,000 |
| Future house payment | $650 | $2,500 |
| Taxes, insurance, HOA | $200 | $450 |
| Car payment | $100 | $700 |
| Credit card payment | $25 | $350 |
| Boat payment | $0 | $800 |
| Total debt payments | $975 | $4,800 |
| DTI | 39% | 48% |
The lender will have a much easier time approving the low-income applicant in this example. Typically, the DTI limit is 43% for most loan types, and, as it stands, only the low-income applicant makes the cut.
Low-Income Mortgage Programs
Applicants without a high income can be approved for any loan type. There is no "bottom limit" income for any mortgage, period.
If the borrower's home payment and other debts were low enough, he could get approved with an income of $10,000 per year or even less!
The good news is, though, that there are many loan types available today that cater to lower-income home buyers. In fact, many agencies set upper income limits on their programs.
The following are a few such examples.
1. USDA loan
The USDA loan is gaining popularity because it requires zero down payment and comes with lower mortgage insurance than do FHA loans.
One part of the eligibility check is the property's location. The United States Department of Agriculture (USDA) sets boundaries for these zero-down home loans.
But rural as well as suburban neighborhoods around the country are eligible. Many cities and towns just outside of major metropolitan areas are often within the boundaries.
These loans are so attractive, in fact, that USDA has set income limits on these loans to make sure they are being used by those who most need them. Current limits are set at 115% of the area's median income.
The following are annual income limits for popular areas around the country.
Portland, Oregon: $84,550
Dallas, Texas: $82,450
Gainesville, Florida: $75,650
Flagstaff, Arizona: $76,100
These income limits are not restrictive by any means. Still, they demonstrate USDA's focus on the lower income applicant. That shows up in this program's DTI requirements. While "by the book" DTI limits are set at 41%, many borrowers can be approved at higher DTIs with decent credit scores or other compensating factors.
As a home shopper with a lower income, check your USDA eligibility when you apply for your home loan.
Verify your USDA loan eligibility (Sep 28th, 2020)
2. FHA Loans
About half of all single-applicant FHA borrowers had incomes of less than $50,000 per year in 2015 (the most recent data available), according to consumerfinance.gov.
It's no surprise that applicants with lower incomes flock to FHA. Lenders regularly approve applicants with very high DTIs. Plus, the program requires just 3.5% down.
When you don't make a high income, saving for a large downpayment is next to impossible.
FHA loans were created in 1934 to give low-income renters a shot at owning a home with a long-term, steady loan product. More than 80 years later, this loan program is still serving that purpose.
Credit leniency is another area where FHA shines.
Some lenders are approving these loans down to a 600 credit score or lower. According to mortgage software company Ellie Mae, about 20% of FHA loans are issued to applicants with credit scores between 600 and 649.
Lenders aren't shying away from approving low-income or low-credit home buyers.
Verify your FHA loan eligibility (Sep 28th, 2020)
3. VA Mortgages
Being in the military is all about service, not about the money you make doing it.
That's why many of today's active military service persons — and those separated from service — are using a VA loan. These loans require zero down payment. The barrier to entry is almost non-existent.
Plus, because they require no mortgage insurance, home buyers can qualify for more home than they would with standard programs.
Let's take a look at total monthly payment on a $250,000 home.
| | | |
| --- | --- | --- |
| Applicant | VA Loan 0% down | Conventional 5% down |
| Mortgage rate | 4.0% | 4.25% |
| Principal & interest | $1,220 | $1,170 |
| Mortgage insurance | $0 | $150 |
| Taxes, insurance, HOA | $250 | $250 |
| Total | $1,470 | $1,570 |
In this example, using a VA loan means saving $100 per month and skipping a 5% down payment. Anyone with current or former military experience should check into their VA eligibility first, whether they have a low income or not.
Verify your VA loan eligibility (Sep 28th, 2020)
4. Good Neighbor Next Door
The Good Neighbor Next Door program is available to certain public-sector employees including law enforcement officers, teachers, firefighters, and emergency medical technicians.
In other words, professions that are known for paying a lot less than the job is truly worth.
As a "thank you", HUD, the overseer of FHA, offers some of its owned real estate at a 50% discount.
At fifty cents on the dollar, even very-low-income home buyers can afford to buy a house.
5. Down Payment Assistance Programs
Most homeowners don't realize that 87% of homes in the U.S. are eligible for some sort of down payment assistance.
This staggering statistic from real estate data website RealtyTrac should come as massive encouragement to low-income home buyers.
City and state programs, as well as nationwide organizations, provide many types of assistance. Some grants don't even need to be repaid.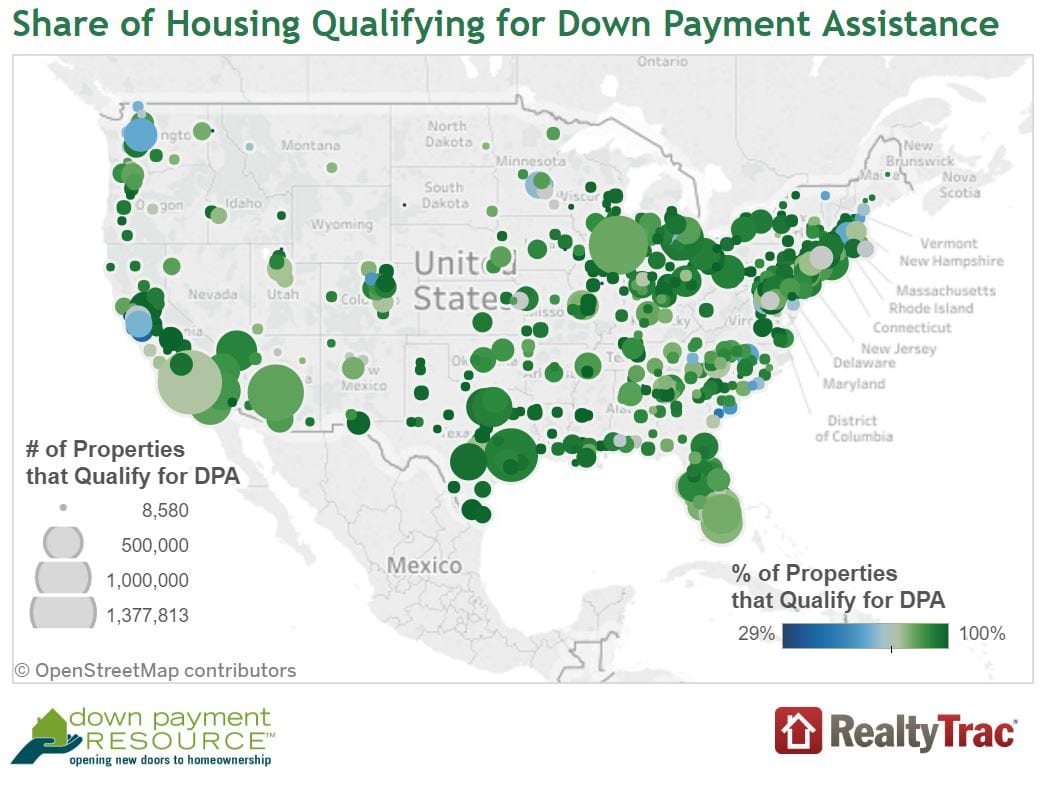 Image Source
Many renters assume they can never save up enough money for a down payment. Well, they may not have to.
Down payment assistance (DPA) programs are becoming more prevalent in today's home buying market. Lenders and agencies are loosening rules about them, when just a few years ago it was hard to find a lender that would accept a DPA at all.
Check the housing assistance section of your state and city website. You might be surprised to find that there is thousands of dollars sitting there waiting to be used.
>>Apply for a loan using down payment assistance<<
How Do I Apply For A Low-Income Home Loan?
Your income is only a secondary factor when it comes to loan approval. The lender will put much more weight on your monthly debts, your credit score, and other factors.
You CAN buy a home, even without a sky-high income.
Get a personalized home buying eligibility analysis now. There's no obligation to proceed, and you might be surprised at what you can qualify for.
Verify your mortgage eligibility (Sep 28th, 2020)