Foreign National Mortgage For Non-US Citizens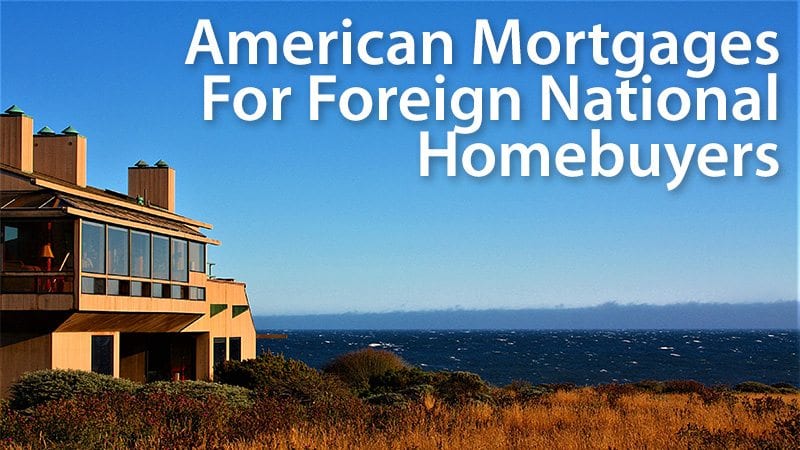 You Don't Have To Be A Citizen To Get A US Mortgage
There are two sorts of non-citizen homebuyer in the United States -- the resident who wants a primary residence, and the non-resident who wants a vacation property here. Each buyer may finance property with a foreign national mortgage, but the loans are not alike.
Click to see today's rates (Sep 25th, 2017)
Permanent Resident Aliens
Both permanent and non-permanent resident aliens can obtain mortgages in America, pretty much like everyone else. They can even get FHA, Fannie Mae and Freddie Mac home loans with as little as three percent down.
The documentation requirements depend on the borrower's status.
If you're a permanent resident alien, you'll need your green card and your social security number. Your mortgage application process will be very similar to that of US citizens.
Non-Permanent Resident Aliens
If you're a non-permanent resident alien, you don't have a green card, but you have a social security number.  You can finance a home if you produce a work permit (Employment Authorization Document) or special employer-sponsored visa.
Lenders must verify that you'll be able to live and work in the country for at least three years. If your permit is going to expire within a year, your lender must evaluate your likelihood of remaining in the country and decide accordingly.
FHA Mortgages For Non-resident Aliens
The ongoing employment / residency requirement is easier to satisfy with an FHA mortgage.  Guidelines state that if you've had your visa or work permit renewed at least once, lenders can safely assume that your employment and residency will continue.
If you've never renewed your visa or permit before, though, your lender will probably investigate further. It may check with US Citizenship and Immigration Services to get more information about your status, or contact your employer.
Non-Resident, Non-Citizens Have Options
Immigrants who are not citizens or residents, but who are refugees or were granted asylum can automatically work here and can obtain financing like a lawful resident alien. They must prove that they are refugees or asylees to be eligible for financing. 
Non-U.S. citizens without lawful residency in the U.S. are not eligible for Fannie Mae, Freddie Mac or FHA home loans.
Click to see today's rates (Sep 25th, 2017)
Foreign National Loans For Non-Residents
It's harder for borrowers outside the US to finance second homes here. However, private lenders do offer these mortgages to foreigners. They are riskier for lenders, so they carry higher interest rates. Borrowers also have to make much larger down payments -- 30 to 50 percent.
That gives lenders a cushion if foreign borrowers default on their loans.
What About Credit Scoring?
One challenge foreign borrowers face is the lack of credit data. It can take years to accumulate enough credit history to generate a good score. Or any score.
However, there is help for those with so-called "thin files." Lenders can order non-traditional credit reports for applicants with no credit score. Non-traditional reports contain records like utility payments and rental history. Accounts like school tuition, child care and personal loans -- even a 12-month history of regular savings deposits -- count as trade lines.
The US has a long tradition of welcoming foreigners, and allowing them to buy and finance homes here backs up that history.
What Are Today's Mortgage Rates?
Current mortgage rates for most foreign nationals are excellent, because they don't pay anymore than US citizens. Those who can't finance with mainstream mortgage programs will pay more, and will have to meet tougher guidelines.
Click to see today's rates (Sep 25th, 2017)
The information contained on The Mortgage Reports website is for informational purposes only and is not an advertisement for products offered by Full Beaker. The views and opinions expressed herein are those of the author and do not reflect the policy or position of Full Beaker, its officers, parent, or affiliates.
Try the Mortgage Calculator