Young Families Face Different Home-Buying Challenges
The Great Recession and resulting housing crisis is still fresh in the minds of many young adults.
If you're like many Millennials, especially those with young families, you may be gun-shy about entering the housing market. That's understandable, but having a growing family may be the push you need.
Verify your new rate
First-Timers: Buying Requires A Mortgage
Before hitting the open house circuit, a young family should evaluate its financial situation to determine if it makes sense to buy.
About 35 percent of Americans pay cash for home purchases, according to CoreLogic. However, most of those buyers are established in their careers and a little older. They typically have sold a previous home and can put some of their profit towards their down payment.
You, on the other hand, are probably just getting started and don't have a pile of cash to make your first housing buy.
You'll need a mortgage.
The Low Down On Down Payments
With a few exceptions, mortgage lenders don't loan you 100 percent of the price of the house. You need a down payment, some contribution of your own towards the purchase price, to qualify for a loan.
If you have the standard 20 percent, $20,000 for every $100,000 of the property price, decent credit and reliable income, you'll probably have a fairly easy time qualifying for a mortgage.
You also avoid mortgage insurance, which can add hundreds to your mortgage payment each month, depending on your credit score, down payment size and mortgage program.
Low Down Payment Options
Unfortunately, most young families don't have that luxury. They may be paying off student loans. There could be child care expenses, and not everyone makes Silicon Valley wages right out of school.
Money might be tight, but there are several mortgage programs designed to help young families with down payments. Many have income-eligibility requirements, and the larger your household, the higher your earnings can be.
The chart below lists the low down payment options.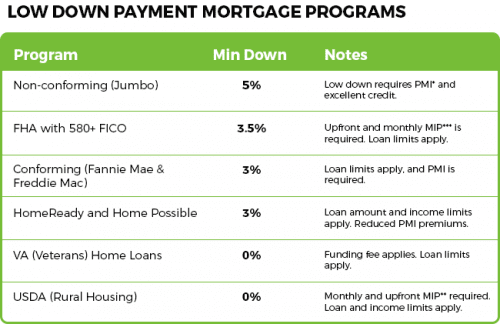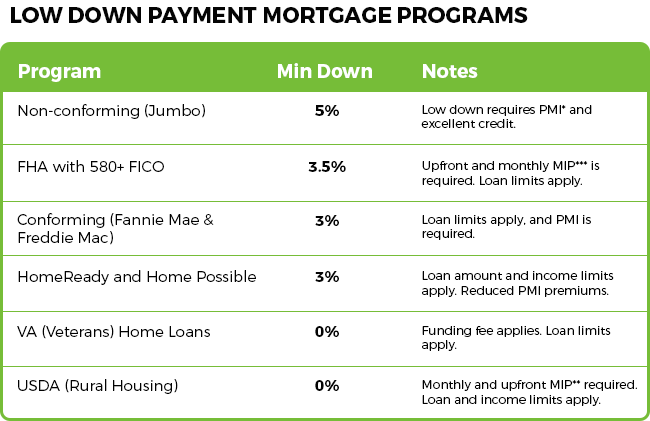 Qualifying For Your Family Home: Credit
Mortgage lenders consider several factors to determine if you qualify for a home loan. One of the most important pieces of information is your credit score. In general, a "good" score falls between 680 and 739. (A score of 740 or higher is usually classified as "excellent.")
Years of data show that your credit score is an accurate indicator of how likely you will successfully repay your mortgage. The credit scores of young families don't just affect their ability to get approved for a mortgage — they influence the cost of that mortgage.
The most important factor in your credit score is your payment history — pay on time over years and your score will reflect your responsible debt management. The other major component is the amount of credit you use compared to the amount you have access to. That's called a "utilization ratio," and the lower it is, the better your score.
Income Needed To Buy A Home
Mortgage lenders look carefully at your income when they consider your application. Typically, they prefer applicants' debt-to-income (DTI) ratios to be 43 percent or lower.
The DTI equals your proposed mortgage payment (principal, interest, property taxes and homeowners insurance) plus the minimum payments for your other accounts like credit cards, student loans and auto financing, divided by your gross (before tax) income.
If your new house payment would be $1,500, and your other payments come to $500, and your income is $5,000 a month, your DTI would be 40 percent. That's $2,000 divided by $5,000.
You can get approved with higher DTIs, but you'd normally have to compensate for that shortcoming with a higher down payment, excellent credit, or other factor.
The Cost Of Homeownership
Many mortgage programs for first-time buyers, including young families, require homebuyer education for a reason. That's because most new buyers don't know how many costs there are in addition to their mortgage.
Plan on at spending at least one percent of your home's value each year on maintenance and repairs. Your mortgage payment will probably include principal and interest, property taxes and homeowners insurance.
However, you may also have to pay dues to a homeowners association, the cost of a flood insurance policy, or for other items like a home security system.
Verify your new rate
Mortgage Pre-Approval
Doing a through review of your finances and pulling your credit reports should give you an honest assessment of whether or not you are ready to take on a mortgage. If you're ready, get pre-approved by a lender before you go house hunting.
Pre-approval gives you more credibility with sellers when you make an offer. Pre-approvals usually last 60-90 days, so don't waste this time trying to figure out what type of house you want or the communities you want to live in.
Best Communities For Young Families
Determine the type of community and home your family needs. If you have champagne dreams on a diet soda budget, step back and realize that smaller, cheaper places are called "starter homes" for a reason.
You can always move up later. For now, keep your emotions in check and avoid buying more home than you can afford.
Buying in an area with good schools can be a smart investment — both in your children's future and your own bank account when it's time to sell.
Factors like safety, other families to socialize with, and things like parks or playgrounds should probably take precedence over gee-whiz kitchens and impressive man-caves, at least for a few years.
Be Conservative
Even when both parents are employed, young families should consider homes they can afford on only one salary. It's safer to have a financial cushion when you have kids.
One parent could lose a job, or a medical emergency could drain the family bank account. And you're probably also trying to save for retirement and / or college.
A smaller starter home in an older neighborhood may make more sense for first-time homebuyers on a strict budget. In many cities, new home communities come with higher price tags and a longer commutes. That increases your fuel costs and possibly your car insurance premiums.
Find time to test out the commute for any neighborhoods you are seriously considering before putting in an offer on a home.
Be Creative
If you or your spouse is handy around the house, purchasing a fixer-upper could be a smart move. But only if you know you can handle home repairs and renovations.
It might not be practical or convenient to undertake a lot of renovation projects with small children in the mix.
Finally, consider multifamily property. Purchasing a property with two to four units could allow you to live rent-free in one of the units.
This option makes sense if you don't mind the prospect of being a landlord and being on call to deal with tenants.
What Are Today's Mortgage Rates?
Current mortgage rates for young families depend on the home loan they select, the amount available for a down payment, and their credit scores. Also, how smart they are when they shop for their mortgage. It's always a good idea to compare quotes from several lenders before choosing a loan.
Time to make a move? Let us find the right mortgage for you