Is an Airbnb housing crisis brewing?
The company denies it. But with over 4 million hosts and 6 million active listings currently on Airbnb's global books, any significant change is bound to trigger an effect on wider housing markets. Add in smaller competitors, such as Vrbo and HomeAway, and some cities already claim that short-term rental apps negatively skew their old housing models.
Are recent rumors true about the sharply declining revenues generated by these apps? If so, what might that mean for all the homeowners in places where short-term rental apps are prevalent?
Verify your home buying eligibility. Start here
What are home-sharing platforms?
Airbnb was founded in 2008. Since then, it transformed the way many people choose to vacation, enabling over 1.5 billion short-term rental events globally, according to its website.
Airbnb lets you find the sort of home you want to briefly rent, when and where you want it, and at a price you're willing to pay. Several smaller competitors offer very similar facilities as well.
Many people find these short-term, one-time rentals less costly and more appealing than a hotel room of an equivalent standard. Naturally, hotel owners tend not to be huge fans of Airbnb and its competitors.
The housing market's Airbnb problem
But hotel owners aren't the only critics. Some argue that the short-term-rentals industry has disrupted certain local housing markets.
And Airbnb itself seems to recognize that. Between 2016 and 2017, it implemented bans on New York, San Francisco and Portland, Ore., homeowners listing more than one property on its app, according to Purdue University.
Drawbacks for long-term renters and first-time home buyers
The Purdue research found the "one host, one home" bans impacted those markets.
Over the course of three years, "rents declined by 1.2% and home values by 1.7% when the policy was announced, and rents dropped by 2.3% and home values by 1.3% when the policy was implemented," the study stated.
How come? In markets with an existent housing shortage, removing homes from the residential stock to become one-time rentals increased the scarcity and, in turn, price of available properties. Returning some of those homes to the general housing market reversed that course.
The Harvard Business Review found a similar effect in its own study. It found that a 1% increase in Airbnb listings in a local housing market directly correlates to a 0.018% increase in residential rents and a 0.026% increase in home prices. It added, "while these effects may seem very small, consider that Airbnb's year-over-year average growth is about 44%."
Meanwhile, a 2018 report by the New York City Comptroller said, "in aggregate, New York City renters had to pay an additional $616 million in 2016 due to price pressures created by Airbnb."
Benefits for low-income homeowners
Of course, there are advantages as well. A study by Carnegie Mellon University showed real benefits for those who owned affordable housing units and became short-term rental hosts.
Find your lowest mortgage rate. Start here
These people often had limited incomes and the revenues from their Airbnb ventures gave them a significant boost. Carnegie Mellon suggests: "The study concludes that policymakers need to strike a balance between local renters' affordable housing concerns and local hosts' income needs."
Is an 'Airbnb crash' coming?
While the thought of an Airbnb housing crisis certainly grabs attention, does it hold water?
The feasibility of it happening gained traction with a data-backed tweet from Nick Gerli on Jun. 27, 2023. It read: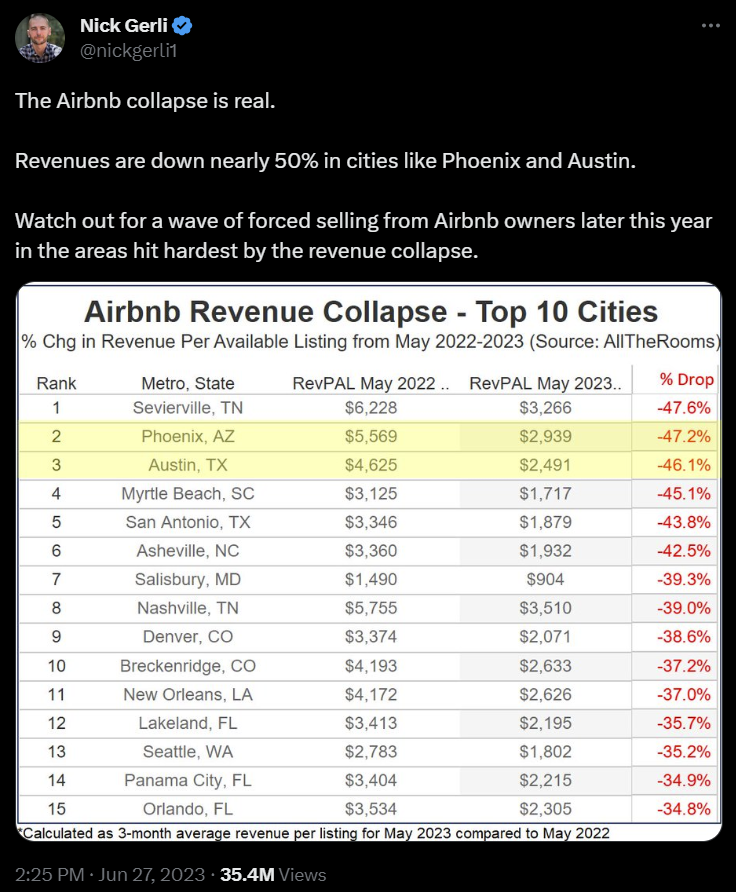 Normally, you'd ignore alarmist tweets. But Gerli is the CEO of Reventure Consulting and Reventure App, which claims to be "the #1 Real Estate Channel on YouTube with over 4 Million Monthly Views." So, how seriously do you take this?
While many agree Airbnb revenues are down in those cities, they typically question the size of the falls.
For example, Melanie Brown, executive director of data insights at Key Data, told Skift.com: "Our dataset shows declines in many of the markets that were cited in the original tweet. However, the declines are not nearly as dramatic as what was shown."
Suppose the warnings are correct
What if Gerli were correct? How would that affect local housing markets?
Well, Search Logistics says there were 2.5 million Airbnb listings in North America in 2021. And the average host earned $13,800.
Check your home buying eligibility. Start here
If Airbnb's revenues were dropping at the rates Gerli suggested, that would likely cause many hosts to reconsider the viability of their association with the company. And a considerable percentage in the affected markets might cash in by selling their homes. Or they might offer them for longer-term rentals.
That could mean a flood of homes hitting those local markets at roughly the same time. We learned in Economics 101 that a sudden glut of any product usually means prices fall.
Meanwhile, the current residential property market is especially vulnerable to such an event. According to the Federal Reserve Bank of St. Louis (FRED), there were just 646,698 homes for sale across the U.S. in July 2023. That compared to 1.5 million in July 2016, and 1.2 million in July 2019.
Why are there so few homes for sale? A big part is because average 30-year fixed mortgage rates had risen around 7% by mid-August 2023, according to our daily rates table. Of course, that's up from an all-time low of 2.65% in early January 2021, according to Freddie Mac.
That means many — probably most — American homeowners currently have mortgage rates that start with a 2, 3, 4, or 5. And you'd need a very good reason indeed to sell your current home and move to another with a 7% rate. So, homeowners are typically selling only if they absolutely have to.
How likely is an Airbnb housing crisis?
With so many of his peers publicly disagreeing with the magnitude of his data, there's a good chance that Gerli's numbers are too high. But there does seem to be general consensus that Airbnb's revenues are in decline, at least in some popular American housing markets.
Find your lowest mortgage rate. Start here
That may be enough to cause some hosts in those places to withdraw their Airbnb listings and either sell their homes or put them up for longer-term rentals. That would be good news for renters and first-time buyers but bad for existing homeowners. Because rents and home prices would likely fall in affected markets.
How much they fall will depend on how many current hosts were to switch out from Airbnb. Some may do so out of choice while others could be forced to do so by their mortgage lenders. Of course, it's possible that none or just a few will.
A dropout anywhere from 5%-to-10% would flood housing markets where Airbnb is strong.
Nationwide, the median sales price of U.S. homes are already declining. FRED says the median was $416,100 in the second quarter of 2023, down annually from $449,300 and from a peak of $479,500 in the fourth quarter of 2022.
The bottom line
So, will there be an Airbnb housing crisis? We'll have a better idea as more data comes to light and studies are published.
For now, it's too soon to panic. However, if you're planning to buy or sell a home — especially in one of the cities Gerli identified — it's something for you to consider.
If you're ready to take the next step or get a feel for your housing market, reach out to a local mortgage professional today.
Time to make a move? Let us find the right mortgage for you