Federal Reserve stays "patient" — for now
The third Fed meeting of the year adjourned on May 1 and mortgage rates are benefitting.
The group continued on the "patient" path as far as future rate hikes. This is the same language it used in its March meeting announcement.
This is a departure from late last year, when the Fed predicted 2-3 rate hikes in 2019. In March, the group scrapped plans for 2019 hikes, sparking a refinance boom.
Looking for a good mortgage rate? Today could be a good day for that.
Shop low rates among top mortgage lenders here.
How did the Fed react to President Trump's call for a 1% rate cut?
On April 30, the president advised the Fed to cut its benchmark federal funds rate by 1% and issue further stimulus.
The Fed didn't bite. The group maintained its rate at a range between 2.25 and 2.50%. Still, many believe the group is feeling pressure to, if nothing else, keep rates where they are.
China is adding great stimulus to its economy while at the same time keeping interest rates low. Our Federal Reserve has incessantly lifted interest rates, even though inflation is very low, and instituted a very big dose of quantitative tightening. We have the potential to go...

— Donald J. Trump (@realDonaldTrump) April 30, 2019
....up like a rocket if we did some lowering of rates, like one point, and some quantitative easing. Yes, we are doing very well at 3.2% GDP, but with our wonderfully low inflation, we could be setting major records &, at the same time, make our National Debt start to look small!

— Donald J. Trump (@realDonaldTrump) April 30, 2019

Mortgage rates are benefitting today as investors estimate a rate-friendly environment for the foreseeable future.
Mortgage rates fall with less pressure from the Fed
We could see rates drop in coming days, thanks to the "patient" stance from the Fed.
There have been surprisingly few factors pushing up rates of late — only ones that apply downward pressure. And the Fed announcement was another heavy weight upon interest rates, making it hard for them to rise. It could be the perfect storm for mortgage shoppers.
---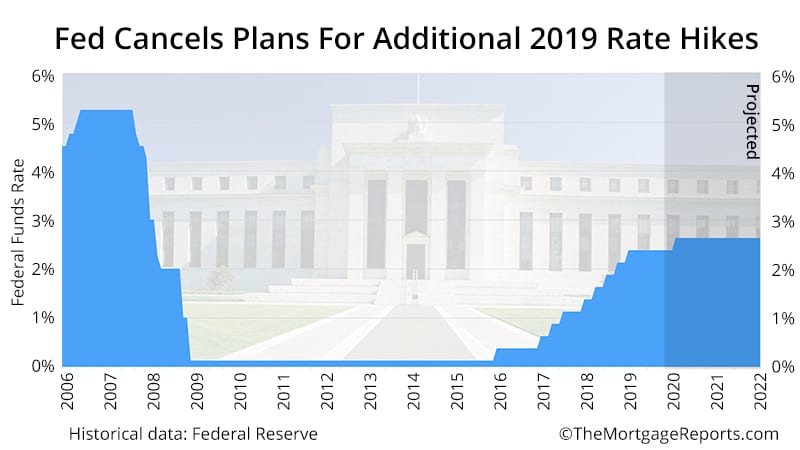 ---
The Fed foresees uncertainty in markets
In the group's official announcement released Wednesday, it cited "global economic and financial developments" as reasons for no predicted rate hikes in 2019.
Probably in view are the economic risk Brexit poses on the global economy and recent struggles for China.
The Fed knows that the world economy is now an interconnected whole. Any turmoil abroad could easily spread to the US. What the group doesn't want is a slowing economy at home just as waves of additional economic turmoil crash on US shores.
The result: a future in which interest rates are much lower than anyone expected. This is benefitting refinancing homeowners and those looking to buy a home.
Now could be the time for mortgage consumers to lock in their rates.
What are today's mortgage rates?
Mortgage rates continue downward, despite dire predictions early in 2019. Want to lock in your perfect rate? Now is as good a time as we've seen so far in 2019.
Time to make a move? Let us find the right mortgage for you