It doesn't always take two incomes to buy a home
Buying a home on a single income isn't easy. Whether you have a family or partner cohabitating with you. or plan to live solo, there's a lot to think about.
Don't rule out buying a home on a single income. Learn the facts and what you can afford. Work to improve your credit-worthiness. Explore special programs. And seek advice from pros like a trusted real estate agent, lender or property attorney.
Want some extra advice on this topic? Read on for tips and observations offered by famous financial experts.
Sandra Rinomato's advice
Canadian real estate pro and TV host Sandra Rinomato knows a lot about this subject. She's the former host of the HGTV show "Buy Herself." Its tagline was "No man. No dual income. No problem."
Interviewed a few years ago by HGTV, Rinomato said this about buying solo:
"You don't have a shoulder to lean on. You don't have that second income. But if there's a silver lining, you don't have to compromise. You don't have to have a man room or a triple garage if you don't want it. So you get to focus in on things that you want."
All the ladies — buying a home on a single income
Rinomato said single women in many situations are buying homes today. These include women who are divorced or separated. Also, "women who have focused on their career and didn't have time for a relationship." And women who just want to put off marriage or aren't ready to sign on the bottom line with Mr. Wrong.
Count single moms, too.
Related: How to buy a home as a single mother
"(They) decided, you know what, 'it's time for me to buy an investment that I can make money off of, that I can also live in and I can nest there. I can paint and decorate to my tastes. Why not do it?'"
In a separate newspaper interview, Rinomato said single females "are buying real estate because they equate it with financial security."
But you need to do your homework when buying a home on a single income, she added.
"I think you really need to analyze truthfully what your lifestyle is; what property will suit your need 99 percent of the time."
You may need to forgo some preferences, too.
"Sacrifices should come in space on the interior because people always overestimate what they really need."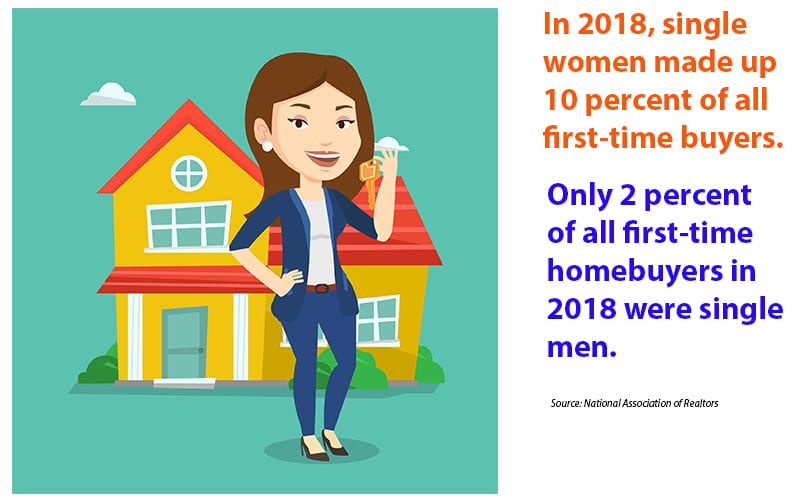 Suze Orman's advice
Personal finance expert Suze Orman knows that a lot of people are buying a home on a single income. That includes singles who plan to live alone. For proof, consider that single women own about 22 percent of homes; and single men own less than 13 percent (Source: 2017 American Community Survey). Together, they make up over one-third of all buyers.
Yet a lot of singles are on the fence about renting vs. buying. Orman's advice: "The only thing that should determine if you're going to be a buyer versus a renter is if…you get a serious steal of a deal."
Also, you should "have at least 20 percent to put down. You have an eight-month emergency fund besides the 20 percent (down). You can afford a 30-year fixed-rate mortgage…and all the other things (property tax, insurance, maintenance). And it's what you want to do."
Orman's other tips, straight from her blog, include:
If your FICO score is below 740, work on getting it higher
Pay down your credit card balances…a utilization rate below 20 percent is going to help you qualify for a better mortgage offer
Pay down other debts…the less you owe on student loans and car loans, the higher your FICO score will be
Stop buying wants…the best advice is to charge as little as possible in the months leading up to a home purchase
Have cash in reserve…mortgage lenders will likely want to see that you have some cash savings
Ralph DiBugnara's advice
Ralph DiBugnara with Residential Home Funding is often quoted in the media. Recently, he gave a MarketWatch interview with tips for single buyers.
"A growing trend among home buyers with limited means has been buying older properties and rehabbing them," he said.
DiBugnara also mentioned a few mortgage products worth pursuing on a single income.
"Fannie Mae has a loan called HomeStyle and FHA has what's called a 203k loan. They both allow you to not only finance the purchase price but also construction costs in the loan to help your home look new."
These are two ways that "women can buy less inexpensive homes and make them new, also giving them a much higher valued property at completion."
Related: Fannie Mae HomeStyle vs FHA 203(k) (Choose your renovation mortgage)
David Bach's advice
Millennials comprise one-quarter of home buyers. Many of them are buying a home on a single income. Yet not enough are taking the plunge. So says bestselling personal finance author David Bach.
"The biggest mistakes millennials are making is not buying their first home. If you want to build real financial security, real wealth for your lifetime, then you need to buy a home. Homeowners are worth 40 times more than renters," Bach said in a 2018 video.
"That first home doesn't need to be a dream home. It can be a very small home. You might literally have to buy a small studio apartment. But that's how you get started," he added.
Here's Bach's secret to buying successfully, whether you're solo or not.
"Don't do a 30-year mortgage. You want to take that 30-year mortgage and instead pay it off early. Do a 15-year mortgage," he suggested. "One, you pay the mortgage off 15 years sooner. That means you'll be able to retire in your fifties. Number two — you'll save a fortune."
Dave Ramsey's advice
Popular radio host Dave Ramsey wants buyers on a single income to ask themselves: Are you financially ready to purchase? In a recent blog post, he wrote that you'll know the time is right when:
You have a solid emergency fund and are debt-free. This ensures you can handle any unexpected expenses that come your way once you own a home
You have a sizable down payment. The best way to buy a home is to put 100 percent down. If paying cash for your home isn't in the cards this year, set a goal of saving at least 10 percent. Of course, 20 percent will put you in an even better position because you'll avoid paying private mortgage insurance
You've got closing costs. On average, closing costs can range from 2 percent to 5 percent of your home's purchase price. For a $200,000 home, that's anywhere between $4,000 and $10,000
You can cover moving expenses. While you wait for your closing date, get good estimates for what these costs will be. Request quotes from moving companies shop for appliances, etcetera
Related: 3 signs that you're ready to buy your first home
Be ready
Buying a home on a single income is doable. In fact, well over one in three buyers go it alone on a mortgage. But know what you're getting into first. Crunch the numbers. Forecast future costs and savings.
Also, plan for changes down the road. You may end up buying anew or refinancing with a co-borrower partner to come. Just keep a close eye on finances. And don't let housing costs overwhelm your budget.