Federal Reserve increases rates (surprising a few)
Today's conclusion of the Federal Open Market Committee (FOMC) surprised some (but not the majority) of analysts and investors, bringing a .25 percent increase to the Federal Funds rate for the fourth time this year. This means that the rate the Federal Reserve Bank charges other institutions for overnight borrowing increased to a range of 2.25 percent - 2.50 percent.
Despite the hike, mortgage rates are falling.
The reason: "The Fed" forecasted just two more hikes in 2019 instead of previously-projected three.
Investors took it as an indication of lower confidence for next year, triggering a nosedive for stocks. As a result, mortgage rates fell.
Mortgage rates are improving. Lock in now.
What about 2019?
The Fed did slightly change its language pertaining to future increases, suggesting a softening in its policy.
Another economic forecast showed that the majority of Fed officials predicted the central bank would raise rates no more than twice next year. In September 2018, most Fed officials had predicted at least three rate increases.
However, this may change depending on the economy's continued reaction to the trade war, softening real estate prices, employment changes and elements like oil prices and the Consumer Price Index.
This is the Fed's statement issued today pertaining to future increases:
In determining the timing and size of future adjustments to the target range for the federal funds rate, the Committee will assess realized and expected economic conditions relative to its maximum employment objective and its symmetric 2 percent inflation objective. This assessment will take into account a wide range of information, including measures of labor market conditions, indicators of inflation pressures and inflation expectations, and readings on financial and international developments.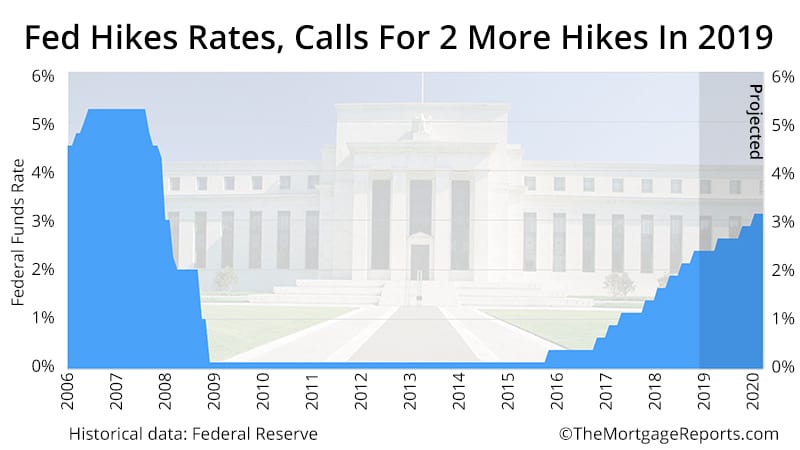 How does this affect mortgage rates?
Today's announcement indicated a potentially slower economy in 2019. Stocks reversed course, turning from positive to negative. Mortgage rates fell, too, as often happens when stocks retreat.
In addition, some experts believe that increasing short-term rates so quickly in 2018 could put the brakes on economic expansion. This may worry investors, cause stock prices to fall, and generate instability. All things that can ultimately cause mortgage rates to fall, not rise.
Normally, rate hikes trickle down to short-term interest rates only, not long-term ones like 30-year mortgage rates. Fed actions directly impact debt like credit card interest rates and other loans with variable rates.
But today, due to the mildly surprising announcement of just two rate hikes in 2019 instead of three, mortgage rates are getting better.
Time to make a move? Let us find the right mortgage for you