Buying a manufactured home with zero down
The USDA loan is the best-kept secret in the mortgage marketplace.
You can finance a home purchase with zero down. Plus, mortgage insurance is cheaper than with FHA.
But can you finance a manufactured home purchase with USDA? Yes, you can.
Just keep in mind that the home must meet USDA guidelines, and you must find a lender that offers USDA manufactured home loans.
Here's how to use USDA for your manufactured home purchase.
Start your USDA loan application with a top lender here.
In this article:
Can you buy a new manufactured home with a USDA mortgage?
Manufactured homes must be real property (with permanent foundations and taxed as real estate)
The site must be in an area designated "rural" by the USDA
The loan may cover the purchase and transportation of a manufactured home, plus the purchase of a lot
If you have no luck getting a mortgage, try a personal
You can also use a USDA loan to buy a manufactured home and set it up if you already own the lot.
Manufactured homes and USDA guidelines
Manufactured homes come in two guises. They are either real estate — on a permanent foundation, at least a double wide, and you pay real estate taxes on them. Or they are personal property, moveable and can be single wide.
Your financing depends on which of these homes you choose to buy. Assuming that the home you choose qualifies as real estate, you can buy a manufactured home with a USDA mortgage.
According to the USDA, Sec. 3555.208: "Loans may be guaranteed for manufactured homes if all the requirements in this section are met."
And here are those requirements:
Rural Development may guarantee a loan used for the following purposes related to manufactured homes when a real estate mortgage covers both the unit and the site:
(1) Purchase of a new manufactured home, transportation, permanent foundation, and installation costs of the manufactured home, and purchase of an eligible site if not already owned by the applicant; and
(2) Site development work properly completed to HUD, state and local government standards, as well as the manufacturer's requirements for installation on a permanent foundation.
Where does the home go?
The USDA does not pick the site - YOU do. It either goes on land that the developer sells you or on land that you purchase, or on land that you already own. But the agency does not tell you where to put the house.
However, your manufactured home cannot be in a highly-populated area, or it won't meet the requirement that it be in a rural area. The map below, using US Census data from 2012, shows how much of the country meets that requirement. You can be located just outside a larger city and be considered rural, or in a small town.
You can visit USDA's website for an address search, or contact a lender at the below link to check a property location's eligibility for USDA financing.
Contact a USDA lender for a property search here.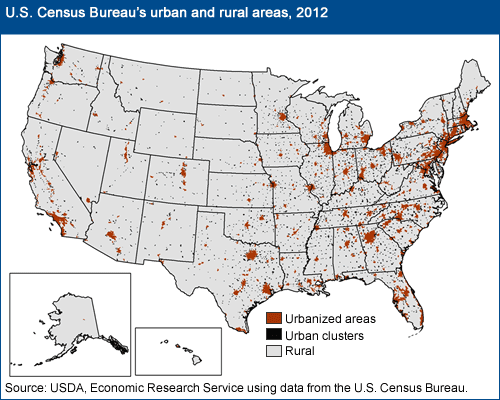 What if the property does not qualify for traditional mortgage financing? Try a personal loan.

There is a myriad of reasons a lender may not lend on a manufactured home. It might have been built before 1976 (the cutoff for most mortgage financing), it may have no HUD tags, might still be on wheels, or less than 400 square feet.

Whatever the issue, none of it matters if you get a personal loan.

A personal loan is not approved based on the property, but you. If you have decent credit, have steady income, and are looking for a loan amount under $100,000, a personal loan might work for you.

If you're frustrated that no lender seems to be able to finance your home purchase, you might be surprised at how fast and easy a reputable personal loan firm can fund your loan. In some cases, you can get funds in less than a week.

There's no drawn-out approval or appraisal process.

Personal loans aren't perfect, though. Rates might be higher since there's no collateral. And there are not as many options for lower-credit borrowers.

Still, this lending type could be the answer if you've knocked on every lender's door with no success.
Apply for a USDA manufactured home loan
USDA loans are flexible when it comes to down payment, credit score, and income required.
Get a USDA loan quote at the link below. You might be surprised how quickly you become a homeowner.
Time to make a move? Let us find the right mortgage for you