Federal Reserve hikes rates; predicts a fourth hike in 2018
Federal Reserve increases rates (surprising nobody)
Today's conclusion of the Federal Open Market Committee (FOMC) surprised no one, bringing a .25 percent increase to the Federal Funds rate for the third time this year. The hike will trickle down to short-term interest rates. This means that the rate the Federal Reserve Bank charges other institutions for overnight borrowing increased from 1.75 – 2.00 percent to 2.00 – 2.25 percent.
Verify your new rate (Oct 27th, 2020)
---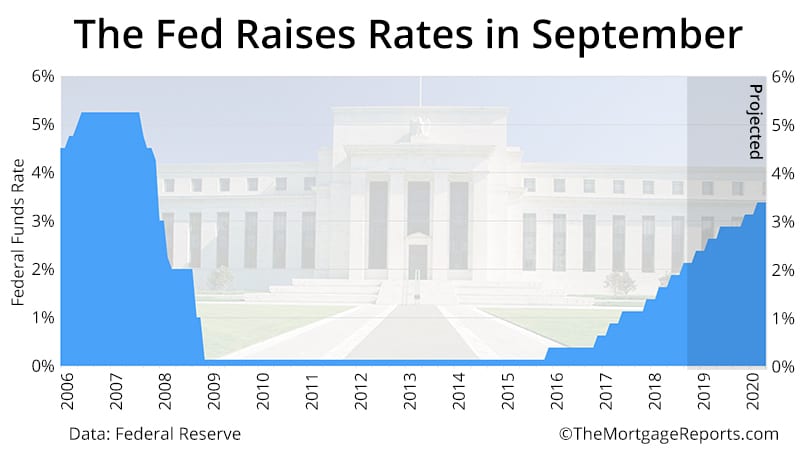 ---
Fed predicts fourth hike in 2018
However, this may not be the end of increases for 2018. The Federal Reserve will continue to monitor US economic performance this year. And the economy may undergo some changes once the impending trade war either gets underway or stalls in negotiations.
The group's forecast materials indicate that 12 of the 16 FOMC participants predict one more hike before the year ends, likely coming in December.
This is the Fed's statement issued today pertaining to future increases:
"In determining the timing and size of future adjustments to the target range for the federal funds rate, the Committee will assess realized and expected economic conditions relative to its maximum employment objective and its symmetric 2 percent inflation objective.
"This assessment will take into account a wide range of information, including measures of labor market conditions, indicators of inflation pressures and inflation expectations, and readings on financial and international developments."
So, as long as the economy remains on its current path, we can expect additional increases.
How does this affect mortgage rates?
When the Fed targets an interest rate, it mainly affects short-term investments like 2-year Treasuries. Also, it impacts debt like credit card interest rates and other loans with variable rates.
However, most mortgages have durations of at least 15 years. And there is little correlation between short-term increases and long-term interest rates, like those on mortgages.
In addition, some experts believe that increasing short-term rates could put the brakes on economic expansion. This may worry investors, cause stock prices to fall, and generate instability. All things that can ultimately cause mortgage rates to fall, not rise. It's a long game here.
The only mortgage rates likely to see immediate impact from today's decision would be short-term variable-rate products. That means adjustable rate mortgages (ARMs) and home equity lines of credit (HELOCs).
It is unlikely that we will experience a sharp increase in long-term mortgage rates. In fact, it's not uncommon for these rates to fall on the heels of a Fed hike.
Verify your new rate (Oct 27th, 2020)