FHA Streamline Refinance: Why It's Great
Homeowners with existing FHA mortgages may be eligible for an FHA Streamline Refinance. This program provides an opportunity to get better mortgage terms at a lower price.
The program makes it easier to qualify and less expensive to pull off:
It eliminates the requirement for income and employment verification
Lenders needn't ask borrowers for bank account and other asset statements
There are no minimum credit scores
The program does away with home appraisals
Verify your FHA Streamline Refinance Eligibility (Mar 22nd, 2019)
Homeowners can use the program to reduce their FHA mortgage insurance premiums (MIP) and get better terms with their new loans.
NOTE: FHA mortgage guidelines change often. This FHA Streamline Refinance information is accurate as of today, March 23, 2019.
What Is An FHA Streamline Refinance?
The FHA Streamline Refinance is a special mortgage product, reserved for homeowners with existing FHA mortgages. It is sometimes also called an FHA-to-FHA refinance.
FHA Streamline Refinances are the fastest, simplest way for FHA-insured homeowners to refinance their mortgages into today's mortgage rates. You can even use an FHA Streamline if the property is no longer your primary residence.
The reason the FHA makes it so easy for borrowers to refinance old FHA mortgages into new FHA mortgages, without a lot of qualifying, is that the agency already backs these loans. So if you default, it will have to compensate your lender.
By making it easy for FHA borrowers to get better mortgages, the agency reduces the chance of default (good for them) while helping homeowners get better loans (good for you).
It's a total win-win.
No Appraisal Required
The FHA Streamline Refinance program does not require a home appraisal. Instead, the FHA lender assumes that your original purchase price is your home's current value. This can be an advantage if your home's value has fallen or if your mortgage is "underwater."
Refinance with FHA even if you are underwater (Mar 22nd, 2019)
Even if you owe twice what your home is now worth, the FHA will refinance your home without added cost or penalty.
The "appraisal waiver" has been a huge hit with U.S. homeowners, allowing unlimited loan-to-value (LTV) home loans via the FHA Streamline Refinance program.
The program has benefited many homeowners in states and cities affected by last decade's housing market downturn.
When you don't need an appraisal, you don't have to pay for an appraisal, which can save you hundreds of dollars.
Qualifying: No Verification Of Job, Income, Credit
It's easy to qualify for an FHA Streamline refinance.
Earlier this decade, the FHA rolled back most verification requirements for this program. Today, per the FHA's official mortgage guidelines, "The Mortgagee does not need to perform credit or capacity analysis or obtain an appraisal."
Lenders can approve these loans without verifying employment or income.
You won't need to provide statements from your bank or investment accounts.
There are no minimum credit scores. In fact, your lender won't even need to pull a credit report.
There's no need for a home appraisal, either, so when you put it all together, you can be (1) out-of-work, (2) without income, (3) carry a terrible credit rating and (4) have no home equity. Yet, you can still refinance with the FHA Streamline program.
Verify your FHA Streamline Refinance Eligibility (Mar 22nd, 2019)
Are You FHA Refinance Eligible?
Not everyone qualifies to refinance through this program. The official FHA Streamline Refinance guidelines are below.
However, many lenders impose tougher guidelines than the minimums required by the FHA. These are called "lender overlays," and that's something to ask lenders about if you're concerned about qualifying.
Mortgage Payment History
There are three basic requirements for your mortgage payment history:
Your mortgage must be current when you apply for your refinance.
You must have made your last six months' payments within 30 days of the due date.
You cannot have been more than 30 days late more than once during the previous year.
If you cannot meet this basic requirement, you'll have to make your payments on time and wait until you do.
 "Seasoning"
The loan you're refinancing must be at least 210 days old, and you must have made at least six payments. This is referred to in the mortgage industry as "seasoning."
Until you have met this requirement, your lender can't even pull a case number from FHA for your new loan.
Verify your FHA Streamline Refinance Eligibility (Mar 22nd, 2019)
 "Net Tangible Benefit"
Streamline Refinance applicants must demonstrate that there's a Net Tangible Benefit in the refinance. That means the refinance will leave you better off than you were before.
Loosely, Net Tangible Benefit for a fixed-rate mortgage is defined as reducing the "combined rate" by at least one-half of one percent.
For instance, a homeowner with an FHA loan opened in May 2013 with a rate of 4.25 percent, and a monthly mortgage insurance premium equal to 1.35 percent has a combined rate of  5.60 percent.
If this borrower can get a 4.00 percent loan with MIP of 0.85 percent,  she lowers her combined rate and mortgage insurance to 4.85 percent, since FHA MIP was reduced in January 2015. That difference is .75 percent, so this refinance qualifies.
The table below shows all the ways you can meet the "net tangible requirement" with an FHA Streamline refinance. Notice that ARM requirements depend on how soon the existing loan will be adjusting.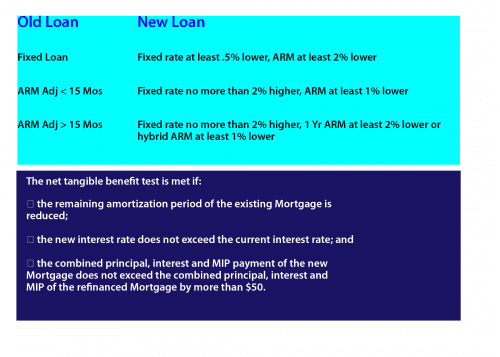 Verify your FHA rate reduction (Mar 22nd, 2019)
Loan Balances May Not Increase To Cover Loan Costs
Unlike most refinance programs, the FHA Streamline does not let you wrap your refinancing costs into the new mortgage.  (There was a Streamline Refinance With Appraisal program that allowed you to do this, but the FHA retired it in late 2016.)
The new loan balance is limited to the Current Principal Balance + Upfront Mortgage Insurance Premium. You must either pay your other closing costs out-of-pocket, or get a "no cost" loan.
The "no cost"  FHA Streamline is accomplished by having the lender pay your costs in exchange for you accepting a higher mortgage rate.
Should You Apply For An FHA Streamline Refinance?
Mortgage Insurance Requirements
The FHA Streamline Refinance is an FHA-insured mortgage, and FHA borrowers must pay two types of mortgage insurance — an upfront payment, which can be wrapped into the new loan, and an annual payment split into 12 installments, paid with your mortgage each month.
If your current loan was endorsed (insured) before June 1, 2009, you qualify for a reduced upfront premium of just 0.10 percent of the loan amount, or $10 for every $100,000 borrowed. Your monthly mortgage insurance is just 0.55 percent of the loan amount annually.
Most of those refinancing newer loans pay 0.85 percent per year, and the upfront MIP is 1.75 percent of the loan amount.
FHA MIP Refund Chart
| Months After Closing | MIP Refund | Months After Closing | MIP Refund | Months After Closing | MIP Refund |
| --- | --- | --- | --- | --- | --- |
|  1 |  80% |  13 |  56% | 25 |  32% |
| 2 | 78% | 14 | 54% | 26 | 30% |
| 3 | 76% | 15 | 52% | 27 | 28% |
| 4 |  74% | 16 | 50% | 28 | 26% |
| 5 | 72% | 17 | 48% | 29 | 24% |
| 6 | 70% | 18 | 46% | 30 | 22% |
| 7 | 68% | 19 | 44% | 31 | 20% |
| 8 | 66% | 20 | 42% | 32 | 18% |
| 9 | 64% | 21 | 40% | 33 | 16% |
| 10 | 62% | 22 | 38% | 34 | 14% |
| 11 | 60% | 23 | 36% | 35 | 12% |
| 12 | 58% | 24 | 34% | 36 | 10% |
Those who refinance within the three years of their existing loan's start date can get a refund on previously paid upfront MIP.
The size of the refund diminishes as the three-year window elapses. It starts at 80 percent if you pay off your FHA loan within one month of taking it out, and drops by two percent per month, down to ten percent if you repay it in 36 months.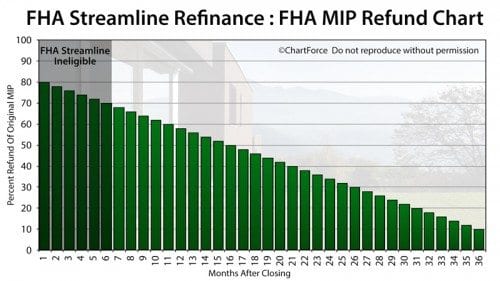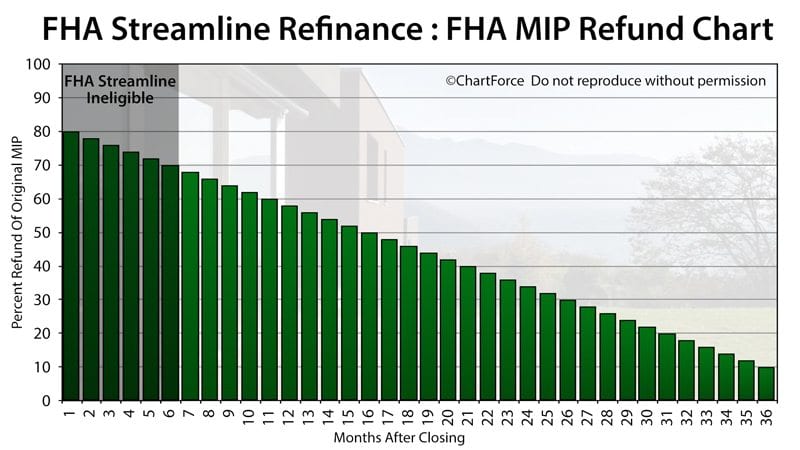 For example, a homeowner who refinances an FHA mortgage after 11 months gets a 60 percent refund of his upfront MIP. If he waits 30 days longer to refinance, the refund drops to 58 percent. After 36 months, no refund applies.
This is why is rarely a good idea to "wait to refinance" with the FHA. With the FHA Streamline Refinance program, the sooner you refinance, the bigger your refund, and the lower your total loan size. This lowers the monthly payment and preserves the home equity — two huge positives.
Verify your FHA Streamline Refinance Eligibility (Mar 22nd, 2019)
Annual MIP For Newer Loans
The annual MIP schedule for an FHA Streamline Refinance which replaces a loan endorsed on or after June 1, 2009 is as follows:
15-year loan terms with an LTV over 90%: 0.70 percent annual MIP
15-year loan terms with an LTV under 90%: 0.45 percent annual MIP
30-year loan terms with an LTV over 95%: 0.85 percent annual MIP
30-year loan terms with an LTV under 95%: 0.80 percent annual MIP
Note that these MIP costs may be lower than what you're paying currently.
In January 2015, the FHA lowered its mortgage insurance premiums on 30-year loans, making it less expensive to carry an FHA home.
If your current FHA MIP is higher than what's shown above, consider starting a refinance immediately to benefit from a new, lower FHA MIP.
Verify how much you can save by reducing your FHA MIP (Mar 22nd, 2019)
 Annual MIP For Older Loans
Annual MIP is similarly cheap for older FHA loans. For an FHA Streamline Refinance replacing an FHA loan endorsed prior to June 1, 2009, the annual MIP is 0.55 percent annually, or 55 basis points.
15-year fixed rate mortgages with LTVs of 78 percent or less pay no annual MIP.
How To Cancel FHA MIP
The FHA requires some homeowners to pay mortgage insurance for as long as their loan is in effect.
If your FHA Streamline Refinance replaces a loan endorsed on or after June 1, 2009, the rules for your FHA MIP cancellation are:
LTV of 90 percent or less at the time of closing: You'll pay MIP for 11 years.
LTV greater than 90 percent at the time of closing: You'll pay MIP for the life of the loan.
The FHA MIP cancellation policy applies to 15-year loan terms and 30-year loan terms equally.
If you have the cash to pay your balance down to less than 90 percent of the original home value, you can get more favorable terms. if your home has increased, you should probably explore other alternatives to FHA.
The conventional mortgage loan via Fannie Mae or Freddie Mac, which is available with nearly every mortgage lender, may be cheaper than the FHA refinance because you may be able to reduce or drop your mortgage insurance altogether.
The FHA allows its homeowners to refinance to cancel FHA MIP.
What Are Today's Mortgage Rates?
The FHA Streamline Refinance behaves very much like any other loan product.
It's available as a fixed rate or adjustable mortgage; it comes as a 15- or 30-year term; and there's no FHA prepayment penalty to worry about.
Another big plus is that FHA mortgage rates are the same in the FHA Streamline Refinance as with a "regular" FHA loan. There's no penalty for being underwater, or for having very little equity.
Get today's live mortgage rates now. Your social security number is not required to get started, and all quotes come with access to your live mortgage credit scores.
Verify your FHA Streamline Refinance Eligibility (Mar 22nd, 2019)