Interest rates and home prices climb, but so do buyers' hopes
Rising mortgage rates and home prices can make it easy to get the buyer blues. But not all the news is bleak. There are positive signs that homebuyers can take to heart.
New survey data indicate that many buyers remain optimistic about the housing market. Consumer confidence numbers from the University of Michigan also suggest that buyers feel more positive about their prospects. That's despite their belief that rates and prices will likely rise. This confidence is a good sign, even though buyers expect tighter financing and inventory.
Get the latest facts. And crunch the numbers. You may learn that you're better positioned to buy a home than you think—even if rates and prices climb this year.
Verify your new rate (Dec 14th, 2018)
Redfin reveals a few surprises
Real estate firm Redfin recently polled more than 4,000 people who either bought or sold a home last year, attempted to do so, or planned to do so soon. Among the survey's key findings:
Only 6 percent of buyers said they would cancel their plans if mortgage rates surpassed 5 percent. This suggests that most buyers can handle slight rate increases. It also implies that buyers are putting rates in proper perspective: that even a rate close to 5 percent is still near historical lows.
21 percent would look in other areas or buy a smaller home if rates exceeded 5 percent.
25 percent said rates going over 5 percent would have no impact on their plans.
Over three in four (77 percent) expect home prices in their area to rise in the next year.
Harvard research: the future of home prices in 2018
The good news here, said Redfin chief economist Nela Richardson in a prepared statement, is that "Still-low interest rates somewhat offset high prices for some buyers." Redfin reported that the average 30-year fixed mortgage rate exceeded 4 percent in January and has been slowly going up; rates hovered below 4 percent in late 2017.
However, "there are still many more buyers than the current housing supply can support, with no major relief in sight," added Richardson.
Rising mortgage rates: fresh numbers from Fannie Mae
Meanwhile, Fannie Mae recently polled 1,000 consumers for its monthly National Housing Survey. Some of their answers are used to gauge the Home Purchase Sentiment Index (HPSI). The HPSI reflects consumers' current views and forward-looking expectations of housing market conditions.  Key findings of the survey include:
The HPSI rose 3.7 points in January to 89.5. That's a good sign for buyers.
Those saying "now is a good time to buy a home" rose 3 percentage points (to 27 percent) since December. Few can argue that the current market favors sellers. Yet over one in four buyers believe that the time is right to purchase.
Those saying "now is a good time to sell a home" rose 4 points (to 38 percent). That's good news for buyers, too. The more sellers who list their homes, the more supply is available to buyers.
Those saying home prices will go up in the next 12 months rose 8 points (to 52 percent). Not much surprise there.
Those saying they are not concerned about losing their job rose 5 points (to 73 percent). Strong job security and a robust economy give buyers more confidence.
Those saying their income is significantly higher than 12 months ago remained flat (at 16 percent).
Have housing prices finally stopped climbing? One forecast says yes
"HPSI rebounded from last month's dip to a new survey high in January," said Doug Duncan, Fannie Mae's chief economist, in a prepared statement. He said this was "in large part due to the spike in consumers' net expectations that home prices will increase over the next year."
What this data means to you
Rachel Musiker, spokesperson for Seattle-based Redfin, says she's not surprised by the responses to the Redfin poll.
"Continued low mortgage rates are motivating people to buy now," she says. "A small increase in rates, which has been expected for a few years, wouldn't cause most people to cancel their plans to buy a home."
Wage growth, a lower unemployment rate, and an overall robust economy are also inspiring buyers today, she notes.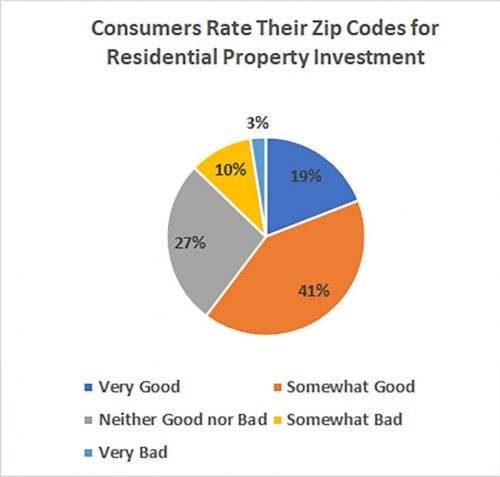 Source: Federal Reserve
"People see a home as a stable place to live and raise a family. The fact that 77 percent expect home prices to continue to rise shows that they think a home is a good place to put their money," says Musiker.
She believes that rising prices are an even stronger motivator that creates an urgency to buy than rising rates.
"People also don't want to be late to the game," she adds. "There may be more confidence and a bullish attitude toward buying now before prices get even higher."
What to expect this year
Musiker cautions that 2018 will be an even more competitive year for buyers than 2017.
"Inventory is still very low. And demand is higher," she says. "That means there will be more bidding wars and rising prices. Affordability is a growing problem. It might not be quick and easy for people to get under contract to buy a home this year."
When opportunities arise, prepare to act quickly.
16 housing markets to avoid in 2018
"Make sure you're not missing out on any homes for sale," Musiker says. "Search online or via an app that pulls its listings straight from the MLS. Sign up to receive phone alerts as soon as a home that meets your criteria hits the market. Being the first in the door can be your ticket to getting a home under contract."
To further improve your chances of affording and landing a home, get help. Consult with a knowledgeable real estate agent. Get preapproved for a mortgage by a lending expert. And work with a financial planner to create a budget that will help you save for a down payment.
Verify your new rate (Dec 14th, 2018)