New study: Most borrowers love their loans
Good news! In a 2017 survey, the vast majority of homeowners polled reckon they have a good or great mortgage rate.
Indeed, the FREEandCLEAR Mortgage Survey found a whopping 90 percent saying they got a good deal. And, with mortgage rates still within spitting distance of record lows and many fewer exotic "gotcha" loans than a decade ago, that's perhaps no surprise.
Dig a bit deeper into the poll and you find many of those in that 90 percent are likely kidding themselves …
Verify your new rate (Dec 10th, 2018)
But did they really get a great mortgage rate?
An incredible 64 percent of respondents didn't bother to properly shop around for a loan. Instead, they looked at either one or two mortgage deals.
Mortgage rates: (almost) everything you need to know
That's simply not enough to know whether you've lucked out or are getting ripped off. In particular, the more than one-in-three homebuyers who took the first and only mortgage they looked at must have a touching faith in the altruism of major financial institutions.
But, when it comes to lenders on Wall Street and elsewhere, such faith is often misplaced. And it usually costs.
Cost of not shopping for a home loan
Even if you're borrowing through a government-backed program, such as VA loans or FHA mortgages, you're almost certainly going to get the money from a private lender.  That means those lenders will compete for your business. Check out the differences in what you pay with a $300,000 home loan.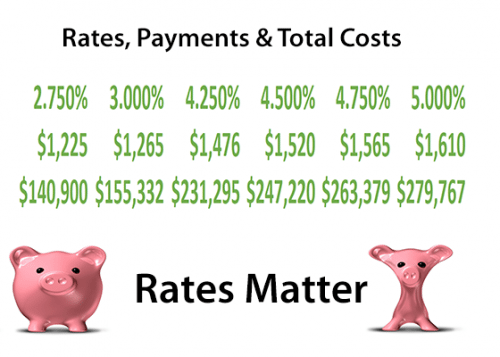 That price competition is great, but it means there will be a spread between the highest and lowest rates on offer on any given day. On average, that's 25 basis points (a basis point is one-hundredth of 1 percent) for "conforming" loans. A conforming loan is just one that meets the terms and conditions imposed by Fannie Mae, Freddie Mac and the Federal Housing Finance Agency (FHFA). What does that spread actually mean?
Well, let's assume the average mortgage rate you qualify for today is 4.0 percent. The best lender will offer you 3.875 percent and the worst will offer you 4.125 percent.
Comparing home loans: Which one is best for me?
Tiny rate variations matter
"Pah!" you say. "Who cares about tiny amounts like that?" But you should.
Because, on a $325,000 fixed-rate mortgage over 30 years, you're going to take a real hit from that 25-basis-point spread. Indeed, you'll see your total cost of borrowing rise by $18,360 if you're on the wrong end of it!
Many of those in that survey who think they got a good mortgage rate will never know they missed out on that sum. Unless they read this.
Bigger mortgage, bigger spread
It only gets worse for larger loans. That's because the spread widens for "jumbo" loans, which are ones that are bigger than the limits set by the FHFA. In fact, it averages 50 basis points — or twice that for conforming loans.
How your mortgage amount affects your interest rate (and what to do about it)
So, say you want to borrow $500,000 through a 30-year, fixed-rate mortgage. If you're at the wrong end of that spread, you'll pay $51,840 more over the lifetime of your loan. Call that a good mortgage rate?
Work it out for yourself
The Mortgage Reports has a range of mortgage calculators that lets you model your own loan options. So you can see how much difference the spread could make to you.
Check out the standard mortgage calculator.  Or, if appropriate, use the conventional mortgage one, which will also show you your mortgage insurance and other likely costs.
Are things getting better?
Back in 2013, federal watchdog the Consumer Financial Protection Bureau (CFPB) looked in depth at homebuyers and their mortgages. It found things were worse then than the 2017 survey suggests. Its findings included:
Very nearly half (47 percent) of homebuyers didn't shop around for a good mortgage rate at all
Seventy-seven percent applied to only one lender or broker, meaning they missed out on meaningful rate comparisons, even if they'd carried out some initial research
The spread on 30-year fixed rate conventional loans often varied by more than half a percent. So that's more than 50 basis points
The CFPB report went on to highlight how damaging being on the wrong end of the spread could be, even in the near term: "Getting an interest rate of 4.0 percent instead of 4.5 percent [on a $200,000, 30-year, fixed rate mortgage] translates into approximately $60 savings per month.
Mortgage rate spread: 3 questions when you consider an ARM
"Over the first five years, you would save about $3,500 in mortgage payments. In addition, the lower interest rate means that you'd pay off an additional $1,400 in principal [the amount you originally borrowed] in the first five years, even while making lower payments."
The big questions posed by the differences between the two surveys are simple. Are things really getting better? Or did the studies ask different questions and use different methodologies? If the latter's true, these problems may be as bad as ever.
How to get on the right end of the spread
When, in 2012, researchers from Stanford University looked at homebuyers and their loan searches, they concluded: "Mortgage loans are leading examples of transactions where experts on one side of the market take advantage of consumers' lack of knowledge and experience."
Mortgage rates versus APR: how to get the best mortgage deal
You might be thinking that means that loan officers and brokers see applicants who haven't thoroughly researched the market as fair game. After all, why offer someone your best rate — the one to which their creditworthiness entitles them — when they're happy with a less good one?
Indeed, many may see their jobs as maximizing profits, not mollycoddling people who can't be bothered to spend an hour or two online doing basic research.
Be prepared
That may seem harsh and cynical. But, those Stanford researchers found evidence it may be the case, even if some brokers and loan officers only unconsciously discriminate against the unprepared.
Because of the Stanford study, which explored only brokers, found that on a $100,000 mortgage considerable savings could be made by those who shopped around. So, a homebuyer who consulted two brokers saved $981 over someone who worked with only one, and $1,393 by consulting three. With a $200,000 loan, the savings were $1,866 and $2,664 respectively.
Shopping for a mortgage" How many quotes do I really need?
Those researchers concluded, "Because we do not believe that borrowers would intentionally pass up such large benefits just to avoid talking to another broker, we conclude that confusion about how this market works caused borrowers to shop too little."
What are today's mortgage rates?
Of course, things have moved on since that Stanford study. And, while there's nothing wrong with talking to multiple brokers and lenders, many now prefer to do their research online.
Today, you can use your computer or device to quickly access information. You can even ask an expert about specific things that trouble you, using The Mortgage Reports Q&A forum. And, from a single easy sitting, you can receive multiple competitive quotes from lenders who want to work with you.
Better yet, they know you're the sort of homebuyer who's done her homework. So they're not going to see you as a mark.
And that's how you know you're getting a great mortgage rate.
Verify your new rate (Dec 10th, 2018)