First-time buyers finally getting some encouragement
The thought of buying your first home can be exciting. But the reality is that times can be tough for first-time homebuyers. Socking away enough for a down payment is tricky. And finding a home that fits your finances isn't easy, either.
Verify your new rate
Seller's market is not forever
Yes, it's still a strong seller's market. But that doesn't mean buyers can't find signs of hope. In fact, fresh data suggests a more positive outlook than many would have you believe.
Slugging it out in a seller's market: how to compete
Don't give up your dream of owning your first home. Be inspired by the optimism of other first-time buyers. And be proactive by doing your homework early in the process.
What the survey shows
The latest National Association of Realtors' (NAR) 2017 Profile of Home Buyers and Sellers has several bits of good news for first-time homebuyers:
First-time buyers typically put down only 5 percent this year. That's a reduction from 2016's average of 6 percent down. It matches the lowest number tallied since 2013.
First-time buyers enjoyed a higher household income than one year ago – $75,000 vs. $72,000.
Only 34 percent of buyers felt the mortgage application and approval process was somewhat or much more difficult than they expected. That's down from 37 percent in 2016. This points to slightly looser credit standards. It also suggests improved financial health among borrowers.
Nearly six in 10 buyers financed their home via a traditional mortgage. Thirty-four percent of first-timers obtained a low-down payment FHA mortgage; that's up from 33 percent in 2016.
More first-timers received a gift from a friend or relative as their main down payment source – 25 percent in 2017 vs. 24 percent last year.
Eighty-three percent of those surveyed believe a home purchase is a good investment.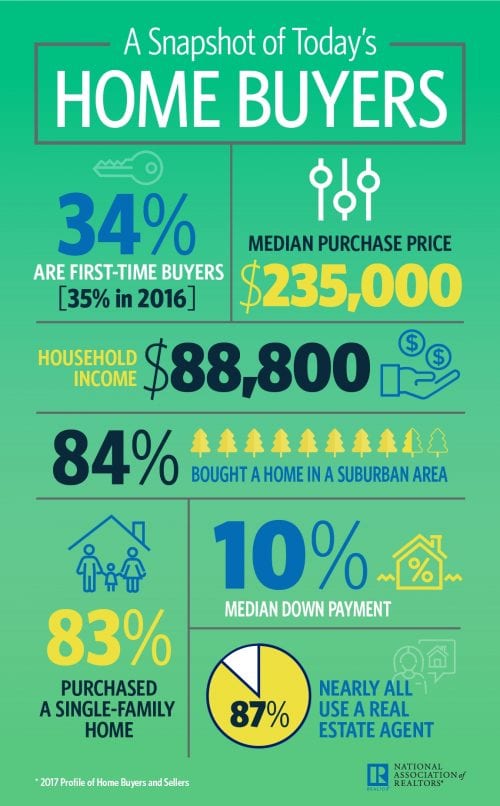 What the findings mean
Jessica Lautz, NAR's managing director of survey research and communications, says these and other poll results are noteworthy.
"First-time buyers are putting down a smaller down payment," she says. "This could mean that they're actually putting down the same amount of money, but it's a smaller share due to rising home prices."
But it could also mean they're taking greater advantage of low down payment programs, she adds.
Getting by with less
Lautz has observed a rise in home seekers moving in with friends or family to save money for a later purchase. Today, 21 percent of first-timers do this, up from 12 percent a few decades ago.
No down payment? You could crowdfund it
"That's one smart way to pay down debt, avoid rental costs and save for a down payment quicker," she says. "One in four buyers are also turning to family and friends for down payment assistance."
Those who can't rely on the latter strategies have learned to make do with less.
"That requires tightening the belt and being patient. Many first-timers are making sacrifices and spending less on nonessential purchases. It may mean cutting out vacations and not purchasing a second car," she adds.
Over seven in 10 buyers polled admit making compromises when it comes to their chosen home's size, condition or price, as well.
"The takeaway here is that you can find a home that's perfect for your family. But you may have to make some concessions to make it a reality," adds Lautz.
Myth busting
In 2017, the median age of a first-time buyer is 32 years old.
"This undercuts the myth that first-timers wait until their forties to buy," she says.
There's also a myth that first-timers are delaying home ownership because they are also putting off marriage and having kids.
"Actually," says Lautz, "There's been a rise in single females and unmarried couples purchasing homes."
Lautz is also encouraged that more buyers feel the financing process is getting easier.
"Less than 10 percent of buyers say the top struggle they're having is getting a mortgage," she notes.
Clearing the top hurdle
Instead, buyers say their top challenge is finding the right property in a low-inventory environment, Lautz adds.
That makes sense, says Tamara Dorris, adjunct real estate professor at American River College in Sacramento.
"Low inventory and competition remain challenges today, especially for first-time buyers. They tend to purchase at the top of their approval ceiling," Dorris says. "That leaves them with little wiggle room. Hence, more seasoned buyers often have the ability to outbid them."
Your next steps
To increase your chances of finding and owning a home you can afford, try these tips:
Salt away as much as you can. The median down payment is now 10 percent, per the NAR. Learn to cut wasteful spending from your budget. And don't be afraid to ask a relative or friend for financial help.
Enhance your credit. "Check your credit report. Improve your debt-to-income ratio. And work to increase your credit score before you enter the financing process," says Lautz. "These are the most common reasons borrowers are rejected by lenders."
Find a good agent. "Contacting a professional real estate agent can be very helpful early in the process," Lautz says. "An expert can save you time. They can show you what you qualify for and help you navigate the market."
Trust in a skilled lending expert. "A good lender can help you determine the right loan type and purchase amount," says Dorris.
First-time buyer's guide: using a real estate agent
Be ready to pounce. "Be prepared to write an offer as soon as you find one you love. In some markets, that same house will be gone tomorrow," Dorris says.
Avoid getting in over your head. Don't let emotions spur you to engage in a costly bidding war. Be prepared to walk away from any deal outside your budget.
Looking ahead
Dorris says she's hopeful things can get better soon.
"The building of more affordable housing projects in some markets could enable more first-timers to purchase," says Dorris.
Meanwhile, first-time buyers will need to be resourceful.
"For conditions to improve for first-timers, we would need to see more new construction at lower price points. I don't see that happening for the foreseeable future," Lautz says. "So you need to know your limitations."
What are today's mortgage rates?
Today's mortgage rates remain affordable and low, a real benefit to first-time homebuyers. To nab an even better deal, compare several offers from competing mortgage lenders, and work with a competitive provider.
Time to make a move? Let us find the right mortgage for you