Want to start a business? Buy a home
Getting started
If you want to start a business, it helps if you own your home. That's because business financing is often hard to come by, requires a lot of hoop-jumping, and can be very expensive. Financing a business with home equity can be easier and much less costly.
Verify your new rate (Oct 17th, 2021)
What the research found
New data show that more people use home equity as a source of startup capital than you'd think. One option is a home equity loan (HELOAN), which (usually) has a fixed rate, loan amount and repayment schedule. It's also called a "second mortgage."
How to get a mortgage approval when your business doesn't look good on paper
Another option is a home equity line of credit (HELOC). It has a variable rate that you can tap when you need it, like a credit card. Both carry risks, and experts recommend caution before going either route.
But under the right conditions, home equity financing can be a useful tool to help get a small business off and running.
Home equity was used to launch 7.3 percent of all new businesses in the U.S. (284,618 total), based on the most recent new data from the Annual Survey of Entrepreneurs (ASE).
Some industries use this tactic more than others. These include accommodation and food services (10.3 percent use home equity for startup capital); retail trade (9.7 percent); manufacturing (9.3 percent); wholesale trade (7.5 percent); and educational services (7.4 percent).
Cash-out refinancing can be cheaper in the long run than home equity loans
All startups polled by ASE gathered $50,000 to $99,999 worth of funding as startup capital, on average.
Women and racial minorities in particular value home equity financing. Female-owned businesses are more likely than those owned by men to fund via home equity (7.8 percent vs. 6.6 percent, respectively).
By race, Pacific Islanders/Hawaiians more often use home equity (10 percent), followed by American Indians/Alaskan Natives (9.1 percent), Asians (9 percent), African Americans (7.8 percent), and whites (7.3 percent).
Pros and cons
Tapping into home equity comes has its good and bad points. On the plus side, your interest rate on a HELOAN can be lower than other loans; the interest paid on both HELOANs and HELOCs is tax deductible. And a HELOAN or HELOC can be easier to qualify for than other forms of financing.
Should you use home equity to pay for college?
"The lender will look to the value of the property relative to amount of debt on it. They will also look to your income as evidence of ability to sustain the additional debt," says Adam Gower, real estate professor in the Orfalea College of Business at California Polytechnic State University, San Luis Obispo.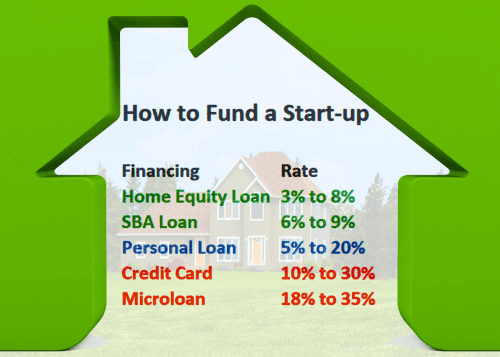 "Lending criteria are tougher than they used to be. But the lender typically does not care what you use the funds for, so long as your home is worth enough and you can afford to pay the debt."
On the minus side, you're using your home as collateral. That means if you default, you can lose your home as well as your business. Fees and closing costs for home equity financing can be costly, too.
How the Fed affects HELOC rates
Still, some experts believe that tapping into home equity can be a smarter choice than other sources of funding. These other options can include:
A personal loan from a bank/lender—which can carry a higher interest rate
SBA (Small Business Administration) loan—which are hard to qualify for and can take months to complete
Rolling over retirement money—which comes with high fees and risks your retirement savings
Credit cards—which also carry high interest rates and may offer a lower credit amount ceiling
Loan from a friend or relative—which could risk your relationship if business turns sour.
Other sources of funding are more expensive, riskier, or both. Home equity can be the cheapest business funding available.
Proceed with caution
Kevin J. Boyle, professor and director of the Program in Real Estate at Virginia Tech, supports home equity borrowing if the situation is right.
"Using equity in a home, with the current low interest rates and the income tax deduction for interest payments, can reduce the cost of capital versus using a personal line of credit or a commercial loan," says Boyle.
Convertible HELOCs let you fix the interest rate on your line of credit
Gower, on the other hand, says tapping into home equity should be treated like credit card debt.
"Only use it if you know with certainty that you can pay it off," says Gower. "Do not take equity out of your home to start a business unless you already have orders lined up from credible customers and know that the money you borrow can and will be paid off within a short, predictable time period."
Only borrow what you can afford
Boyle says having the confidence to repay what you borrow no matter what is important.
"Make sure you can make the payments while your business is starting. This is a time when you will likely not have a positive cash flow. And make sure you can make the payments even if the business fails."
How to get a mortgage if you're newly self-employed
For these and other reasons, Mark Lee Levine, professor at the Burns School of Real Estate and Construction Management, University of Denver, does not recommend a HELOAN or HELOC.
"It is only smart, in most cases, if the business is successful. I think it's a dangerous game to risk your home for business or investments," says Levine. "There are other means to accumulate capital that should also be considered."
Strategies for success
Gower prefers a HELOC over a HELOAN, but only to solve short-term cash flow problems with your small business.
"If a business has orders in place from credible customers that requires some cash to fulfill, by all means use the HELOC to fund the delivery of the orders," he says. "But be sure to pay it back immediately the customer pays you for your goods and services."
Gower believes that using HELOANs and HELOCs for startup capital is best if the property isn't your primary residence. His advice?
"Buy a property other than the one you are living in. Generate income from it by renting it out and then tap into the increased equity from that," says Gower. "That is a far safer and more prudent way of generating sustainable cash flow and wealth than overleveraging your own home."
Dos and don'ts for boosting home equity
Boyle agrees.
"If you buy a rental home with multiple units, your small business is simply being a landlord. And your tenants will help offset mortgage payments and build equity in the property," says Boyle.
"This is perhaps the least risky approach. But you have to be willing to become a landlord with the associated responsibilities."
Lastly, remember that "launching any kind of business requires a long-term perspective and careful planning," says Gower.
What are today's mortgage rates?
Today's affordable mortgage rates make starting a business cheaper. To get the best deal on a HELOC or second mortgage, compare quotes from several competing providers, and select the best one for your needs.
Verify your new rate (Oct 17th, 2021)