Heads up, homeowners: Mortgage rates hit lowest point since November!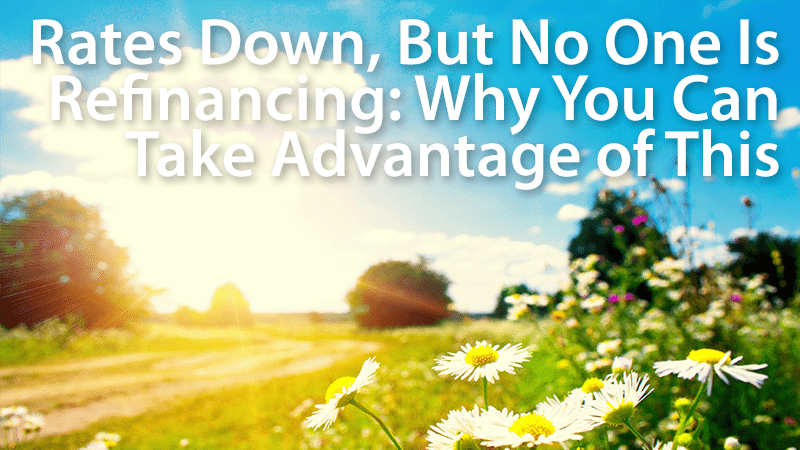 Myths about today's mortgage rates could be costing you money
There is a serious disconnect between the public perception of current mortgage rates, and the actual mortgage rates available today. The public is in general under the impression that rates, which rose sharply following last year's Presidential election, are still high. Too high for refinancing.
That's no longer the case.
Verify your new rate (Jun 25th, 2018)
Mortgage rates lowest since November 2016
Despite the recent drop in mortgage rates, home loan applications increased only two percent, according to the Mortgage Bankers Association (MBA). There are a few reasons for this:
Many homeowners refinanced last year and already have a desireable interest rate
Homebuyers are stymied by rising home prices, and lower rates are not offsetting that enough
Many who could benefit from a refinance have no idea that they might
The fact that applications have not spiked significantly can be exploited.
Source: Mortgage News Daily
Advantages for recent buyers
Perhaps the best candidates for refinance are those who purchased houses after the election, when interest rates were considerably higher. These folks have a few advantages that not everyone else can grab.
Refinancing shortly after buying means you won't be extending your repayment period by years
You should be able to get a "short rate" or discount on your title insurance
You recently got a mortgage approval, so getting another one should be a snap
The recent and rapid increase in property values in some markets may let you drop mortgage insurance, or at least get less coverage and a lower rate
How to negotiate refinancing costs
If you had to take a rate that you didn't particularly like, to get the home that you did like, it might be smart to get a few quotes and see how much better you can do.
Help for borderline buyers
Another consideration is that in the past, when every rate drop triggered a refinance boom, lenders did not lower rates as much as they could have. They didn't need to, because they had more business than they could handle.
And lenders could afford to be picky about borrowers, and stingy with approvals.
Today, they have to compete a little more aggressively for business. That might be good for you.
Where will rates go next?
While last week's mortgage rates plunged as tensions escalated between the US and North Korea, that crisis seems to have abated. But there always seems to be another one around the corner.
This week, terrorist attacks in Barcelona spooked already stressed investors worldwide, and as money moves into the safe haven of US Treasuries, interest rates here are falling again. The yield for ten-year Treasuries just hit 2.20 percent, a line that has not been crossed in months.
The best day of the week to lock a mortgage rate
And Trump tweets continue to destabilise the market. As he announced his decision to disband his business councils (many CEOs had already resigned before this decision), large investors immediately moved their funds out of stocks and into bonds.
Indications all point to falling mortgage rates. All three stock indexes are significantly down, oil is down, Treasury yields are down, gold is up, and CNNMoney's Fear & Greed Index, which measures investor sentiment, has plunged to 21, a level in the"Extreme Fear" range.
Move fast!
Markets today are extremely volatile and unstable, and that provides opportunity for those who are ready to act. Even if mortgage rates have not fallen into your strike zone, you should prepare to jump on them when they do.
Contact several lenders for quotes now, and find a competitive one to work with
Apply for mortgage pre-approval with your chosen lender
Keep your file up-to-date, with new pay stubs, bank statements, etc., so that all you'll need to complete your refi is a rate lock and an appraisal.
Being in the right place at the right time is half of being 'lucky" in investing and financing. Your "luck" is in your hands right now.
What are today's mortgage rates?
Today's mortgage rates are a moving target, changing frequently, but trending lower. If you have an interest rate you'd like to improve on, now's the time to contact a few lenders and see what's available to you.
Verify your new rate (Jun 25th, 2018)
The information contained on The Mortgage Reports website is for informational purposes only and is not an advertisement for products offered by Full Beaker. The views and opinions expressed herein are those of the author and do not reflect the policy or position of Full Beaker, its officers, parent, or affiliates.
Try the Mortgage Calculator