Millennial Homebuyers Returning To Homeownership For Good Reasons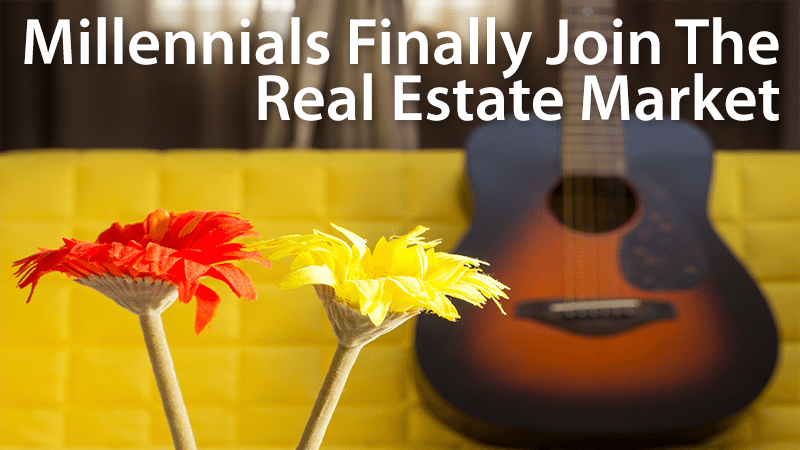 Young Buyers Hit Their Stride
People have been worrying about the dearth of Millennial homebuyers since… well, since Millennials have been old enough to own their own homes. And there was reason for concern.
But now, finally, there are signs this generation is beginning to embrace the idea of homeownership
Verify your new rate (Jul 19th, 2018)
The Problem
Over the last 10 years, the homeownership rate among 25- to 44-year-olds has tumbled by 10 percentage points, according to a University of Southern California study.
And Pew Research Center reported last year: "In 2014, for the first time in more than 130 years, adults ages 18 to 34 were slightly more likely to be living in their parents' home than they were to be living with a spouse or partner in their own household."
No wonder the media started talking about "Generation Rent," and predicting a withering away of that abiding fixture of the American dream: owner-occupancy.
The Causes
There were many theories for why young adults weren't buying homes, including:
Record levels of student debt meant the last thing young adults wanted was to owe more in the form of a mortgage
A generation that had lived through the Great Recession as kids was put off debt
Wall Street-backed companies snapping up many of the bargain properties and converting them to rentals
Rising rents in many areas and difficulties saving mortgage down payments
Mortgage lenders' tighter credit requirements during and after the recession
A shortage of entry-level homes
A sluggish recovery in household incomes after the recession
Demographic changes, including the postponement of marriage and childbearing until later in life than previously
You may suspect each of those had a role in deterring or excluding young adults from homeownership.
Millennials Want To Be Homeowners
But attitudes may be changing and fears abating, according to a 2017 Homebuyer Insights report.
In the report, D. Steve Boland, head of consumer lending with Bank of America, gave his take on its findings:
"If there's one thing to take away from our report this year, it's that forward-thinking Millennials are buying homes – and they're happy with their choice. This growing group of Millennials is seeing the value of getting into a home.
Tips For The Millennial Homebuyer
In fact, nearly 80 percent who bought homes report that homeownership has had a positive long-term impact on their financial picture. Clearly, the Millennial generation is coming of age and realizing it might not make sense to wait anymore to purchase their first home."
Some Details
In fact, Millennials aged 25-34 are more likely than aspiring buyers across all age groups to be planning for a down payment. Forty percent of those Millennials are doing so, compared with 35 percent of the others.
What's The Right Age To Buy A House?
And one in four prospective buyers say they plan to purchase a home within the next two years.
Owners' Advice To Renters
Of Millennials who've already bought their own home, 68 percent say they see it as a stepping stone. In other words, they plan to trade up later to the home they ultimately want.
That contains an important message: Don't wait to buy until you can afford your ideal home. Buy what you can afford now and trade up later.
Buy A House In Your 20s With These Flexible Mortgages
And there's another interesting fact: 86 percent of Millennials who are already homeowners believe homeownership is more affordable than renting. Only 54 percent of aspiring first-time buyers recognize that.
The Biggest Barrier To Millennial Homeownership?
Millennials may be the smartest generation yet. But no amount of raw intelligence can overcome ignorance. And, when it comes to buying a home, their ignorance is woeful.
The Bank of America study asked first-time buyers, "What percentage of a home's price do you think is required for a down payment?" And only one in 20 respondents got the answer right:

Wow. That's depressing. In reality, most first-time buyers need a minimum down payment of three percent or 3.5 percent. And some need nothing.
Before Making A 20% Mortgage Down Payment, Read This
Fear Factor
So here's the issue facing a Millennial who is aspiring to homeownership: It's scary to push the button and actually buy.
Private Mortgage Insurance: How To Pay Less
And that's new. For Baby Boomers and those in Generation X, average home prices seemed to be on an ever-upward escalator, at least nationwide. Okay, it occasionally slowed, and might even go into reverse, but only rarely and briefly. So buying a home was a no-brainer for them.
Then came the credit crunch and Great Recession. And suddenly the home-price escalator was in reverse and moving down rapidly. And it kept moving down for years.
Will Home Buying Get Easier The Last Half Of 2017?
And you can't blame Millennials for being skeptical. Think of all the frequently recurring weather events they were told were once-in-a-century, once-in-a-lifetime or once-in-a-generation phenomena.
Bigger Threats
Of course, things have changed since then for most homeowners. In 2016, the amount of equity (the sum by which the market value of a home exceeds the mortgage balance secured on it) Americans had in their properties increased by $766 billion, according to CoreLogic.
Caution in financial matters is often to be applauded. However, the risk of being priced out of the market by rising home prices seems much more real and immediate. CoreLogic reckons home prices increased year over year by 6.9 percent in April 2017 compared with April 2016.
And that's not the only threat facing aspiring homebuyers. There's no guarantee mortgage rates — which are currently exceptionally low by historical standards — won't increase, possibly significantly. They averaged 6.34 percent a decade ago and 10.13 percent in 1990, according to Freddie Mac's rate archive.
What Are Today's Mortgage Rates?
Today's low mortgage rates won't stay in this range forever. If you're a Millennial with ambitions to buy your own home, you should at least start to firm up your plans now.
And use a mortgage affordability calculator to model your options.  Then you can start exploring the property market where you want to buy to see what homes you can afford — and to make sure now is a good time to buy there.
Maybe the day you move into your new home is closer than you think.
Verify your new rate (Jul 19th, 2018)
The information contained on The Mortgage Reports website is for informational purposes only and is not an advertisement for products offered by Full Beaker. The views and opinions expressed herein are those of the author and do not reflect the policy or position of Full Beaker, its officers, parent, or affiliates.
Try the Mortgage Calculator