How To Choose A Home Builder And Get The House You Want
Buying Newly-Built Homes
New homes are wonderful to behold – just choose a home builder you like and start searching for fantasy constructions without a dent or nick, offering the latest styles and designs. Sign on the dotted line, and you can own the newest home in town, finished to your every whim.
Verify your new rate (Oct 28th, 2020)
Protect Your Interests
In fact, the builder will make it easy to sign up. With many new home purchases, it's entirely possible that the builder will orchestrate the whole thing.
The builder's lawyers draft the special sale agreement, the sales representative performs the inspections, the builder's captive mortgage company finances the transaction, and the builder's closing affiliate takes care of settlement.
How To Avoid New Construction Home Problems
It's a neat and tidy process – and one which leaves the buyer entirely dependent on the builder. In the best case, a new home sale can be perfectly fine. But what about something less than the best case?
A house is a complex product, and lots can go wrong. How can buyers protect themselves when purchasing a new home, one of life's biggest expenses?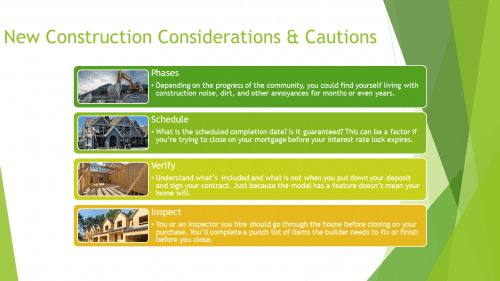 Choose A Home Builder
Many builders construct new home communities, but they're not all created equal. The National Association of Home Builders (NAHB) recommends that you visit a builder's recently-built houses and subdivisions.
Check out a subdivision on the weekend, when homeowners are likely to be out and about, walking, gardening, or exercising. Introduce yourself and say you are considering buying a home from the builder who built their home.
Will This Trend Help You Pay Less For Your New Home?
Talk to several owners, and try to get a random sample of opinions. The more people you talk with, the more accurate an impression of a builder you are likely to get.
When you visit model homes or inspect current inventory, evaluate the level of the construction features. Inspect the quality of the cabinetry, carpeting, trim and paint.
5 Tips
Here are five basic tips:
1. Get Your Own Agent
First, work with an experienced real estate broker, someone who can be a buyer's agent and has helped other purchasers acquire new homes.
Always visit new homes with your broker, and never go by yourself. This way, you'll be able to negotiate the broker's fee with the builder. For more information, real estate site Owners.com offers an informative video called How Real Estate Commissions Work.
2. Pay For A Home Inspection
Second, get a qualified home inspector. At first, it might seem that an inspector is unnecessary because the home will be new. However, even new homes can have defects.
Be aware that an appraiser is not a home inspector, and that the builder's representative works for, um, the builder….
The Pros And Cons Of Buying New Construction
"Tell the builder that you want the right to have an inspector of your choice, and at your expense, conduct these inspections," said DC attorney Benny Kass, writing for The Washington Post. "Your sales contract should clearly spell this out."
The usual idea, says Kass, is to assure that the inspector visits the property three times: before the foundation is poured, before the insulation and drywall are up (so the inspector can see plumbing and electrical work before walls are sealed), and before the walk-through.
3. Consider Contracts
Third, the builder's sale form is typically not the agreement local brokers use to sell homes in your community. Instead, it's written by the builder's attorney to give the builder every possible edge.
The best advice is to get an attorney to help you understand what the proposed agreement says and negotiate terms.
4. Shop For Your Financing
Fourth, it often happens that a builder has an affiliated lender. The usual offer is "use our lender and we'll throw in upgrades worth x dollars."
"If you are buying a newly constructed home," explains the Consumer Financial Protection Bureau (CFPB), "a builder may offer you an incentive or 'deal' if you select its affiliated mortgage company or other settlement service business.
You should shop and compare interest rates and other settlement charges before entering a contractual agreement to use these affiliated companies."
New Construction: Should You Do A Long-Term Mortgage Lock?
To ensure a smooth closing and minimize costs, you should shop lenders and get pre-approved before you even start home shopping.
That's easy to do online. Then you'll be in a better position to know if the freebies you get using the preferred lender are offset by additional costs.  And you'll have a solid idea of your financial capacity and the mortgage options available to you.
Is it best to use the builder's affiliate or an independent lender? That depends on the package of benefits the lender offers, and the proposed rates and terms available. As the CFPB says, it's wise to shop around.
5. Compare Title And Escrow Charges
Fifth, in the same way that builders often have captive lenders, they also are likely to have affiliated closing companies. Again, you have the right to shop around for your own closing agent.
6 Ways To Pay Less At The Closing Table
If you do use the builder's settlement company, ask if they helped the builder acquire the property where your home is located. If they answer is yes, you may be able to get discounted title insurance. Tell them you'd like a "short" or "re-issue" rate.
What Are Today's Mortgage Rates?
Today's mortgage rates remain low, under four percent for 30-year fixed loans as of this writing. Keep in mind that for new construction, you may not be able to lock until your home nears completion.
Verify your new rate (Oct 28th, 2020)