Qualifying For A Mortgage: Occupancy Matters
When you apply to finance property, you have to tell the lender if the home will be your primary residence, a vacation property or a rental / investment. It's part of qualifying for a mortgage.
The status of the house matters because second homes and rentals are riskier to finance. Fannie Mae, for example, adds a 3.375 percent charge for a rental home with 20 percent down.
In addition, most government-backed loans don't allow second homes or rental properties.
What If You Live In Two Homes?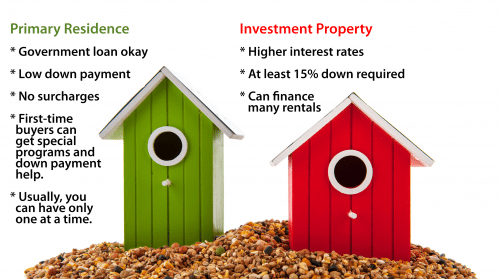 What if you live in two homes pretty much equally? Can you finance them both as primary residences?
It depends. Lenders resolve these issues case-by-case, and they examine several variables:
Distance: how far apart are the two houses?
Work: does your job create the need for two houses?
Family: has your family expanded to the point that you need an extra house? Or do you have a dependent you're purchasing property for?
FHA Mortgages For Investment Property
The US Department of Housing and Urban Development (HUD), which administers the FHA mortgage program, is clear.
FHA will not insure a mortgage if it is determined that the transaction was designed to use FHA mortgage insurance as a vehicle for obtaining investment properties, even if the property to be insured will be the only one owned using FHA mortgage insurance.
Case By Case
Here are the situations in which HUD will allow buyers to have more than one primary residence.
Relocation
You may obtain an FHA-insured Mortgage without selling your old house. You must relocate at least 100 miles, and your relocation must be job-related.
Are You Moving In The Next Few Years? Save Big On Your Mortgage
For instance, you may work from an office in your hometown and also at your company headquarters in another state. If you buy a house near your other office, you would probably be allowed to finance the new house as a primary residence.
Increase in family size
You may be eligible for a second primary residence if your family has grown too large for your current house, and the loan-to-value (LTV) ratio is 75 percent or lower.
This is helpful if you move other family members in to share expenses, or to care for aging parents, children or grandchildren. You can also purchase a home for your dependent child or parent as a primary residence with the FHA "Kiddie Condo" program.
Breaking up
You may be eligible for another primary residence mortgage if you leave your current home permanently, but the co-borrower on that loan will continue to live in the house.
Ideally, this person would refinance and get you off the loan altogether, but that's not always possible.
Co-borrowing
If you are a non-occupying co-borrower on someone else's primary residence, you can still finance your own primary residence.
However, co-borrowing creates what lenders call "contingent liability," and that means that certain circumstances could cause you to be responsible for the payment on that property. If the occupying co-borrower fails to make the mortgage payments, you'd have to pay them.
Co-signing A Mortgage: Tips And Tricks
Often, lenders will not consider contingent liabilities in your debt-to-income ratios if the co-borrower has been successfully making the payments for some time. Fannie Mae says:
The lender must obtain the most recent 12 months' cancelled checks (or bank statements) from the other party documenting a 12–month satisfactory payment history. There must be no delinquent payments for that debt in order to exclude it from the borrower's debt-to-income ratio.
If you're trying to buy one primary residence while you still own another one, the transaction has to make sense. If you buy a new house in the same town, and you plan to convert the old house to a rental, it helps to provide a lease agreement.
You may also have to have at least 25 percent equity in the old house to count the new one as a primary residence. That requirement is a holdover from the days when underwater homeowners were buying new homes in the same town and then walking away from their old houses.
Lenders will likely decide your fate on a case-by-case basis. It's smart to document your need for two primary homes as much as possible. The easier you make it to approve your request, the more likely you are to get what you want.
What Are Today's Mortgage Rates?
Current mortgage rates differ depending on whether you're borrowing against a primary residence (least risky and cheapest to finance), a second home (tougher guidelines and sometimes risk-based surcharges) or a rental / investment property (riskiest and most expensive).
That's why, if you can, you want to finance your home as a primary residence.