What Should You Spend On A Home?
"How much can I borrow?" That's one of the most common questions homebuyers — and especially first-time homebuyers — ask. But a better one is "How much should I borrow?"
Because the first is all about how much a mortgage lender will lend you. The second concerns how much you can actually afford.
Still, each is relevant in its own way. So let's answer them both.
Verify your new rate (Jul 8th, 2020)
How Much Can I Borrow?
Bottom line, lenders are interested in only one thing: whether you will repay your loan. Every mortgage program comes with a set of guidelines developed lenders, and statistically proven to predict who will borrow successfully.
Check Out: Best Cities For Affordable Home Buying
Lenders want to see income that is both sufficient and stable. To that end, they'll consider:
How much experience do you have at your job? How safe is your industry right now? How long have you been with your current employer? You want an employment history showing steady moves up the ranks, with increasing income and responsibility. If your resume shows six months as a deejay, followed by a year as a personal trainer, and then a new multi-level marketing gig, it's less impressive.
Are you self-employed, on commission, receiving bonus or overtime, or working a second job? You usually need at least a two year history receiving that type of income for lenders to count it.
In Plain English: Debt To Income (DTI)
Many lenders limit your total housing expense (mortgage principal, interest, property taxes and homeowners insurance) to 28-to-32 percent of your gross (before tax) income. If your household income is $10,000 per month, your housing costs can be about $3,000.
Lenders also look at your housing plus other payments. This is called your debt-to-income ratio, or DTI. Your DTI includes auto and student loans, credit cards and other accounts, but not regular living expenses like utilities.
For most programs, your DTI  should not exceed 43 percent. (Some programs do go as high as 50 percent.) If your income is $10,000 a month, all of your bill payments, including the new housing cost, should not exceed $4,300.
Good Credit Boosts Your Borrowing Potential
Most programs allow you to borrow more, and pay less, if your credit scores are high. You may get a boost from two different sources.
Read: How To Boost Your FICO Score Before Buying A Home
On the date this is being written, FICO reckons someone with a stellar credit score could be offered a mortgage rate of 3.61 percent. But someone with a dire one could pay an eye-watering 5.20 percent.
The chart below shows how the interest rate affects the amount you can afford to borrow.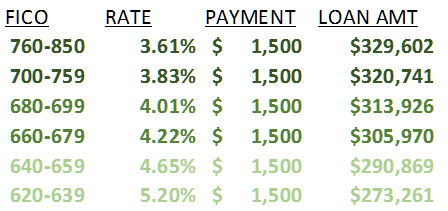 Because a higher rate means higher monthly payments, the amount you can borrow could be greatly affected by your score.
Down Payment
Unless you're eligible for a VA or USDA home loan, you'll need a down payment to buy property, and the amount you have will limit what you borrow.
Minimum down payments range from three percent for some Freddie Mac and Fannie Mae products to 3.5 percent for FHA home loans to five percent for most conventional loans.
However, in many cases, the down payment can be gifted, borrowed from an approved source, or a grant from an approved down payment assistance program.
Want Free Money? Check Out The Lowdown On Down Payment Grants
You'll also need closing costs. Those can also be paid by you, the home seller or by your lender (your rate is increased to cover the costs).
You can "back into" your maximum loan amount by taking the amount you've saved for your down payment, and then dividing it by the percentage you plan to pay.
So if you have $15,000 for a down payment, and you plan to put three percent down, divide 15000 by .03. Your answer is $500,000 for your purchase price.
How Much Should I Borrow?
Many homebuyers are ready to make short-term financial sacrifices to get the house they want. They imagine that their pain will likely diminish as their income increases over time.
However, it's important to be realistic about this. Not everyone's ready to forgo most of life's luxuries and indulgences. Or to live with the stress of tight household budgets. You know yourself and what pain you're willing to endure.
Learn How To Buy A House With Low Income In 2017
In addition, lenders don't count some factors that do affect what you can spend on a home. Do you have emergency savings? An expensive commute? Pricey hobbies? A charity you support? Kids going off to college? Do you plan to retire soon? Or start a family?
Only you can answer those questions. So, just because a lender calculates you can borrow a particular amount doesn't automatically mean you should.
Borrow Wisely
The first few years of home ownership are supposed to bring some sacrifices. And, with home prices on an upward trajectory in much of the US, investing in property looks like a good bet.
Get Real Estate News And Home Price Trends
So, stretch yourself if it feels right. Just remember to ask both questions: How much can I borrow and how much should I borrow?
What Are Today's Mortgage Rates?
Current mortgage rates have changed very little from last week's. To get the best mortgage rate for your situation, compare a few programs and offers from several competing lenders.
Verify your new rate (Jul 8th, 2020)