Home Inspection: What Does A Home Inspector Do And Why Should I Get One?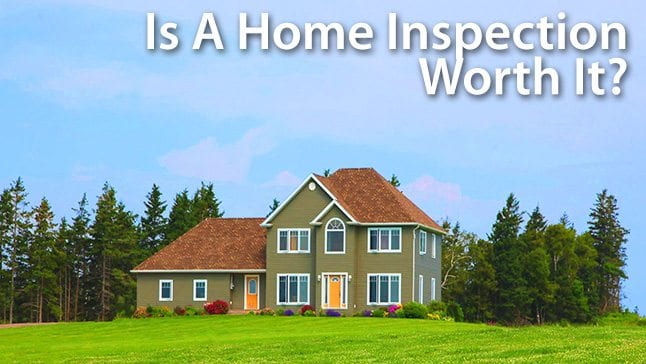 Hire A Home Inspector
You found the right house. You put in your offer, and it was accepted. Congratulations. But now, it's time to hire a home inspector to go over every inch it – inside and out – to make sure everything you see and don't see won't develop major problems once it's your house.
Verify your new rate (Aug 18th, 2018)
Protect Yourself And Your Investment
A home inspector can protect you and your money by showing you where things are past their prime, or if something is in great shape. The inspection isn't for the lender, the real estate agent or the seller.
It's for you – the buyer. And it's a big deal.
"Remember that you are making a very big buying decision, and it's not just about how things are working right now, but how you maintain the home and what the home will need from you once you move in," says Mary Anne Tonini, owner and certified home inspector at Home Inspection of Kentuckiana.
She is among many inspectors across the country certified through the American Society of Home Inspectors (ASHI), which promotes continuing education for inspectors and a standard of practice and code of ethics.
How Do You Find A Good Home Inspector?
Tonini says that the ASHI search tool is a great place to start to find a list of inspectors in your state or area that belong to the nonprofit professional organization. Also, you can ask friends or business acquaintances to recommend a home inspector they have used that did a good job.
Look at Yelp and Home Advisor reviews. People can complain very easily, Tonini says. But really pay attention to what they are saying.
"If they say, 'this person doesn't like his job and didn't show me anything,' that's bad," she says.
Also, your real estate agent and lenders might have a list of inspectors with good reputations who they have worked with in the past. But be aware that some agents might not suggest the most thorough inspectors, she says.
"Some Realtors will never suggest the best inspectors around because something those inspectors find might stop the deal," Tonini adds.
"If you are worried about finding an inspector with experience," says Nick Gromicko, founder of the International Association of Certified Home Inspectors, "Hire a Certified Master Inspector (the top professional designation in the industry).  Certified Master Inspectors had to complete at least 1,000 fee-paid inspections.
"If you are worried that the local inspector the real estate agent recommended will write a soft report to please that local real estate agent, do this: Hire a home inspector from out of town, one who isn't beholden to any local real estate agents.  Offer to pay that home inspector extra for drive time."
What Does A Home Inspection Cost?
The inspection fee for a typical one-family house varies by area just like the price of housing, according to ASHI. Also, the inspection fee may vary depending on the size of the house, its age and possible optional services such as septic, well or radon testing.
The cost of a home inspection is very small relative to the value of the home being inspected, Tonini says.
Home Advisor says it costs an average about $315 to hire a home inspector. But condos and homes under 1,000 square feet can cost as little as $200.
Larger homes over 2,000 square feet will run $400 or more. Tests for radon, termites, mold, lead, and asbestos along with a sewer scope test will add to that cost, but typically those tests will cost less if you purchase them with a home inspection.
Just make sure your inspector has specialized certification to do any of these extra tests you require.
What Does A Home Inspection Cover?
Tonini says that crawl spaces are kind of nasty, but it's one of those places she needs to go during an inspector. She also has to walk on roofs, maneuver around people's furniture and dogs, and climb into tight attic spaces.
"The inspection will include a comprehensive overview of all the major mechanical and structural systems of the home," she says.
Those items include plumbing, foundation, roof, attic, fireplaces, air conditioner and furnace, attic and appliances, along with a general look at the interior and exterior of the home.
"New buyers," Says Nick Gromicko, "should realize that every home has defects, even brand new homes.  New buyers should also realize that a seller is under no obligation to fix or address every defect revealed by a home inspection."
A buyer should probably only demand the seller address four types of issues:
Major defects, such as a structural failure
Conditions that can lead to major defects, such as a roof leak
Issues that may hinder their ability to finance, occupy or insure the home
Safety issues
Inspectors do their job without peeling up carpet, drilling holes in walls, prying up roofing or damaging anything in the house. If more invasive investigations are needed, they cannot be completed without written consent from the homeowner.
How Long Does A Home Inspection Take?
The average home takes about 3-4 hours to cover all the spots, Tonini says. If your house is smaller, then less time, and if it's a mansion, it can take a lot longer.
Most inspectors want the potential buyers to be with them during the inspection to explain the good, the bad and the ugly of the house they are potentially buying. Tonini accommodates their schedules by even doing inspections on the weekends, to make sure her clients are with her during the inspection.
"If you don't show up and read my report on paper, that's stressful. It's like if you spent $400 for a class, and then just got somebody's notes. That's not the same as taking the class," she says.
What Do You Get With The Home Inspection?
Tonini hands her clients a handwritten report when the inspection is done. She later sends an electronic copy of the entire inspection along with photos. But by tagging along with your inspector, you can get the highlights of the report by just understanding all the systems.
"For instance, I teach them where the water valve shut off is. In ten year, if they are still in the house, and they need to shut the water off because a pipe burst in the basement, they will remember exactly how to do it and where it is," she says. "You can't get that in a report."
What Don't Inspectors Do?
"What isn't covered, " says Nick Gromicko, "Are issues that were intentionally covered up.  A home inspector isn't a fraud investigator and a home inspection report is only supplementary to the seller's disclosure."
Inspectors should be checking everything that is visible. But Tonini adds that they don't inspect swimming pools or security systems.
Also, inspectors are not engineers, plumbers, electricians or contractors. They can't guarantee anything.
Inspectors are trained eyes that are hired to report any type of possible problems or risks that lurk in the home. They can also describe a building's condition and predict how long it might last.
"And if a consumer is really worried," says Gromicko, "The inspection industry has an optional 'We'll Buy Your Home Back' guarantee:  www.nachi.org/buy.  The consumer can occupy the home for 90 days and if the inspector missed something, we'll unwind the entire deal for the consumer."
In A Hot Market, Should You Waive A Home Inspection?
When competing fiercely for homes in hot markets, buyers may be tempted to waive the inspection and submit a "cleaner"offer. Is this wise?
Nick Gromicko says there is a way to make sellers happy while protecting yourself.
"Have your agent write up an inspection rider to the sales agreement that states something like:  Buyer can only cancel the sales agreement if the home inspector finds issues totaling $XXXX.XX or more to repair.
"That way, a seller who knows his/her house is in fairly good condition will still accept the buyer's offer with the inspection contingency.  A seller who is hiding a major defect will reject the offer, and that's just as well for the buyer."
Shopping For A Home Inspector
As a home buyer, you should be looking for an inspector who will be thorough and rigorous. That might mean ignoring your real estate agent's recommendation. It also might require you to pay a little extra.
When getting a home inspection it's a good time to remember the adage that 'you get what you pay for'.
"Shop price," Gromicko contends. "I know this sounds crazy, especially after a home buyer has been shopping for a home, adding up closing costs and comparing mortgage interest rates. But if you pay only a couple hundred dollars for a home inspection, you are likely going to get a patty-cake inspection."
Spending more upfront can give you more peace of mind, helping you to rest assure that your potential investment has been carefully looked over before you buy.
"The most qualified home inspectors and CMIs (Certified Master Inspectors) do more, deserve more, and yes, generally charge a little more. He/She may only charge an extra $100 more than the cheapest home inspector in town, but for what is likely the most expensive purchase of your life, spend that extra $100."
The information contained on The Mortgage Reports website is for informational purposes only and is not an advertisement for products offered by Full Beaker. The views and opinions expressed herein are those of the author and do not reflect the policy or position of Full Beaker, its officers, parent, or affiliates.
Try the Mortgage Calculator